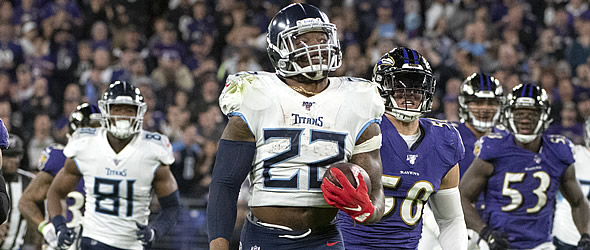 Tennessee running back Derrick Henry might be the best runner at his position in the NFL. No, he's not the best fantasy running back, just the best runner. Strong yet elusive and fast enough to get to the end zone when he breaks past the front seven, Henry is an elite running back choice for "old school" non-PPR leagues.

After all, Henry rushed a league-high 303 times last season. He led the league with 1,540 rushing yards and tied with Aaron Jones with 16 rushing touchdowns. Despite leading the league in these three primary rushing categories and everything going right, he finished second in standard fantasy leagues and third in fantasy points in PPR leagues.

Why?

Because Henry leaves fantasy owners wanting in the passing game. While the top-10 fantasy running backs in 2019 averaged 79.5 targets, Henry saw 24. The top-10 backs caught an average of 62.5 balls in 2019, Henry caught just 18. And Henry's target and reception totals were his career best.

Meanwhile, the Titans drafted a running back in the third round this April, Darrynton Evans of Appalachian State, to replace Dion Lewis, who signed with the New York Giants.

Evans has the speed (4.41 at the combine), breakaway ability and hands to become the Titans new third-down back. He looks natural as a receiver out of the backfield though he caught only 21 balls last year. He produced a solid 9.4 yards per catch with five touchdown receptions in 2019. Over his three-year career at Appalachian State he was credited with just three drops on 55 career targets per Pro Football Focus.

Sports Info Solutions' rookie scouting report calls him a "third-down difference maker." Evan will definitely get on the field (because he's a coach's dream at ball security - no fumbles in 482 carries), as the third-down back and kick returner.

Given the above facts, there is every reason to believe that the pass-catching disparity between Henry and the other elite fantasy running backs will continue.

Which means in 2020 Henry will once again almost exclusively be dependent on his ability to run the football.

Yes, he will get a heavy workload. Because the Titans success depends on it. In the Titans nine regular season wins he averaged 22.4 rushing attempts, 128.8 rushing yards and 1.33 rushing touchdowns (16.8/63.5/0.66 in losses). The disparity is even greater if you include the playoffs. See below.
Henry Rushing - 2019
2019
Ru Atts
Ru Yards
Ru TDs
Ru YPG
RuTDs/GM
Titans wins
202
1159
12
128.8
1.3
Titans playoff wins
64
377
1
188.5
0.5
Total in all wins
266
1536
13
139.6
1.2


Titans losses
101
381
4
63.5
0.7
Titans playoff loss
19
69
1
69.0
1.0
Total in all losses
120
450
5
64.3
0.7
Can he reproduce at this 2019 level?
In 2019 he rushed a career-high number of attempts. He also set career highs in rushing yards, rushing touchdowns, rushing yards-per-attempt, yards-per-game, receiving targets, receptions, receiving yards, receiving touchdowns, yards from scrimmage, total touchdowns and fumbles.
And still he didn't lead fantasy running backs!
The number of times a fourth-year veteran running back coming off a "career year" produces another "career year" on top of that is very small.
Check all the fifth-year running backs in 2019. None posted a career year. The most obvious example working against Henry was former Rams and now Falcons running back Todd Gurley who set "career numbers" in his fourth season (26.3 FPts/G) and disappointed fantasy owners everywhere last season (14.8). Other star fifth-year running backs who were "less-than-stellar" in 2019 included; Melvin Gordon and David Johnson.
Le'Veon Bell posted a career-best 26.5 FPts/G in his fourth season with Pittsburgh (2016), but dropped 13% in 2017 (23 FPts/G) and 46% from his best season last year with the Jets (Bell sat out 2018). DeMarco Murray produced a career-best 22.6 FPts/G in his fourth season in Dallas and failed in year five with just 12.5 FPts/G (in Philadelphia), a drop of around 45%.
Will Henry improve on last season? Can he stay healthy? Will the line in front of him be as good? Will Tannehill produce enough to keep defenses honest? Those are a lot of questions that all must be answered yes for the one-dimensional Henry to succeed.
While it is true that Henry has played in 62 of 64 games over his career, the line in front of him will be hard-pressed to match last season after All-Pro Jack Conklin left for Cleveland (three-years, $42 million). Conklin received an 83.7 run-blocking grade from PFF (ranking No.5 in the league). Tannehill set a career high of 22.3 FPts/G last season including a 117.5 QB rating after averaging a 91.9 QB rating in his final four seasons with the Dolphins.
Current FFToday projections have Henry producing 288-1,440-13 and 23-195-1 for 270.5 fantasy points a drop of 30 points from the 300.6 FPts he posted last season.
According to current Fantasyfootballcalculator numbers as of May 31, Henry is the fifth-overall pick in full PPR leagues and the fourth running back behind Christian McCaffrey, Saquon Barkley and Ezekiel Elliott.
History is not on Henry's side. I feel it's still too high to choose a one-dimensional back behind what is likely to be a declining offensive line and a quarterback who will probably revert to his "normal" lower production level. Let someone else take this gamble unless Henry falls to the end of the first round.