After analyzing all the leading Super Bowl participants over the past 20 Super Bowls (2000-2019), the numbers lead to one conclusion Ö that there will be only one star from the Kansas City Chiefs vs. San Francisco 49ers matchup who will reproduce his regular season results in 2020.

That player is Patrick Mahomes!

Not only will the other guys not reach their Super Bowl year production, but they are likely to miss it by a mile.

Based on the numbers, the worst SB LIV player to draft for the 2020 season is the top running back from the losing team - Raheem Mostert. Hereís why.

Over the 20-year span I analyzed, the losing running back has produced just 63.6% of his combined rushing and receiving yards from the previous season, and an even uglier number, just 45.7% of his touchdown total. In this case it means just 605 yards and five touchdowns for Mostert.

There are a number of theories for this significant drop in production.

For some the additional month of work and the shortened offseason takes its toll. The losing team running back played barely over 77% of the games he played the previous season. A prime example here took place in 2014 and 2015 when Marshawn Lynch picked up the Seahawks and carried them to the verge of a Super Bowl win by racking up 1675 yards from scrimmage and 17 touchdowns. The next season he managed to play just seven games, managing 497 yards, and three scores due to multiple injuries (calf, hamstring and sports hernia). Could the shortened time to next season have hurt his offseason recovery? Very likely.

A few times, a running back changed teams to the detriment of his production. In 2013 Denver rode the fragile knees of Knowshon Moreno for 1,586 yards and 13 touchdowns on 301 touches. After the season they went in a different direction with youngster Montee Ball and Moreno took the only opportunity available in Miami and never got anything going. He retired after the season.

Still others changed jobs for the chance to cash in on the season. Brandon Jackson led the Packers running game in 2010 then signed with the Browns in 2011 for two years and $4.5 million. He didnít carry the ball a single time in 2011 and touched the ball just 10 times in 2012. But hey, he did cash a big check. However, those fantasy owners who drafted him in 2010 Ö didnít.

The winning team running back is a lot better in reaching the end zone (82.2%), but he too suffers from a yardage drought (70%). For 2020 that would be Damien Williams. Given that the Chiefsí first-round selection was LSU running back Clyde Edwards-Helaire, itís a pretty good bet that Williams doesnít come close to his 2019 production (711 yards and seven touchdowns).

Wide receivers are better off than running backs.

In this case the losing team No. 1 wideout produces 79.8% of the yardage and 61.2% of the touchdown total. While many are predicting a breakout season for Deebo Samuel, 20 years of history says otherwise. His yardage total will drop to 767 and you should expect him to reach the end zone four times. The 49ers will continue to be a run-first offense and Samuel will be sharing targets with All-Pro tight end George Kittle and first-round pick Brandon Aiyuk. And after the Super Bowl, do we really know if head coach Kyle Shanahan has confidence in quarterback Jimmy Garoppolo?

The top winning side wide receiver loses less ground. Tyreek Hill is likely to produce more than 736 yards (77.1%) and five touchdowns (66.7%) predicted. Here I would actually play the over because Hill missed four games last season. A healthy Hill should crush it so I think he will be one of the few to defy the trend.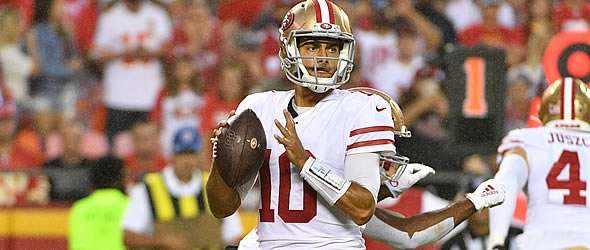 The largest variance between winning and losing team production is between the winning quarterback (Mahomes) and the losing-side quarterback (Jimmy Garoppolo).
The losing quarterback falls to 79% of his passing yards and 69% of his TD passes so Garoppolo should probably be avoided with expectations of 3,142 yards and just 19 touchdowns in 2020. Also of note, the losing quarterback usually only plays 83% of the games he played the previous Super Bowl season.
The Super Bowl winning quarterback continues to produce the next season despite the large number of awards dinners he partakes in the offseason. That wonít be an issue this season with the coronavirus shutting things down. The winning QB usually produces slightly better passing yards (107%) and touchdown passes (103%). For Mahomes, that means 4,313 yards and 27 touchdowns and likely even more if he can stay healthy all season (he missed 2 ĺ games last season).
Percentage of Super Bowl year production the following season
QBs
Total Yds %
TD %
INT %
Games %
both
92%
84%
109%
92%
winner
107%
103%
117%

102%

loser
79%
69%
101%
83%
RBs
Total Yds %
TD %
Games %
both
66%
60%
80%
winner
70%
82%
83%
loser
64%
46%
77%
WRs
Total Yds %
TD %
Games %
both
80%
64%
84%
winner
77%
67%
79%
loser
80%
61%
89%