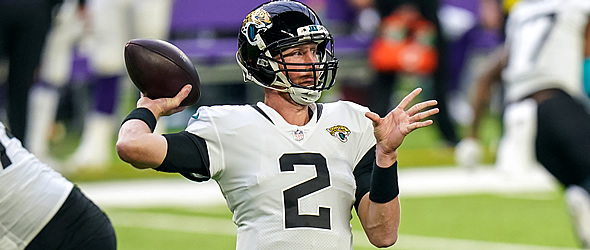 Grab a Helmet
The Bucs defense started the season well, but there has been a distinct drop off over the last month. Itís more than just getting toasted by Tyreek Hill and Patrick Mahomes in Wek 12. Since Week 9 they have allowed the most QB fantasy points in the league (31.7 FPts/G). Meanwhile, over the same time frame, the Vikingsí Kirk Cousins ranks fourth in the league behind only Aaron Rodgers, Deshaun Watson and Kyler Murray producing 26.3 FPts/G. Adam Thielen is healthy and rookie Justin Jefferson are thriving in an offense that forces defenses to key on star running back Dalvin Cook.
Neither Jake Luton nor Glennon has put up the fantasy production of Gardner Minshew in 2020, but Glennon is competent and has a favorable matchup in Week 14 against the Tennessee Titans. The Titans have been a bottom-five defense averaging yielding 25.9 FPts/G for the season and 27.4 points since the beginning of November. As long as D.J. Chark, Keelan Cole and Laviska Shenault are available, Glennon will be a viable low-cost option.
The Panthers defense has faded since November began, allowing 22.9 FPts/G for the season, but 27.3 points over the past four games. Drew Lockís issue of throwing interceptions (13) is mitigated by the Carolinaís inability to pick the ball off. The Panthers have just five INTs for the season and none in the last four games. Lock has thrown multiple touchdowns in three of the last five games.

Grab an iPad
If a head coachís job is to put his players in a position to thrive, throwing rookie second-round pick Jalen Hurts in against New Orleans isnít a very good plan. The Saints rank No.3 against opposing QBs for the season (19.7 FPts/G), but have been even better over the last five games, allowing a miniscule 11.5 FPts/G. Over that span they have allowed just two touchdown passes and picked off nine balls. The Eagles All-Pro right side (Brandon Brooks and Lane Johnson) are out for the season so itís likely Hurts will be running for his life more than throwing passes. Avoid. Avoid. Avoid.
2) Cam Newton at Los Angeles Rams
The Rams rank No.1 against opposing quarterbacks for the season (18.6 FPts/G). Meanwhile, Newton doesnít pass the ball well and his fantasy value is almost exclusively dependent on his rushing touchdowns. The Patriotsí QB produces 13.3 FPts/G when he doesnít run for a touchdown. The Rams have allowed just three QB rushing touchdowns in 12 games.
The New York Giants defense is much improved and since the start of November they have yielded just 16.8 FPts/G which ranks third behind New Orleans and Pittsburgh. In addition, they have only allowed quarterbacks to run for 107 yards and one touchdown through 12 games. Murray ranks second for the season averaging 30.3 FPts/G, but 22nd over the past three weeks (18.9). Over that time he's run the ball just 15 times for 61 yards and no touchdowns. If he's not going to run, he's not the elite quarterback you expect.

Quarterbacks | Running Backs | Wide Receivers