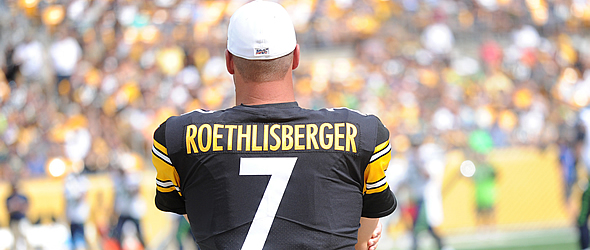 Grab a Helmet
In what is likely his last season in the NFL, Roethlisberger hasnít been great, but his floor wonít kill your chances to win a week. While heís only thrown for 300-yards once this season, he has cracked 200 yards in 10 consecutive games and heís thrown multiple touchdown passes in three of the last four. Meanwhile, the Vikings defense has been one of the poorest in the league this season, ranking 26th of 32 and getting worse. Over the last five games they have allowed a league-high 12 touchdown passes. Wideouts Diontae Johnson and Chase Claypool are healthy and rookie tight end Pat Freiermuth has been top-five at his position of late. Add in running back Najee Harrisí pass-catching ability (57 catches) and Ben has plenty of weapons at his disposal.
I know all about Hillís ďmallet finger injury,Ē but heís playing the Jets and they made Gardner Minshew look good last week. Hill threw for 264 yards last week against Dallas and a pair of touchdowns, but got picked off four times. Heís thrown for more than 230 yards in four of his last five starts. The advantage to using Hill comes in the run game where he rushed for 101 yards last Thursday. Heíll likely also have more weapons this week in the form of Alvin Kamara.
Itís a sad state of Mahomesí game that he even has to be on this list, but after five sub-20-point performances in the last six games itís necessary. The one good game in that last half dozen was a 406-yard, five-touchdown game against Ö these same Raiders. In seven career games against the Raiders his average performance is 327 yards and 2.9 touchdown passes. Since the Raiders moved out of Oakland itís 365 yards and three touchdowns. Vegas baby Vegas. You have stayed with him so far, donít jump ship now.

Grab a Clipboard
The Pantherís defense has been solid all season and itís not going to suddenly falter now. They rank No. 3 against opposing fantasy quarterbacks allowing just 18.5 FPts/G and over the last five just 14.8 points per game. Ryan has been horrible the past four weeks (10.7 FPts/G) and wonít get better here. He produced just 11.6 fantasy points against Carolina in Week 8.
Jackson hasnít done much the last three weeks (20.4 FPts/G) and these AFC North divisional games tend to be low-scoring physical battles. The Browns are coming off a bye week, rested and ready to avenge a 16-10 loss at the hands of the Ravens in Week 12, while Jackson & Co. lost a last-second heartbreaker to the hated Steelers. Lamar hasnít rushed for a touchdown since Week 2 when he hurt his back on a game-winning scamper around the right side into the end zone and did a backflip.
Carr's numbers are still inflated by a great start and he's been inconsistent lately with three sub-20-point games in his last five starts. The Chiefs defense, a sieve early in the season, has turned it around allowing just 17 FPts/G since Week 9 with more interceptions than touchdown passes allowed. That's normal for a Steve Spagnuola defense, improving as the season progresses. They had five sacks against Dallas in Week 13 and are a defense to avoid.

Quarterbacks | Running Backs | Wide Receivers