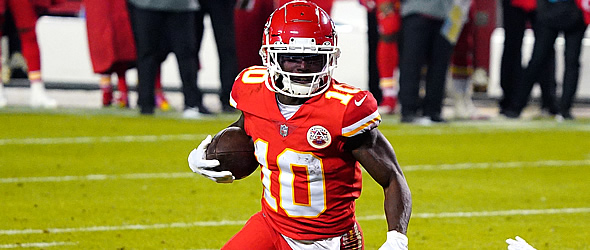 The Dolphins traded a No. 1 (29), No. 2 (50) and a fourth-rounder in 2022 along with a fourth- and sixth-round in 2023 to the Kansas City Chiefs for the right to Tyreek Hill. They also agreed to pay him $120 million over the next four seasons. That was a little bit more draft capital than the Las Vegas Raiders paid for Davante Adams and the average $30 million per season will push him over the previous wide receiver record $28.25 million average of the five-year Adams deal.

Effect of Hill trade on Miami

The Dolphins have now put together a formidable group of receivers for their third-year quarterback Tua Tagovailoa. Itís a solid strategy of building your roster while your young quarterback is on a team-friendly contract (Tagovailoa has a base salary of $895,000 in 2022 and $1,010,000 in 2023). So it made it easier for the team to afford Hillís monster contract. Now, the Dolphins add Hillís 111 catches for 1239 yards and nine touchdowns to Jaylen Waddle (104-1015-6) and tight end Mike Gesicki (73-780-2).

It also likely means the end to DeVante Parkerís time in Miami and the team letting UFA Will Fuller find another team (Cleveland?). Further, this isnít good news for recent free-agent signee Cedrick Wilson (formerly of Dallas). Even though he could start on the outside opposite Hill, allowing Waddle to man the slot, heís now likely the fourth receiving option.

For Hill, itís an obvious downgrade in quarterback talent (Patrick Mahomes to Tagovailoa) and innovative offensive thinking (Andy Reid to Mike McDaniel/OC Frank Smith). McDaniel was the OC at run-oriented San Francisco last season and the run-game coordinator from 2017-2020. Meanwhile, Smith has never been an OC at the pro level mostly being an OL coach in New Orleans (2010-14) and TE coach in Chicago and Las Vegas (2015-2020).

Hillís explosive ability to take a 10-yard slant for a 90-yard touchdown, however, translates to almost any team. Still, Hillís five-year average of 84 receptions for 1207 and 10.2 touchdowns is likely his ceiling in this offense.

Meanwhile, Waddle figures to lose the most targets, but should be more productive per catch with defenses leaning to the other side of the field. Even if he loses 40 targets, heíd still be seeing six passes a game and should have more room to maneuver after the catch.

Gesicki might see his target level return to about 85 per season from 111 in 2021. But again, Hillís ability to both scare and stretch defenses means more room for the tight end to operate. Ask Travis Kelce how much Hill helped him out. And Smith did work with both Darren Waller and George Kittle.

Effect of Hillís absence in Kansas City

Wow, let me count the ways the trading of Hill changes how we think of the Kansas City offense.

First, who will scared the ďbejeebersĒ out of defensive coordinators?

Mecole Hardman has Hillís speed, but not his catching ability or elusiveness. Newly-acquired JuJu Smith-Schuster may have Hillís hands, but not his speed. Josh Gordon has gobs of talent, but canít stay out of Commissioner Roger Goodellís doghouse. My guess is Smith-Schuster, who is on a one-year deal, gets the majority of the early season usage and if he performs gets a long-term contract and the gratitude of fantasy owners everywhere. If he doesnít, then itís a good thing the 2022 NFL Draft is expected to be very deep at the wide receiver position. The Chiefs should, and will, dip into that pool early on.

Second, how will Hillís absence change Travis Kelceís ability to always be open?

In the most extended time Kelce saw without Hill, Weeks 2-5 of 2019, Kelce continued to produce yards (87.7 per game), but scored just one time to produce just 13.2 FPts/G. He averaged 16.5 FPts/G in the 12 games with Hill.

Third, what will Hillís absence mean to Mahomes?

If we again look at the quarter-of-the-season Mahomes dealt without Hill in 2019 Ö apparently very little. In those four games Hill was absent, Mahomes averaged 363.3 yards and threw for eight touchdowns without an interception. Obviously, he and Reid figured it out.

Fourth, will this trade change the already struggling running game which hasnít averaged more than 4.5 ypc since 2018? In fact, their top three leaders in yards-per-carry in 2021 were Hill (10.7), Mahomes (5.8) and Hardman (5.8). Primary backs Clyde Edwards-Helaire averaged 4.3 ypc for 119 carries and Darrel Williams (team-leading 144 carries) averaged just 3.9 ypc. Iím expecting little to change here.

The Kansas City Chiefs will never emphasize the running game as long as Mahomes is Mahomes. That wonít change without Hill. They may be a little less explosive and have to produce longer drives instead of the quick-strike offense with Hill, but Andy Reid and Co. will find a way to succeed. Donít devalue Mahomes. Donít drastically devalue Kelce. Take a shot with Smith-Schuster and definitely use a later pick on whichever rookie receiver Kansas City drafts in April.