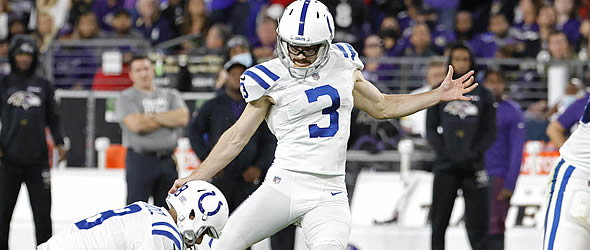 You have done everything to ensure that this fantasy season is a success, right? You researched quarterbacks, running backs, wide receivers, tight ends and defenses/special teams until your eyes are bloodshot. But what of kickers?

Will you just take anyone left when it's your pick in the last round? Will you pick, "Mr. Reliable," Justin Tucker, in the penultimate round? (Hint; that's not a bad choice since he has never averaged less than 8.1 fantasy points per game).

Certainly, it's hard to figure out what will happen and the reward is usually no more than two points-per-game whether you have the best in the league or the No.12 kicker in your 12-team league, but how many times have you lost a week by a point or two? Or fractions of a point? How many times have you finished one game out of first place? What if we take just a few minutes to analyze who to choose?

What does it take to make a top kicker?

He's not usually on the highest scoring team. Dallas posted 530 points last season, but Greg Zuerlein finished fifth (8.1 FPts/G). In 2020, Green Bay led the league with 509 points and Mason Crosby finished near the bottom (6.7). In 2019 the Ravens scored a league-leading 531 points but Tucker wasn't No. 1. Younghoe Koo won in both 2019 and 2020.

You need solid offenses with the ability to move the ball to the opponent's end of the field, but you need offenses which continually stall before punching it in for touchdowns. For the second consecutive season, none of last year's top-three kickers were top-3 in extra points. Only three times in the past six seasons has a top-three fantasy kicker also been top-three in XPs (3-of-18 or 16.7%). Carlson, our leading kicker from 2021 was 20th in extra points attempted (33), making 30 of them.

Carlson was also an "indoor" kicker. Although it's not a must, on those cold, windy, snowy December and January days, there is only so much helium you can sneak into a "k ball" when the referees aren't looking. For that reason, I prefer either an indoor kicker or one from a warm weather part of the country.

Before Carlson and Koo, Greg Zuerlein won two times in a row while kicking in sunny Southern California for the Rams (2017-2018). Add in Matt Bryant (ATL) in 2015 and that's six consecutive seasons an indoor or warm weather kicker has led the league in fantasy points.

So who might be a candidate for the 2022 title?

Carlson led the league in field goals made last season (40), but will the addition of Davante Adams (29 TDs the past two seasons) and a healthy Darren Waller eat into his field goal attempts? I think yes.

As I said earlier, Tucker has the best "floor" for any kicker, having never averaged less than eight-points a game over his entire 10-year career. That's why Baltimore made him the highest-paid kicker in the league (four years for $24 million). The Ravens also finished sixth in yards gained last season (6,440), but 17th in scoring with only 387 points, so they fit the parameter of a team who can move the ball, but not get into the end zone too much. You can never go wrong with Tucker, except one fantasy owner in your league will invariably reach for him before the final round of the draft.

Rookie Evan McPherson averaged 8.1 FPts/G last season, then showed the world his ability to make clutch field goals in the playoffs where he went 14-for-14. He has a monster leg, hitting 9-of-11 from over 50 yards during the regular season and 3-for-3 in the playoffs. That's an incredible 85.7% rate over 50 yards! He kicked two more long ones in the first preseason game this season, from 56- and 58-yards. Last year wasn't a fluke.

Finally, did you notice that of the last six winners, three had Matt Ryan as their starting quarterback? Ryan isn't in Atlanta anymore, he's now in Indianapolis, but they also play in a dome. Could this be Rodrigo Blankenship's year? Blankenship will not only play all his home games in a dome, but also kicks in Houston, Jacksonville, Las Vegas, Los Angeles and Dallas on the road. And a game in Denver where the light air is always conducive to 50+ yard field goals. I make him the dark horse to win the kicking crown.