A Thanksgiving Week treat for fantasy owners… no byes. This will help everyone fill out their lineups while filling their stomachs with turkey and stuffing and gravy and potatoes and cranberry sauce, etc. For most, three weeks remain in the fantasy regular season, so it is time to think about the playoffs. If you are locked in, think about your guys' schedule. If it is not great, consider a trade. Additionally, if you have great depth, consider making a two-for-one trade to grab an elite for the championship run.
Byes: None

Truths
"Rather than love, than money, than fame, give me truth." – Henry David Thoreau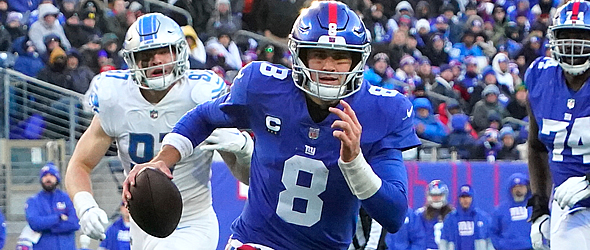 1) Since Week 7, Daniel Jones is a top-10 quarterback.
Surprisingly true. He is ranked eighth (23.5 FPts/G). Despite being 19th in passing yards and passing TDs, he is fourth in rushing yards (219 yards) and scored on the ground twice. Jones is ranked ahead of Justin Herbert, Kirk Cousins, Lamar Jackson, and Tom Brady. Unfortunately, if you have not already taken advantage of his production, it's probably too late with Dallas (No. 5 against opposing fantasy QBs) on Thanksgiving Day and Philadelphia (No. 2) as two of his next three opponents.

2) Tony Pollard is No. 1 among running backs since Week 7.
Another surprising fact. Even with Ezekiel Elliott back, Pollard still leads NFL running backs with 26.3 FPts/G which is two and a half points better than runner-up Joe Mixon. He faces a generous Giants' run defense which has allowed 25.7 FPts/G since Week 7 (22nd overall).

3) It is no surprise that Melvin Gordon was summarily waived on Monday.
Gordon was not rushing well, going at a career-low rate of 3.5 ypc and had already fumbled five times this season (one off his personal "best" of six in his rookie season), including three times in goal-line situations. Gordon might get picked up for the stretch run by a contender, but there is not much of a chance he's a fantasy-worthy starter for the remainder of 2022.

4) Houston's Dameon Pierce is fifth in rushing yards over the past five weeks, but he is just 28th in running back fantasy scoring.
This is a fact. Despite rushing for 368 yards, he is averaging only 12.3 FPts/G because he and the Houston offense do not get into the end zone enough (15 offensive touchdowns – 11 passing, four rushing). The Texans rank 31st in scoring with 159 points through 10 games, better than only one team… Denver (147). Pierce has just one touchdown since Week 7, on a reception.

5) Saquon Barkley's receiving talents are being underused.
True. Over his first two seasons he saw 6.7 targets-per-game and produced 4.9 receptions for 40 yards and .21 touchdowns. In three seasons since then, Barkley is averaging 4.3 targets, 3.1 receptions, 21.3 yards and .08 touchdowns, including zero scores this season. Barkley has just six catches for 30 yards over the past three games, two of which were losses. Brian Daboll must use his star running back more in the passing game, particularly one which doesn't have Kadarius Toney (traded to Kanas City), has a useless Kenny Golladay and just lost Wan'Dale Robinson to injury for the season ACL).



Lies



"A lie told often enough becomes the truth." – Vladimir Lenin
1) Jacksonville (3-7 and 19th in scoring) doesn't offer much help to fantasy owners.
False. In fact, Jacksonville is one of only two teams with a fantasy running back and a fantasy receiver in the top-six since Week 7 (the other is Dallas). Wideout Christian Kirk has been a top-10 guy all season, but has upped his game of late, averaging 19.3 FPts/G over that span. Meanwhile, running back Travis Etienne has thrived without James Robinson (traded to the New York Jets) averaging 20.7 FPts/G since the trade deadline.

2) Having a backup quarterback starting in Washington is not helping Terry McLaurin rebound from a poor start.
The opposite is true. Taylor Heinicke appearance as the starter in Week 7 has improved "Scary Terry's" production by almost four fantasy points per game. He has improved from 11.18 FPts/G to 15.12 points. He's ranked 18th over that span vs. 30th for the season. He is seeing more targets and producing more than Curtis Samuel, who was the Commanders' receiving star at the beginning of the season.

3) The return of Keenan Allen and Mike Williams will kill Josh Palmer's fantasy value.
Since Williams made one nice catch on the sideline and re-injured himself, this is a non-issue. Allen is likely still on a snap-count for a few more games and who knows how long Williams will be sidelined this time. Palmer produced 30.6 fantasy points in the Sunday night thriller against Kansas City and is averaging 17.8 FPts/G over his last four games. With Herbert averaging 41.6 passes per game, Palmer should continue to be fantasy-worthy despite Allen's return, particularly with the Cardinals and Raiders next up on the schedule.

4) After a trade it takes time for a receiver to learn a new passing offense.
Apparently not for T.J. Hockenson. He has blended in perfectly with the Vikings after his trade from Detroit. In three games, Hockenson has seen at least nine targets in each and is averaging 12 FPts/G. He averaged 11.9 FPT/G in Detroit, which included a monster 37.9 fantasy points in Week 4, which skewed his Lions' numbers.

5) Greg Dortch (9-103-0 on Monday night) will be a great fantasy option for the next few games.
Perhaps, with Rondale Moore pulling a groin against the 49ers Monday night and expected to miss time. However, Dortch may or may not be a good option depending on when Marquise Brown returns, but he will not be great. If Brown (returned to practice last week) and DeAndre Hopkins are on the field, there aren't many targets left for the third receiver. Dortch (thumb) would be much less of a value in that case. He is owned in less than one-percent of all leagues so Dortch could be a stash if you have room on your roster, just in case Brown still is sidelined.