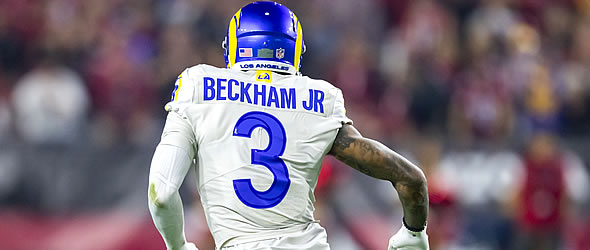 Who did the Baltimore Ravens just sign for $15 million dollars? Is he the man who dominated headlines with circus catches and statistics with the New York Giants from 2014-2018 or the mediocre player who showed up in Cleveland and Los Angeles?

Good OBJ

It was midway through Beckhamís first season that the world saw all of his amazing talents on display with the now famous one-hand, over-the-head catch against the Dallas Cowboys. It was a portent of things to come for the LSU alum. As a rookie he racked up 91 receptions for 1,305 yards and 12 touchdowns good enough for 297 fantasy points and seventh-best in the league. He finished fifth in 2015 and fourth the next season. But injuries marred both 2017 and 2018, although when on the field, he still averaged 18.5 and 18.3 FPts/G, respectively.

He was also a handful for management on and off the field and in March of 2019 he was traded to the Cleveland Browns for a first-round pick which would become Dexter Lawrence, a third-round pick (Oshane Ximines) and Jabrill Peppers.

Bad OBJ

The Browns traded for the mercurial wideout to bring their team up to new heights. But the 2019 Browns with Freddie Kitchens as head coach, Todd Monken as OC and Baker Mayfield under center were too heavy a lift. He put up a 1,000-yard season, but didnít score much and fantasy owners saw his perennial 18-24 FPts/G average slump to 12 points-a-game. The next season was no better, and in fact worse, because he only played in seven games due to injury. He wanted out and was waived by the Browns on November 8, 2021. A week later the Rams signed the wide receiver and he had his moments in the Ramsí Super Bowl drive, particularly in the first half of SB LVI with 52 yards and a score before blowing out his knee.

He hasnít played a down since that game.

Expectations for 2023

The money offer (one-year $15 million guaranteed with bonuses which could bring the total to $18 million) from the Ravens is so far above what most expected him to receive that he might have taken this big bag regardless of who might be the starting quarterback for Baltimore on Opening Day 2023. However, from the Ravensí management sideÖ Why would you make a big move like this if you didnít believe you could contend this season?

You donít contend with a rookie quarterback or a journeyman. This team only competes to win a championship with Lamar Jackson throwing the ball to OBJ, Rashod Bateman and tight end Mark Andrews. Plus, no one in his right mind would think that OBJ or his agent didnít make a call to the star quarterback to ask him of his intentions.

Using the assumption that Jackson will be under center, here is what you can expect from Odell Cornelious Beckham Jr. this seasonÖ

OBJ will not be a top-10 fantasy wide receiver as in his early days with the New York Giants.

The Giants had no tight end on their roster (think Will Tye and Larry Donnell) who warranted seeing 125 targets a season as does his new teammate Andrews (7.41 targets per game over the past four season). Heíll also share targets with up-and-coming receiver Rashod Bateman whoís 2022 season ended far too early due to a Lisfranc injury. The Lisfranc injury can sometimes be hard to come back from which might have been a small reason for Jacksonís reluctance to sign on the dotted line.

Beckham should easily improve on his Cleveland years just based on the better quality quarterback throwing him the ball. But he also wonít be the ďtarget monsterĒ he was in New York (10.5 targets-per-game or 178 for a 17-game schedule). Additionally, Eli Manning used to throw 600 times a season and Lamar has never cracked 402. The Ravens will still be a run-first organization behind J.K. Dobbins, Gus Edwards and Jackson himself.

My estimate is 110 targets with a catch percentage slightly higher than New York because Jackson will be more selective in throwing to OBJ than Manning, who used to force the ball to his only big-play receiver. Iíll use 65-percent to reward him with 71 catches for 994 yards and seven touchdowns. This would result in 212.4 PPR fantasy points and based on last yearís statistics would rank him at No. 22 between the Jetsí Garrett Wilson and Denverís Jerry Jeudy.