Nine weeks down, nine weeks to go. For fantasy owners thatís actually five weeks to make the playoffs and three more to win the championship. Three tough bye weeks remain (10, 11 and 13) combined with continuing injuries means you have to maintain your roster depth until later on down the road.
The top-two scoring teams are on bye (Miami at 31.7 ppg, Philadelphia at 28.0) and three of the top-10 fantasy quarterbacks (Patrick Mahomes, Jalen Hurts and Tua Tagovailoa) will be sitting on the couch watching Red Zone just like us, so points may be tough to come by.
Byes: Kansas City, Miami, Los Angeles Rams, Philadelphia

Truths
"The less versatile you are, the better you have to be at what you do well." – Bill Belichick
1) Tennessee rookie quarterback Will Levis could be a viable QB1 the rest of the way.
Through his first two NFL starts heís averaging 21.2 FPts/G (ranks 14th overall) and heíll only face one top-15 defense (based on opposing QB fantasy points allowed) over the final nine games (Carolina in Week 12). Playing the Steelers and Falcons the past two weeks, he averaged 250 passing yards and two touchdowns.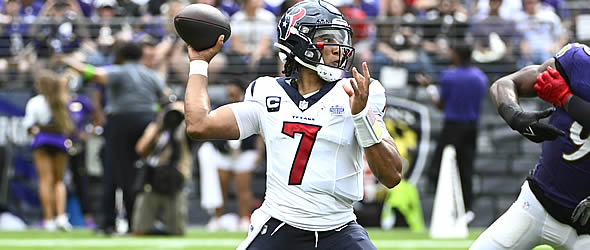 2) While we were all very impressed by C.J. Stroudís great performance in Week 9 against Tampa Bay (44.5 fantasy points), he is not an every week starterÖ yet.
Unfortunately true. Heís going to be a very good quarterback in the future, but this rookie is still struggling on the road. Check out his home/road splits. Heís averaging a stunning 28.7 fantasy points in four home games, but just 17.1 points on the road with only one road game cracking the 20-point plateau. He is schedule to play in Cincinnati this weekend against a Bengals team who has more interceptions (11) than touchdown passes allowed (9). Beware.
3) Green Bay Packers quarterback Jordan Love is not the answer.
Love gave us false hope over the first four games (24.1 FPts/G), but has taken a giant step backwards over his last four starts (16.7 FPts/G) against inferior opponents (Las Vegas, Denver, Minnesota, Los Angeles Rams).
4) Since Week 7, Rachaad White is the No.6 running back in fantasy.
Fact. Heís actually cracked the 15-point mark for three consecutive weeks without much attention. White hasnít run for many yards (season high is 73 yards) despite averaging 14 rushing attempts per game, but heís been a solid receiving option for quarterback Baker Mayfield. White has 17 receptions over the past three games for 181 yards and those 35 combined fantasy points in PPR leagues have come in mighty handy.
5) I traded CeeDee Lamb during his bye week (7), and since then, the Cowboysí No.1 wideout has gone off.
This is a true statement and you can thank me later. The Cowboys had made little use of their best receiver over the four-game stretch from Week 3-6 (averaged 6.2 targets) and I thought head coach Mike McCarthy would never learn how to use him. However, since the bye week, Lamb has seen 14 and 16 targets and produced 349 yards and two touchdowns worth 71.1 fantasy points. (Itís not all bad news for me since I kept Dak Prescott as my quarterback).

Lies

"Praise from the common people is generally false, and rather follows the vain than the virtuous." – Sir Francis Bacon
1) Running back Gus "The Bus" Edwards has become an RB1.
False. Edwardsí recent explosion is directly related to his ability to get into the end zone. He has not rushed for more than 80 yards in any game this season and heís not usually a part of the passing game with just six catches over nine games. But he has scored six times in the last three games. Thatís a nice bonus for those who have started him, but itís unsustainable for a full season. One of the main reasons itís unsustainable for Edwards is because quarterback Lamar Jackson, who has five rushing touchdowns this season, only has one over the last five games and that too wonít last.
2) Deshaun Watson is back.
A mediocre game against the horrible Cardinals is hardly an endorsement. Watson threw for 219 yards and two touchdowns without an interception in a 27-0 victory. Nice, but the 21.2 fantasy points doesnít make you a QB1. Letís see what he does in an AFC North division matchup with Baltimore. The Ravens are No.1 against opposing quarterbacks allowing a league-low 14.5 fantasy points. They have allowed a 20-point fantasy total just once. If Watson puts up QB1 points this week maybe Iíll believe in him.
3) Tua Tagovailoa can lead you to a fantasy championship.
The Magic 8-Ball says no. He can and will lead you to the playoffs, but look at his playoff schedule. Week 15-17 he faces the New York Jets, Dallas and Baltimore. Thatís No. 10, No.11 and No.1 against opposing quarterbacks. Meanwhile, Tua has struggled against good teams producing 18.8 versus Buffalo, 14.5 against the Eagles and 14.4 last weekend against Kansas City. What do these three teams have in common besides being good? They all have a great pass rush, ranking fifth, fourth and second, respectively in sacks. The Ravens have a league-high 35 sacks. Dallas has Micah Parsons and the Jets pass rush is fierce. PlayoffsÖ yes. TitleÖ sorry, no.
4) David Montgomery will resume his role as the workhorse back in Detroit.
Heís going to return, but the role will be somewhat reduced based on the recent play from Jahmyr Gibbs. In his four healthy games, Montgomery saw 88 carries and produced 371 rushing yards and six touchdowns worth 20.7 fantasy points per game. Thatís top-five stuff. But in two starts, Gibbs went for 220 rushing yards, 95 passing yards, two touchdowns and averaged 28.7 fantasy points a game. You canít keep Gibbs on the bench like they did over the first quarter of the season and they wonít. Expect a 50-50 split for the rest of the season.
5) There are no fantasy-worthy Chiefs wide receivers and havenít been since Tyreek Hill left.
Rashee Rice is becoming that second guy for Patrick Mahomes. The rookie started slowly, as rookies frequently do averaging 8.2 FPts/G over the first four games, but heís averaged 12.2 points over the last five and should get better as his Pro-Bowl quarterback gets more confidence in him. Last yearís best Kansas City wideout was JuJu Smith-Schuster who averaged 11.8 FPts/G. Rice should average closer to 14 fantasy points per game over the remainder of the season.