QB Teddy Bridgewater
2019 QB Rank - No. 33, 12 FPts/G
Last season Bridgewater got a chance to start a few games for the first time since 2015, when he started for the Vikings. After being drafted by Minnesota to be their quarterback of the future, he suffered a serious knee injury. That injury cost him the entire 2016 season and he continued to sit all through the 2017 season. Some thought he might not play again, but he landed with the Saints as a back-up in 2018, and spent most of the past two seasons sitting behind Drew Brees.
It looks like his time off, and his time under Brees, grew him as a player. In his starts last season when Brees broke his hand, Bridgewater was very efficient. He posted a 68% completion percentage, and threw 9 touchdowns and only 2 interceptions. He looked accurate and confident.
He entered free agency this offseason with a great opportunity to land a starting job, having shown he has what it takes to be a successful starter. The Panthers signed him as they transition to a new era, away from longtime coach Ron Rivera and longtime quarterback Cam Newton. Bridgewater gets the opportunity to take over an exciting new offense which new head coach Matt Rhule and new offensive coordinator Joe Brady plan to implement.
He is not very mobile, so he does not add any upside as a rusher, which can be a key element in fantasy football success for a quarterback. But he gets the opportunity to be a distributor in an offense that should be fast-paced and dynamic, and he is surrounded by one of the better young skill-position groups in the NFL. He will likely be throwing a ton of short and intermediate passes to Christian McCaffrey, D.J. Moore, Curtis Samuel, and Ian Thomas – and that should lead to a lot of passing yardage being racked up. Those players are fantastic in the open field and are very dynamic, which should lead to a lot of "easy" stats for Bridgewater.
He is basically free in fantasy drafts, lasting until the very late rounds. So for those who want to wait on quarterback, or stream the position, Bridgewater is an excellent late-round option.
McCaffrey had one of the greatest seasons ever at the running back position in 2019, rushing for 1,387 yards and 15 touchdowns, and adding 1,005 yards receiving on 116 receptions with another 4 touchdowns through the air. It was one of the highest-scoring seasons ever for a running back, as he scored 469 PPR points. The only running back to ever score more in a season was LaDainian Tomlinson, who scored 472 PPR points back in 2006.
Despite the amazing season, it is important to realize that McCaffrey basically did what he has been doing his whole career. It does not look like his 2019 was much of an outlier when you look carefully at the stats. Perhaps he scored touchdowns at a higher rate than normal on the ground, and that certainly may regress to the mean a bit. But he finished with 4.8 yards per carry; in 2018 he finished with 5 yards per carry. He simply got more carries in 2019. In 2018 he had 107 receptions with an 86% catch rate; in 2019 he had 116 receptions with an 81% catch rate. He simply had more targets in 2019.
So the main question to consider with McCaffrey is whether his workload will continue to be so robust. He finished 2019 with 403 total touches, and the next highest running back (Ezekiel Elliott) finished with 355 touches. There were seven other backs besides Elliott and McCaffrey who finished above 300. McCaffrey is an otherworldly talent, but his huge touch total certainly contributed to his remarkable fantasy season.
He was also on the field for over 93% of the Panthers' offensive snaps, and Elliott was again second with 83%. That equates to an extra 102 snaps for McCaffrey compared to Elliott. And all of that opportunity led to a bunch of extra touches and production. So will Rhule and Brady keep McCaffrey on the field at this rate, or will they try to keep him fresh and rotate him off more often? That is a question we cannot know the answer to, but the truth is that McCaffrey has been historically excellent whenever he's been on the field. So he will likely be worth the first overall pick in fantasy drafts, even if his snap share plummets to around 75%.
RB Reggie Bonnafon
2019 RB Rank – No. 94, 3.7 FPts/G
Since McCaffrey played almost every snap at the running back position, there is not much to talk about when it comes to their other backs. Reggie Bonnafon seems to be McCaffrey's primary back-up, and would presumably get a big chunk of the carries if McCaffrey were injured. The coaches have said in the past that Bonnafon has some of the same traits as McCaffrey, but it's very difficult to tell how good he is with the limited sample.
He only received 16 carries last season, but he did take one of them 59 yards for a touchdown, so he certainly appears to have some explosiveness. He also showed he can catch the ball, catching 6 of 9 targets for 57 yards. Overall, though, he looks to be a very raw young runner. He might be worth taking as a handcuff for McCaffrey owners very late in drafts, but on the other hand, the new coaching staff might prefer Jordan Scarlett or Mike Davis. It might be worth having Bonnafon for the first few weeks, just to see whether McCaffrey's snaps remain the same or if he is given more breathers this season.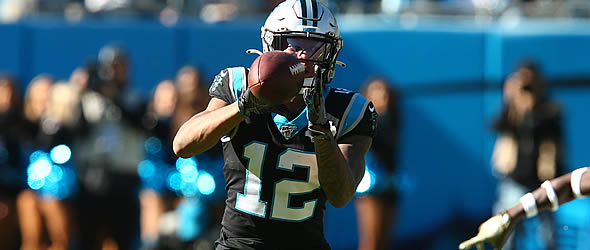 WR D.J. Moore
2019 WR Rank – No. 15, 15.5 FPts/G
Entering his third season and only 23 years old, Moore is on a historic pace. In his rookie season he had 55 receptions on 82 targets, for 788 yards and 2 touchdowns. In his second season, even with very poor quarterback play, he produced 87 receptions on 135 targets, for 1,175 yards and 4 touchdowns. If he takes another step forward with an innovative offense and a better quarterback, Moore could easily enter the elite echelon of wide receivers. He could even be among the top three receivers in the league.
He certainly has the physical attributes to get there, as he was one of the most athletically-gifted players ever tested at the Combine. He ran a 4.42 40-yard dash and had a 39.5" vertical and a 132" broad jump. Those are excellent numbers, but he is not just a gifted athlete. He is a technically-sound route runner, and once he gets the ball in his hands he is excellent in the open field.
Poor quarterback play in 2019 was part of the reason his catch percentage was only at 64% and his yards-per-reception rate was only at 13.5. Those numbers should improve with Bridgewater. In addition, the offense should be in scoring position more often as the unit improves overall, which should lead to more scoring opportunities for Moore. If the offense clicks, Moore should finish within the top-10 wide receivers in fantasy, making him a great choice at his current ADP in the third round.
WR Curtis Samuel
2019 WR Rank – No. 36, 10.7 FPts/G
Curtis Samuel might be the biggest beneficiary of the switch to the new coaching staff. Rhule and Brady have made it clear that they understand Samuel is excellent with the ball in his hands, and is more than just a guy who can run fast and go deep. Last season, Samuel was targeted deep but Kyle Allen's poor accuracy on deep throws led to Samuel only catching 54 balls, on 105 targets.
Samuel is certainly very fast; he ran a 4.31 40-yard-dash, even faster than Moore. But what stands out about Samuel on tape is that he is very quick in short areas, meaning he would be excellent from the slot or on end arounds. They should try to get the ball in his hands quickly and let him work, and it sounds like that is what the new coaches want to do. They brought in Robby Anderson to play on the outside opposite of Moore, enabling Samuel to play in the slot, or as a gadget player to surprise defenses.
This should suit him well, and even if his target volume comes down a bit he should be far more efficient. Bridgewater showed last season he is an accurate passer and is great at anticipatory throws in the short and intermediate areas. This should help Samuel tremendously. Samuel is an excellent late-round option and has the potential to far out-produce that draft position.
WR Robby Anderson
2019 WR Rank – No. 41, 10 FPts/G
Speaking of deep threats, Robby Anderson has been almost exclusively a deep option in his first four seasons with the Jets. He has finished between 14 and 15 yards-per-reception every season, but the down side of being targeted so far down the field is that his catch percentage has been between 53% and 55%.
It seems clear that the Panthers envision Anderson doing more of the same in 2020, but perhaps with an overall improved offense around him, he will get more opportunities to get open. This could lead to a higher catch percentage and also to more touchdowns. Still, Anderson figures to be the fourth option on the team at best, and will likely continue to serve as a deep threat that clears out a safety for other weapons to get open.
Anderson is likely not worth a pick in fantasy leagues until very late in drafts, as his week-to-week fluctuations in scoring will be frustrating and difficult to predict. Still, he is a good late option in best-ball leagues, since he will certainly have weeks where he gets in the end zone.
TE Ian Thomas
2019 TE Rank – No. 53, 4 FPts/G
Ian Thomas is an athletic tight end who seems like he could be on the verge of a breakout. He has all the physical tools to succeed, and he has had the privilege of learning the pro game behind one of the greatest tight ends of his generation, Greg Olsen. Now Olsen has moved on to Seattle, and Thomas finds himself in a perfect position to take over and hit the ground running.
When Thomas has had the chance to play significant snaps, he has produced. He got to start two games late in 2019 with Olsen injured, and produced 7 receptions for 80 yards and a score in those games. Those are not amazing stats, but he was also playing with Kyle Allen at quarterback and was jumping in as a fill-in. With an offseason to establish his role in the offense, and with a much better quarterback and offensive system in place, Thomas has a real chance to excel.
He should be the unquestioned starter at the position, and could receive 70-plus targets. As a late-round flier, Thomas is an excellent choice and is one of a host of young tight ends who could jump into the upper ranks at the position this season.