QB Deshaun Watson
2019 QB Rank - No. 5, 25.3 FPts/G
Deshaun Watson again finished in the top five at the quarterback position in 2019, although his statistical output waned some from 2018. His interception rate was up and his completion percentage was down; he also rushed for less yardage. Nevertheless, he had a very solid season and led the Texans to a victory in the playoffs.
If there is a reason to not blame Watson for his slight dip, it is that the Texans' offensive line was very poor at protecting him. For the second straight season, Watson was at the top of the league in sacks, taking 44 in the regular season and another 11 in the playoffs. The fact that he has consistently been excellent despite very poor protection is impressive.
A few things will change this season for Watson. First, Bill O'Brien will apparently no longer be calling plays. Offensive coordinator Tim Kelly, who will be in his second season in that role, will call the plays. How that will change the overall offense, and specifically the run/pass ratio, is to be seen.
Second, the Texans' best receiver, DeAndre Hopkins, is gone. This certainly hurts Watson, since the two had built a nice rapport and he must now work to build that same chemistry with two new receivers (Cooks and Cobb) – despite limited offseason work.
Third, the backfield has changed. Though Duke Johnson is still around and will likely continue flanking Watson on passing downs, David Johnson is now likely to be the primary back instead of Lamar Miller or Carlos Hyde. If David Johnson returns to his form of a couple seasons ago this could be a positive for the offense as a whole.
To this point in his career, Watson has been incredibly durable. If the sacks continue, however, you'd have to assume that will catch up with his body at some point. The Texans will likely look to limit his rushing to some degree to keep him healthy, even though the rushing ability is a key part of his fantasy value. I'd expect him to take a small step back without Hopkins, but overall I think he'll finish very close to the same place in the QB rankings during 2020.
RB David Johnson
2019 RB Rank – No. 36, 12 FPts/G
It's been an interesting ride for David Johnson. He entered the league as a workout wonder from Northern Iowa, with many folks unsure whether his skills would translate to the NFL. He excelled right out of the gate as a special teams player and a passing down back, and was given 125 carries as a rookie. He was so successful that he was made the starter in 2016 and took the league by storm, scoring 20 touchdowns and putting up over 2,100 rushing and receiving yards.
In 2017 he was the first overall pick in a majority of fantasy leagues, but unfortunately broke his wrist in Week 1 and missed the rest of the season. In 2018 he appeared to be a shell of his former self, rushing for only 3.6 yards per carry. However, many attributed his lack of dynamism to a poor offensive scheme under Mike McCoy. With the new offense Kliff Kingsbury brought to town last season, many expected a resurgence for Johnson, and he was again a first-round pick in most fantasy drafts. However, he appeared slow and out of sorts, rushing for only 3.7 yards per carry. The Cardinals benched him and traded for Kenyan Drake mid-season.
The Texans traded for Johnson (giving up Hopkins in the deal), and are stating they expect a resurgence. Johnson will be 29 years old this season, and did not appear to have the same quickness last season that he displayed early in his career. However, Bill O'Brien believes he still has enough in the tank to be a lead running back. Last season, Carlos Hyde was effective, and the Texans' offensive line led the league in power blocking success, according to Football Outsiders. So, I'd expect any running back could have success on runs up the middle in this offense, particularly with the threat of a running quarterback also in the backfield.
How successful Johnson will be from a fantasy perspective likely depends on two things: how much the Texans use him in the passing game and how much he really has left physically. If his slow past two seasons were due mostly to nagging injuries and poor coaching, we could see a resurgence, and he could return to being one of the top backs in the league. The flip side is also true, making him a risky pick in the early rounds of your fantasy drafts.
RB Duke Johnson
2019 RB Rank – No. 30, 9.8 FPts/G
Duke Johnson remains a useful PPR back, even though his receiving numbers have decreased a bit from his early years in Cleveland. He received 62 targets for the second consecutive season, catching 44 of them in 2019 for 410 yards and three touchdowns. He saw his rushes double from 2018 to 2019, carrying the ball 83 times for 410 yards (4.9 yards per rush). That efficiency is the reason many Duke Johnson fans have been saying for years that he deserves a larger share of his team's rushing load. However, it is difficult to judge how much of his healthy yards-per-carry average is due to teams defending against the pass when he's on the field.
Both Cleveland and Houston have used Johnson in the same ways, so we can probably assume his role will be similar - passing down back with a few carries per game thrown in to keep the defense off-balance. He is effective in the role, and may see a few more targets this year, since Hopkins is out of town and since Johnson has the ability to line up all over the field.
However, the opposite argument can also be made since David Johnson has far more skill in the passing game than does Carlos Hyde. It is possible that if we do see a David Johnson resurgence in 2020, Duke Johnson is relegated to a pure backup role and sees far fewer touches. However, I expect that O'Brien and Kelly will run the offense in a very similar fashion to the past few years, and that Duke will remain a usable, if unspectacular, PPR option.
WR Brandin Cooks
2019 WR Rank – No. 61, 8.4 FPts/G
Knowing the concussion history of Cooks, it is amazing that he has only missed a handful of games in his career. He has now had at least five documented concussions, including two in a short span last season. After his second concussion, many were calling for him to retire, or at least take the rest of the season off, but Cooks was adamant that he would play.
Concussions aside, Cooks has been productive as a receiver so far in his career. He had four straight seasons with at least 65 receptions and 1,000 receiving yards, and that was despite playing for three different teams during that span (Saints, Patriots, and Rams). However, last season he took a large step back, posting on 42-583-2 on 72 targets in 14 games. The slide could have been due to the concussions, or perhaps he simply could not get in sync with Jared Goff in a struggling offense.
Either way, the Texans are counting on him to return to his productive ways, and would love him to seamlessly take the place of DeAndre Hopkins as the primary receiver on the outside. He is not nearly as skilled as Hopkins, but he has speed, and has certainly upgraded at quarterback in moving from Goff to Watson. I expect Cooks to approach 70 receptions and 1,000 yards if he stays healthy, but that is a giant if. His injury history should rightly push him down considerable distance draft boards.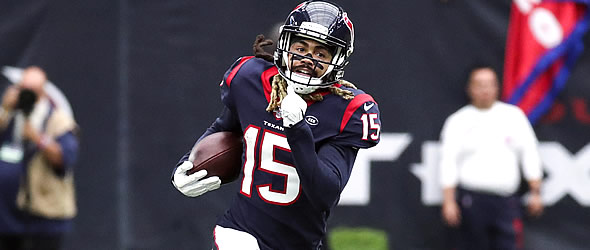 WR Will Fuller
2019 WR Rank – No. 53, 12.2 FPts/G
Speaking of injury history, Will Fuller could be the poster boy for a player with huge potential that has been limited due to injuries. When on the field, Fuller has been dynamic, even with Hopkins soaking up so many targets. Fuller has a ridiculous amount of speed and athleticism, and routinely burns corners to get wide open. But in his four-year career, he has missed 22 regular-season games due to injury. That is just a killer for fantasy owners, who never know when he will be ready to go or when he might get injured during a game.
Along with high risk often comes high potential reward, though. If Fuller ever did stay healthy for a whole season, he could be a top-12 receiver in the league. He is the type of player who could score double-digit touchdowns without even receiving 100 targets. In fact, in 2017 he scored 7 touchdowns on just 50 targets and 28 receptions!
Since no one can bet on him to stay healthy, he is a mid-round dart throw at this point. There is certainly a chance that a healthy Fuller becomes the No.1 option in the passing game, since he already has a rapport built up with Watson while Cooks and Cobb are new to town. If he stays healthy and has such an explosion, he will be a league-winner, and one of the best picks made in drafts this year. Although that is not an outcome anyone can plan on due to his past, it is fun to daydream about what a healthy Fuller could do with 140 targets.
WR Randall Cobb
2019 WR Rank – No. 42, 10.5 FPts/G
After a down 2018 with the Packers in which Cobb struggled with health and produced only 38 receptions for 383 yards and 2 touchdowns, he had a resurgent year in 2019 with the Cowboys. He played in 15 games and had 55 receptions on 83 targets, for 828 and 3 touchdowns. Now he arrives to Houston to help fill the void left by Hopkins.
The Texans have been looking for a consistent slot receiver for a number of years, and their inability to find one seems to be the reason they were eager to add an aging Cobb to the roster, even though they had to guarantee $18m at signing. Yes, Cobb is on the downhill side of his career, but he still possesses the quickness in and out of breaks that makes him difficult to cover in the slot. He has good hands and good after-the-catch ability. He should be effective in this offense, particularly since Watson is often in need of quick outlet options with the poor offensive line play.
Cobb should continue his resurgence in Houston, soaking up some of the targets that went to Hopkins and others that went to the tight ends. He should produce at similar levels to his one-year stint with the Cowboys and be a productive player in this offense.
TE Darren Fells
2019 TE Rank – No. 17, 7.3 FPts/G
Fells had the best season of his career in 2019, at 33. He was a steady option for Watson up the middle and in the red zone, and caught 34 balls on 48 targets. He had 341 yards and an impressive 7 touchdowns, showing his value to the Texans when they needed a big catch.
They also used Fells quite a bit on quick screens and on run-pass option plays, and he was effective in that role. Although he is not as gifted physically as most tight ends in the league, the Texans scheme does rely on tight ends for both blocking and for a few receptions per game, making Fells a good option for the role. He was re-signed on a two-year deal this offseason, meaning they liked what they got out of him and want him to continue in that role.
If you are in a TE-premium or best ball league where most tight ends are owned, Fells is certainly a name to keep in mind as a late-round option, and could provide surprising upside if his efficiency in the red zone continues.