QB Gardner Minshew
2019 QB Rank - No. 21, 20.1 FPts/G
Gardner Minshew was drafted in the 6th round of the NFL Draft in 2019, with newly-signed Nick Foles solidly atop the depth chart. He was most likely to sit behind Foles for a few years and learn the game on his way to being a long-term back up. How quickly fortunes change! Foles was injured in the first game of the season, and Minshew was inserted into the lineup and played well against the Chiefs. He moved the ball down the field effectively, finding open receivers surprisingly well.
By mid-season, Foles was healthy and regained the starting job. But after only two games and part of a third, they decided to turn back to Minshew, and stuck with him the rest of the season. The likelihood of that scenario playing out before the season started was incomprehensibly small. But here we are.
While Minshew only completed 60% of his passes, he was very impressive in his ability to take care of the ball, particularly for a young player. He only threw 6 interceptions to 21 touchdowns, a very rare ratio for a rookie. With the Jaguars passing on selecting a QB in the 2020 Draft, it certainly appears that they want to give Minshew a chance to become their franchise QB. He displayed above-average intelligence, solid accuracy, and good leadership. Those seem to be his best qualities, and he is not going to be mistaken for a quarterback with a huge arm.
He is in position to succeed, and could be a nice option for those going with a late-round quarterback strategy. He is surrounded by a solid skill-position cast and at least an average offensive line. It remains to be seen if he can take the next step and become more than a replacement-level player, but with your last pick it might be a worthwhile gamble.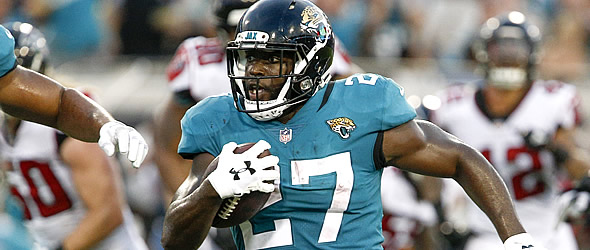 RB Leonard Fournette
2019 RB Rank – No. 7, 17.4 FPts/G
Leonard Fournette gets a bad rap. He has been on one of the worst teams in the league since he was drafted 4th overall in 2017, yet he has produced each year. He has never produced at the level expected of a player drafted that highly, but then the team around him has been mostly awful.
His yards-per-carry average was the highest of his career in 2019 at 4.3, and that was behind the 27th-best run-blocking offensive line, per Football Outsiders. He has never been known as a pass-catcher but had 76 receptions last season on 100 targets. He logged nearly 1,700 all-purpose yards, and it seems the only reason folks are down on him (myself included) is that he has not turned his touches into more touchdowns. On 341 touches in 2019 he scored only three times.
However, in 2017 and 2018 he scored 10 and 6 times, respectively. So could it be that he scored so seldomly because his team was so rarely in a position to score? That is certainly part of the story. Still, it is hard to trust a back on such a poor team, with a quarterback who is still hard to have faith in. Therefore, most fantasy players will avoid Fournette until at least the third round, maybe the fourth. But the upside is there. Any player who is likely to touch the ball 300 times, as Fournette is, is a very valuable player to roster.
He is unlikely to receive 100 targets again, especially since new play-caller Jay Gruden brought in Chris Thompson to be his third-down back. But with a better offensive design, it is also likely that defenses will have a harder time shutting down the offense, leading to more effectiveness in moving the ball, and more scoring opportunities. It seems likely that Fournette will be on the move to a new team after this season, which could lead to him being in a much better situation in 2021. In short, Fournette is a nice buy-low candidate this season, particularly in dynasty.
RB Chris Thompson
2019 RB Rank – No. 52, 8.5 FPts/G
Since Chris Thompson began getting regular playing time in 2015, he has averaged 4.6 targets per game he has played. That has turned into 3.4 receptions per game. He also has 4.8 yards per rush and has scored 15 touchdowns. Those numbers are not eye-popping, but they at least should paint the picture of an effective third-down back. The glaring knock on Thompson is that he has consistently dealt with injuries, and has only played 16 games once. Much of that likely has to do with his small stature, but he may also simply be more prone to get injured.
Jay Gruden liked what he saw in Washington enough to bring him down to Jacksonville, so there is already a familiarity not only with Gruden but also with the scheme Gruden will run. That should enable Thompson to be ready to contribute much more quickly, and it is likely he will play on every third down, and maybe a bit on other downs as well. In PPR leagues, Thompson is a shrewd late-round option, as he could become a valuable player if the Jaguars' offense plays better this season.
WR D.J. Chark
2019 WR Rank – No. 18, 14.9 FPts/G
Chark was not a prospect with a ton of buzz until the Combine, but his excellent performance there really pushed him up the boards of many teams. The Jaguars ended up picking Chark in the second round of the 2018 Draft, and he had a quiet rookie season (only 14 receptions).
His second season was a true break-out performance. He had 73 receptions on 118 targets, for 1,008 yards and 8 touchdowns. He was the clear-cut No.1 receiver on the team, jumping over veterans to take that mantle. He boasts excellent speed, good route-running ability, and a knack for going up and getting deep balls. Although his upside is a bit capped for fantasy leagues due to his less-than-ideal quarterback, he proved last season he can produce with Minshew under center.
He should also benefit from the change of offensive scheme Jay Gruden will bring, since the entire offense is likely to be more efficient. He should also be helped by the addition of Laviska Shenault to the wide receiver room, since he is another speedy threat that defenses will have to account for. That should give Chark a bit more room to operate. Finally, the team should still struggle to win many games, which will mean lots of extra passing late in games to benefit the stats of all the Jaguars' pass catchers.
WR Dede Westbrook
2019 WR Rank – No. 45, 10.2 FPts/G
Westbrook's career has been steady, if not spectacular. He entered the league as an undersized (178 pounds) but speedy (4.34-40) receiver who produced nicely at Oklahoma. He is both quick and fast, and some thought he could become a true No.1 receiver in the vein of Odell Beckham Jr. because of his route-running and long speed. But that has not panned out.
The Jaguars have used him almost exclusively in the slot, and he has had 66 receptions on 101 targets in both of the past two seasons. His overall fantasy scoring slipped a bit in 2019, since he went for 57 fewer yards and two fewer touchdowns. But it seems we know about what to expect from him, at least for as long as he remains in Jacksonville.
Perhaps the new coaching staff will find more ways to use him and create mismatches with his speed, but so far he has been a typical slot receiver who averages about 10 yards per reception. He is a fine "floor" fantasy option late in drafts, for when you need a bye-week fill in at receiver. But his upside is capped unless the Jags start sending him downfield more often.
WR Chris Conley
2019 WR Rank – No. 43, 9.7 FPts/G
Perhaps the reason the Jags did not want to send Westbrook deep in 2019 is because they also have Chris Conley. He has the same 4.3 speed but is also 6'3", and he was often used as a field-stretcher last season. He had the highest yards-per-reception mark of his career in 2019, at 16.5. Likely because Minshew is not a very good deep-ball thrower, he only caught 52% of his targets (47 receptions on 90 targets). He did record 775 yards on those receptions, with 5 touchdowns.
If Minshew improved his deep accuracy, it is possible Conley could be a nice sleeper this season. Defenses are likely going to key on Chark, putting their top corner on him and doubling him at times. That should free up Conley with man coverage against a lesser corner much of the time on the other side.
Many see Conley as "just another guy," but they forget that he was extremely raw coming out of Georgia and has been getting better each year. They also miss that he is an athletic freak who not only ran 4.35 in the 40, but also had a 45-inch vertical leap and an 11-foot 7-inch broad jump (both all-time wide receiver records!). If the guy is healthy and continues to get opportunity, he may just become a stud at the position opposite Chark. He is a player to keep an eye on early this season to see how Gruden intends to use him.
Shenault is unlikely to make much of an impact in the NFL in the near-term. He was used primarily as a receiver at Colorado, but also lined up as a running back and wildcat quarterback. Early in his career, he will probably be used as a weapon to keep defenses honest, perhaps by coming across the formation in motion, lining up in the backfield, or being sent deep.
If his game develops, he could become a good NFL receiver who plays the majority of snaps, but he seems to need quite a bit of seasoning to be ready for that kind of role. Since the Jaguars have three or four other receivers they like and are capable, they can afford to give him time to learn the offense and get comfortable. He should be avoided in fantasy redraft leagues, and even in dynasty formats he should not be taken too early. Players with his skill set have a hard time panning out in the NFL, though it is certainly not impossible.
TE Tyler Eifert
2019 TE Rank – No. 20, 6.5 FPts/G
What a strange career Tyler Eifert has had. He has one season in his career with over 50 receptions and more than 5 touchdowns. It just so happened that in that 2015 season, he scored 13 touchdowns in only 13 games! He has been living off of that season, and has been battling injury ever since.
Last season was his healthiest since 2015, but he lacks the athletic dynamism that made him an explosive option back then. He averaged only 10.1 yards per reception, the lowest of his career.
If he produced poorly last season in large part because of the poor Bengals offense, he has a chance to rebound this year without much competition in the tight end room. But the likelihood of that seems slim. In TE-premium leagues he might be worth a late-round flier, but he should generally be avoided in fantasy leagues this season.