QB Ryan Tannehill
2019 QB Rank - No. 23, 22.3 FPts/G
After being drafted 8th overall by the Dolphins in 2012, Tannehill never quite panned out in Miami. He was serviceable, and seemed to be on the verge of a breakout several times during those six seasons, but they understandably let him walk after the 2018 season.
The Titans saw something they could work with, and intelligently swooped in to sign Tannehill to a cheap, one-year deal. When Mariota again struggled over the first five weeks of the season, the Titans decided to turn to Tannehill to see what he could do. They did not regret the decision.
Tannehill had by far the best season of his career, setting career-high marks in completion percentage (70.3%) and touchdown percentage (7.7%). He threw only 6 interceptions as well, helping catapult the Titans into the playoffs – and almost to the Super Bowl.
Tannehill was signed to a new lucrative 4-year deal, presumably to do more of the same. He is surrounded by a good line, an excellent running back who keeps the defense from pinning its ears back and going after the quarterback, and an excellent young pass-catcher in A.J. Brown. Tannehill is unlikely to become a top-10 quarterback during his career, but he is a competent fantasy football option in the late rounds who even provides a bit of upside rushing the ball (185 yards and 4 touchdowns in 2019).
Although the Titans did lose right tackle Jack Conklin in free agency, which is a concern in the protection department, they did draft his replacement in the first round when they took Isaiah Wilson. If he can step in and provide adequate play as a rookie, there is no reason to believe we won't see more of the same out of Tannehill and this offense in 2020.
RB Derrick Henry
2019 RB Rank – No. 5, 20 FPts/G
For some reason it took the Titans coaching staff a few years to figure out how to use Derrick Henry properly. In case you missed it, the proper way to use him is to give him a ton of carries straight into the teeth of the defense, and watch him wear them down.
During his first and second seasons, Henry ran the ball only 110 and 176 times. In Week 13 of the 2018, Henry ran for 238 yards and 4 touchdowns on only 17 carries, and that seemed to snap Vrabel and offensive coordinator Arthur Smith out of it. They stopped giving around half the snaps to Dion Lewis and instead began letting Henry shine, and they have been rewarded.
In 2019 Henry ran the ball over 20 times on seven different occasions, something he had only done three times in his entire career before last season. He had 15 or more carries in every game but one. Henry ran for 5.1 yards per carry, for a remarkable 1540 yards and 16 touchdowns. He also added in 18 receptions and 2 more touchdowns through the air.
Behind an excellent offensive line (ranked 4th per footballoutsiders.com), Henry often built up a head of steam before the line of scrimmage, and it is very difficult to stop a fast 247-pound running back in full gallop. Although he does not get much work in the passing game, the Titans did design a few screens for him to keep the defense guessing, with quite a bit of success. That will never be a prime part of his game, but he should continue adding a bit of value in the passing game.
The bottom line: As long as Henry retains his power and speed and continues to get adequate work, he will produce nicely. He is a worthwhile first-round fantasy choice, even in a time when running backs who are not extremely active in the passing game have been devalued.
RB Darrynton Evans
2019 RB Rank – N/A (Rookie)
Dion Lewis was cut by the Titans after his second season with the team, leaving an opening on the depth chart behind Henry. They chose to fill that opening with a rookie out of Appalachian State, Darrynton Evans. Evans appears to be an upgrade over Lewis physically, as he is bigger and faster, and also seems a bit more dynamic in changing directions. Evans ran a 4.41 in the 40-yard-dash, and distinguished himself in college not only as a runner but also as a returner.
Even though offensive coordinator Arthur Smith committed to Henry more in 2019, he still prefers to use two backs. Lewis played on most of the obvious passing downs and finished the season playing about 30% of the snaps. That leaves room for Evans to carve out a role for himself.
The biggest obstacle, as is the case with most rookies, will be figuring out protections so he can play on third downs. If he can, he has great potential as a late-round flier in PPR leagues. He could get around 50 targets, and with his ability in open space he could produce quite nicely with minimal touches.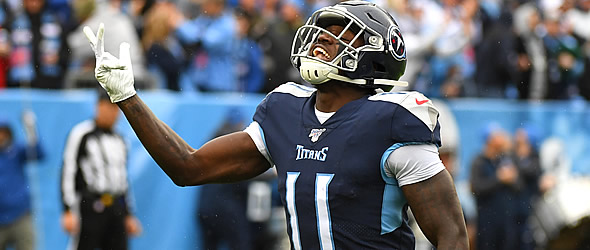 WR A.J. Brown
2019 WR Rank – No. 21, 13.6 FPts/G
A.J. Brown was a bit overlooked early on in his rookie season. Many were excited about his potential, but when the Titans drafted him he was widely panned as a rookie prospect. The thinking was that the Titans just don't throw the ball enough to support a stud wide receiver, plus he would be behind Corey Davis in the pecking order.
Sometimes you just have to bet on talent. It was obvious in Brown's college tape that he possesses an incredible mix of speed, strength, and run-after-the-catch ability. He is also a very good route runner, and can run routes out wide and from the slot effectively. He showed all of that and more as a rookie, producing on limited opportunities.
He surpassed Davis as the team's No.1 option en route to 52 receptions for 1,051 yards and 8 touchdowns! That equated to 20.2 yards per reception, showing off his ability to catch the deep ball and his incredible skill in the open field. If he takes another step in the offense and receives 120 targets, he could produce as a top-five fantasy receiver due to how many yards he is likely to rack up after the catch. The fact that defenses have to "stay home" to account for Derrick Henry only opens things up more for Brown.
Brown played significantly fewer snaps than Davis through Week 7, but from Week 8 on he played 99 more than the veteran. It is clear the coaching staff now sees him as their top option in the passing game, so it is reasonable to project him to take over as the clear-cut target leader in the offense.
The biggest risk or downside to picking Brown in the early rounds of fantasy drafts is that the Titans are not a high-volume passing offense like the Falcons, so his opportunities will be limited in comparison with some other receivers. If there is one receiver to bet on despite limited opportunities, it is probably Brown.
WR Corey Davis
2019 WR Rank – No. 64, 7.7 FPts/G
Corey Davis entered the NFL as the 5th overall pick in the 2017 NFL Draft, and many in the fantasy community had high hopes for him. He has the prototypical build for a No.1 NFL wide receiver, and is very athletic. But so far, he has not been able to establish himself as a dominant player at this level.
Granted, he did play with Marcus Mariota during his first two seasons. During his second season (2018) he produced 65 receptions for 891 yards and 4 touchdowns as the clear leader in the wide receiver room. Many expected a big step in 2019, particularly since A.J. Brown would keep defenses honest on the other side of the field. But the narrative didn't pan out, as Brown came in and simply outplayed Davis.
Despite the poor play of Mariota early in 2019 and then playing second fiddle to Brown the second half of the season, Davis did finish with 43 receptions for 601 yards and 2 touchdowns. But it was a big step back from 2018, and seemed to indicate that he's more of a secondary option at the NFL level. He is not being drafted until very late in fantasy leagues, or is going undrafted. In a low-volume passing offense and behind Brown, it seems like the market is correct in this assessment.
WR Adam Humphries
2019 WR Rank – No. 80, 7.2 FPts/G
Adam Humphries did not choose the correct free-agent destination if his goal was to become a household name. During his four seasons in Tampa Bay, he gradually got more work until in 2018 he received 105 targets and put up 76 receptions for 816 yards and 5 touchdowns. Those are fantastic numbers for a slot receiver, but the Bucs let him test free agency.
He ended up signing with the Titans, and in 12 games in 2019 he received only 47 targets. He moved from one of the highest-volume passing attacks to one of the lowest, and his stats plummeted. He is still a talented slot player, but the Titans simply do not run 11 personnel (3 wide receivers) very often. They had 3 or 4 receivers on the field only 50% of the time. Only five teams did that less often.
With the same offensive philosophy in place for 2020, it seems likely Humphries will play a similar role this season. The one thing that has changed is that Tajae Sharpe left town, and he seemed to split third receiver duties with Humphries. That could open the door to a bit more work for Humphries this season. Still, he is likely to receive around 4 targets per game and have a minimal fantasy impact. Only in deep PPR leagues is he a viable option.
TE Jonnu Smith
2019 TE Rank – No. 19, 7 FPts/G
Jonnu Smith took over for starter Delanie Walker after Walker's troublesome ankle, which ended his 2018 season, again hampered him. Smith showed himself to be a very capable tight end, producing 12.5 yards per reception and showing off excellent skills after the catch. He only produced 35 receptions, which is too low to make him a fantasy TE1, but it is reasonable to expect him to take another step forward in 2020.
In the 8 games after Walker exited, Smith received 33 targets – and that included a game where he was not targeted. That leads me to assume he will get 4-5 targets per game, which would equate to 65-75 targets over the course of the season. That would still not enable him to be a top-10 option at the position, but it could land him in the top 15. He is also a young, rising player at the position, making him a solid option in dynasty leagues.
Yet, as with many players above, his upside is limited in an offense predicated on the run. If the Titans are not as good this season and find themselves trailing more games, that could lead to more production in the passing game (and a corresponding decrease in rushing production). But that is difficult to bet on with such a solid offensive line, and such an excellent running back.