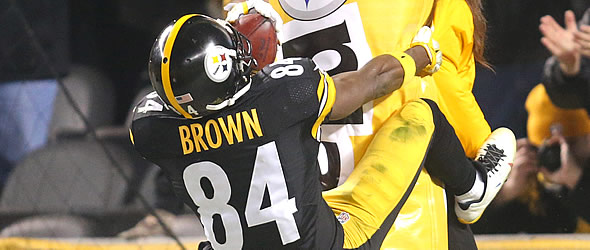 He's still a valuable fantasy asset but the days of AB being a perennial top-5 pick are likely over.


The Antonio Brown drama finally came to a close with the news early Sunday morning that the Steelers officially traded the seven-time pro bowler to the Raiders for a third and fifth round pick. In addition to a fresh start with a new team, Brown received a new contract worth just over $50 million over the next three seasons, including $30 million guaranteed.

Not only did Brown leave the toxic situation in Pittsburgh that he arguably had a big part in creating, but he is also now the highest paid wide receiver based on average salary per year according to Ian Rapoport of the NFL Network. I guess being a locker room cancer and a me-first egomaniac doesn't really matter if you are one of the best wide receivers in the world.

Say what you want about Mr. Big Chest (I prefer to call him Mr. Milk Mustache), he got to have his cake and eat it too, while the Steelers are left with $20 million in dead cap space and a glaring hole at WR.

For fantasy purposes, it is hard to justify calling the move to the Raiders as an upgrade for Brown, a four-time first team All-Pro wide receiver who set an NFL record for six consecutive seasons with over 100 receptions and 1200 yards.

Whether or not he wants to admit it, Brown had a good thing in Pittsburgh with Big Ben accounting for all 79 career passing touchdowns to Brown. In addition to leading the league in receptions twice during that span, Brown led the league in touchdown receptions in 2018 with 15.

Volume will not be a problem for Brown as a member of the Raiders. Jon Gruden did not bring in Brown to be a decoy, and Derek Carr will not be afraid to pepper Brown with a ton of targets each game.

But it is hard to imagine those targets being as valuable as the ones he received over the past nine years in Pittsburgh as part of one of the most explosive offenses in the league. The elite Steelers offensive line and a ground attack provided by Le'Veon Bell and James Conner forced teams to focus on the run while creating numerous play action passing opportunities for Brown to exploit.

In addition, Brown had the benefit of playing opposite of JuJu Smith-Schuster and other talented wide receivers over the past few seasons. As of right now, the most dangerous receiving threat to help keep defenses from double and triple teaming Brown is tight end Jared Cook … ohh wait, he's a free agent … and the 25th ranked Oakland ground game led by … free agents Marshawn Lynch, Doug Martin, and restricted free agent Jalen Richard? There's change coming to the Raiders backfield but unless they pull another rabbit out of the hat and sign Le'Veon Bell, this isn't likely to be a formidable unit that will force teams to stack the box.

Brown will find that the grass is not always greener, especially when you leave a near perfect situation in Pittsburgh that he enjoyed for so many years. Despite this fact, Brown will continue to be an excellent fantasy wide receiver and should start creeping into the mid-to-high second round of drafts this summer, with a stat line of 100/1400/10 not out of the question.

The volume will be there for Brown to finish as a WR1, and owners who play in full PPR formats will benefit from his elite reception totals. However, going from an offense that scored 428 total points in 2018 to a Raiders team that managed just 290 will undoubtedly affect his touchdown scoring numbers.

I anticipate that Brown will still be an incredibly valuable fantasy asset in 2019, but the days of him being a perennial top-5 pick are likely over.