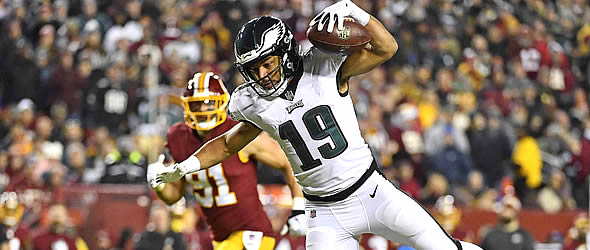 When Eli Manning isn't dumping off to Saquon Barkley he should be targeting Golden Tate.


The New York Football Giants shocked the NFL and Fantasy community by trading stud wide receiver Odell Beckham Jr. to the Browns for a pair of draft picks and safety Jabril Peppers. There were rumors circling for months that OBJ was on the block for the right price, and apparently to GM Dave Gettleman, the Browns made him an offer that he could not pass up.

The loss of OBJ left a glaring hole at wide receiver for the Giants, with Sterling Shepard joined by former first-round bust Corey Coleman and a pair of former Denver Broncos in Bennie Fowler and Cody Latimer.

Not exactly a wide receiving corps that will cause sleepless nights for opposing defensive coordinators.

To help fill the void, Gettleman signed free agent Golden Tate to a 4-year, $37 million contract. Tate is a solid veteran receiver with 611 receptions for 7,214 yards and 38 touchdowns in his eight-year NFL career. Tateís best season as a pro came in 2014 when he posted 99 catches for 1,331 yards and four touchdowns for the Detroit Lions.

At 5-10, and 197 pounds, Tate does not possess the prototypical size to be an outside receiver in the NFL, but he makes up for his lack of size and breakaway speed by being an exceptional route runner out of the slot.

That brings us to the biggest question mark surrounding the Tate signing. The Giants already had two excellent slot receivers in Shepard and TE Evan Engram, so why did Gettleman sign another undersized WR who has not fared well in the past working on the outside? Tate played nearly 80% of his snaps in the slot over the past two seasons in Detroit and hasnít been an outside receiver since his time in Seattle.

Considering Tate in much older than Shepard, I would anticipate that the Giants intend on Sheppard playing more snaps as the X receiver and Coleman as the flanker, with Tate in the slot.

Regardless of how it breaks down, Tate joins a passing game with a ton of targets to disperse and an opportunity to be a viable fantasy contributor as a low-end WR2 or high-end WR3. OBJ saw 124 targets in 12 games last season, and the Giants had 309 total targets to wide receivers in 2018.

One can assume that Saquon Barkley will continue to be the centerpiece of the offense and Engram will also get his fair share of passes. But it is well within reach for both Tate and Sheppard to reach the century mark in targets, with Tate likely leading the team as the new, high-priced veteran. I anticipate a respectable 90/1200/6 line for Tate with the G-men, making him an excellent mid-round receiver in all formats.