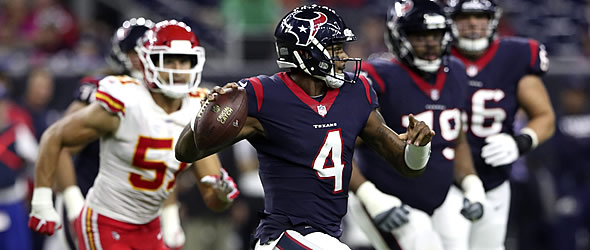 Deshaun Watson's 4000-500 ability makes him attractive and a top 5 fantasy quarterback.
QB Deshaun Watson
(2018 QB Rank - No.5, 24.8 FPts/G)
Watson proved sophomore slump nay-sayers wrong with an impressive second season in which the former Clemson Tiger passed for just under 4200 yards and 26 touchdowns. He added 551 rushing yards and five touchdowns on the ground to finish as the fifth-ranked quarterback with 24.8 fantasy points per game.
Watson achieved top-five status despite a slew of injuries stemming from the fact that he was sacked more than any QB in the league. The Texans addressed their dire need on the offensive line in the draft, which will hopefully result in Watson staying upright and healthy.
With a wide receiving corps of DeAndre Hopkins, Will Fuller, and Keke Coutee, Watson has more than enough weapons to produce elite fantasy production once again in 2019. Although, a lack of an elite receiving tight end option and the fact that Fuller and Coutee are somewhat injury prone could be a concern.
Despite those issues, the elite running ability Watson possesses, and the fact that Bill O'Brien continues to use Watson's legs in the red zone, make him a dual-threat weapon worthy of a top-five pick at the position.
RB Lamar Miller
(2018 RB Rank - No.21, 10.7 FPts/G)
Although Miller played in just 14 games this past season and managed to post only six total touchdowns, he did notch his best yard per carry average (4.6) in his three seasons with the Texans.
Miller is the epitome of an unsexy running back pick that nobody seems excited to draft, but a player who makes a fine No.2 RB or flex play. Miller posted four 100-yard games and nine games of at least 10 fantasy points.
The 28-year-old veteran is playing out his final year of a four-year, $26 million contract with the team, and appears to be on his way out of Houston. The team may take the approach the Cowboys did with DeMarco Murray a few years ago, and run the heck out of a player they know they will no longer have after this season. It is also possible that they give D'Onta Foreman more touches to ensure Miller is ready for a playoff run.
An Achilles rupture at the end of the 2017 season forced Foreman to miss all but seven carries of the 2018 campaign. A favorite to replace Lamar Miller after this season, Foreman could eventually take over the starting role should he return to full health from the devastating injury and Miller falter. Achillies injuries tend to be something players do not fully recover from. However, there is not a long history of 23-year-old running backs like Foreman suffering that type of injury. For draft purposes, Miller is clearly the starter, and Foreman will need to earn touches. Should Foreman take over the starting role in what projects to be a top-10 offense, he could end up being a steal this draft season.
WR DeAndre Hopkins
(2018 WR Rank - No.4, 13.9 FPts/G)
With 211 receptions for 2,950 yards and 24 touchdowns over his last two seasons, Hopkins has been a consistent stud worthy of a first-round draft pick. The former Clemson Tigers is arguably the most talented wide receiver in the league, with exceptional body control and elite ball skills.
Fantasy owners who miss out on the top tier running backs will find Hopkins a more than adequate fallback option. Hopkins is an elite producer based on consistency scores and a favorite red zone target for Deshaun Watson.
One negative facing Hopkins is the possibility of a reduction in target volume should Keke Coutee, and Will Fuller each play a full 16-game season. Regardless, Hopkins is a top-three WR in all formats and one of the safest picks in the first round.
WR Will Fuller
(2018 WR Rank - No.4, 10.6 FPts/G)
As the big play deep threat in the Texas offense, Will Fuller is the gold standard when it comes to boom or bust players. An injury risk who has never played in a full 16-game season, Fuller posted three 100-yard games and four double-digit performances last season. When on the field, Fuller is a beast due to his exceptional speed and the fact that opposing defenses are forced to dedicate so much focus on DeAndre Hopkins. If you draft Fuller, be sure to have another viable option should he miss time with another injury.
WR Keke Coutee
(2018 WR Rank - No.70, 5.8 FPts/G)
Coutee completed his rookie season with an impressive 11/110/1 line against the Colts in the Wild Card round of the playoffs. Although leg injuries hampered him, the former Texas Tech Red Raider averaged seven targets in six games and showed excellent rapport with Deshaun Watson.
Like his fellow wide receiver Will Fuller, Coutee's injuries make him somewhat of a risky pick and owners should have a secondary option. However, seven targets per game, including two games of over 14 targets, make Coutee and excellent late-round target in all formats, especially PPR.
TE Jordan Thomas
(2018 TE Rank - No.27, 2.8 FPts/G)
The former Missouri State sixth-round pick in the 2018 NFL draft caught 20 of his 27 targets for 215 yards and four touchdowns in 16 games last season. Thomas projects to be the starter at the tight end position in 2019; however, he will likely share the field with Jordan Akins. Neither player has much fantasy value in any formats considering they will share duties and will likely be the fourth or fifth option in the passing game.