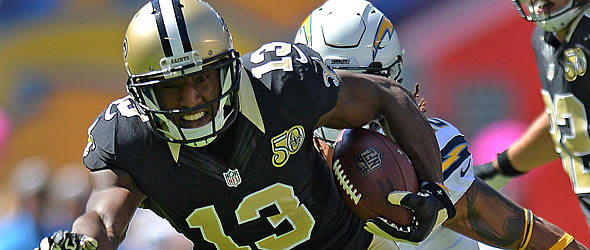 Michael Thomas' 24 receptions inside the 20 resulting in only seven TDs were somewhat of an anomaly.
QB Drew Brees
(2018 QB Rank - No.10, 23.6.0 FPts/G)
Much has been made about the demise of Drew Brees, as the first-ballot Hall of Famer finished as the number 10 quarterback in fantasy despite setting an NFL record with a completion percentage of 74.4.
Brees' 3992 passing yards and 489 pass attempts were the fewest since he joined the Saints back in 2007, and his No.10 ranking would have been even worse had he not posted a career-high of four rushing touchdowns.
Based on the team's commitment to run the ball and improvement to what for many years was a bad defense, the days of Brees throwing the ball 670 times for 5000 yards are likely a thing of the past. At age 40 and with Alvin Kamara and a stout offensive line, head coach Sean Payton is doing the smart thing for his football team by limiting the number of times Brees throws the ball and gets hit by opposing linebackers and defensive lineman.
Despite throwing for less than 4000 yards (It should be noted that Brees only played in 15 games), Brees did increase his passing touchdown total by nine from the previous season. His volume is down, but his efficiency went up, and he has averaged 2.5 rushing touchdowns in each of his last two seasons.
Sure, the days of Brees being a league-winning quarterback are likely over. But the NFL's all-time leading passer is still in command of a top-5 offense filled with talented skill position players. He may not get you 5000 yards, but he is falling in ADP and could be a nice option for owners who miss out on one of the top six quarterbacks - especially in leagues who punish quarterbacks for interceptions.
RB Alvin Kamara
(2018 RB Rank - No.5, 17.8 FPts/G)
After a monster season in which he averaged 6.1 yards per rush and 10.1 per reception, negative regression was a popular narrative in the fantasy community for the impressive running back for the Saints. Continuing to post video game-like numbers is difficult to do, especially once defensive coordinators get a full season of fill to study.
Kamara's yard per carry average did go down to a more reasonable 4.6, and his yard per reception average fell nearly two full yards. But Kamara's volume jumped from 120 carrels as a rookie to 194 as a sophomore, and his rushing touchdown total nearly doubled.
With two full seasons of elite-level production, Kamara is securely entrenched atop the first round in all formats. In addition to finishing second only to Todd Gurley in rushing touchdowns, Kamara was one of only four running backs to finish with over 100 targets in the passing game.
The contract holdouts of Ezekiel Elliott and Melvin Gordon will push up the value of elite running backs like Kamara, Barkley, and McCaffrey even further, making Kamara an even more valuable asset and a true dual-threat stud.
RB Latavius Murray
(2018 RB Rank - No.50, 6.7 FPts/G)
The Saints quickly signed Latavius Murray to replace Mark Ingram in the offense after Ingram left via free agency to the Ravens. The speed and decisiveness in which the team signed Murray indicated the comfort level in which Sean Payton and GM Mickey Loomis have in Murray filling the void left by Ingram.
Murray may not be as well rounded of a tailback as Ingram, but he is capable and will get a decent amount of work and have stand-alone value as the RB2 for the Saints. New Orleans has finished as the top producing offense for running backs in each of the past two seasons and no worse than third dating back to 2015, making Murray a valuable asset as a flex or high-end No. 3 RB.
Should Kamara go down and Murray receives an increase in volume, Murray could be one of the best values in 2019.
WR Michael Thomas
(2018 WR Rank - No.5, 13.6 FPts/G)
Fresh off of signing a new $100 million contract, Thomas looks to follow up his 125-catch performance last year with another elite year in 2019.
Thomas' 321 receptions and 77% catch rate since joining the league in 2016 are the most at the wide receiver position, better than Antonio Brown (311) and DeAndre Hopkins (289). His 80.6 yard per game average ranks sixth over that period, and his 3787 receiving yards places him fifth behind Julio Jones, Brown, Hopkins, and Mike Evans.
The main knock against Thomas is his lack of touchdown production relative to the other elite wide receivers taken in the first two rounds of fantasy drafts. As a direct result of Drew Brees spreading the ball around in the red zone and a hyper-efficient run game, Thomas has yet to post a season of double-digit receiving touchdowns in the NFL.
A closer examination of Thomas' production from last season may indicate positive touchdown regression in 2019. Not only did Thomas lead the league in total catches with 125, but he also led the league with 24 red zone receptions. The fact that he caught 24 passes inside the 20-yard line and only seven of those passes resulted in a touchdown is somewhat of an anomaly. If just three more of those receptions resulted in a touchdown, Thomas would be considered the No.1 ranked WR heading into 2019.
WR Tre'Quan Smith
(2018 WR Rank - No.73, 5.6 FPts/G)
Smith's rookie season was a roller coaster ride for fantasy owners. After a slow start in which the former Central Florida star managed just 12 receptions over his seven games, Smith broke out with a ten-catch, 157-yard performance on 13 targets against the Eagles on Monday Night Football.
Instead of building on that momentum, Smith apparently fell out of favor with Brees and ended the season with just eight more total catches including the playoffs. Will another full offseason help Smith build a rapport with Brees, or will the return of veteran Ted Ginn Jr. further cement Smith as an unusable fantasy asset?
WR Ted Ginn Jr.
(2018 WR Rank - No.43, 7.1 FPts/G)
A knee injury sustained against the Giants Week 4 forced Ginn to miss two months of action. Before the injury, Ginn was a viable No.3 wide receiver, with a touchdown in two of his four games and an average of six targets per game from Drew Brees.
Although he is always a risk to drop an easy pass and he enters 2019 as a 34 veteran, Ginn has sneaky fantasy value as the No.2 wide receiver for Drew Brees. Teams will continue to shift coverage toward Michael Thomas and Alvin Kamara, leaving Ginn with single coverage outside against the No.2 or No.3 CB for opposing defenses.
TE Jared Cook
(2018 TE Rank - No.6, 7.9 FPts/G)
Cook finished as the No.6 tight end in fantasy last year after setting career highs in targets, catches, receiving yards, and touchdowns in his final season with the Raiders. Injuries and the trade of Amari Cooper to the Cowboys made Cook the defacto No.1 receiving option for Derek Carr, and Cook came through with three 100-yard games, including an 8/110/2 week-winner performance against the Browns in Week 4.
The Saints signed Cook to a two-year, $15 million contract to be the receiving tight end for Drew Brees. Owners expecting Cook to be the second coming of Jimmy Graham should temper their expectations, as Cook is not the same physical freak as Graham was back in the day and the Saints offense of 2019 is not the same as it was when Graham patrolled the Super Dome.
Conversely, owners who are expecting Cook to bust like Coby Fleener did a few years past may be too down on Cook, as the former Raider is a more athletic tight end than Fleener. The answer most likely falls between the two, with 700 yards and six touchdowns well within the realm of probability.