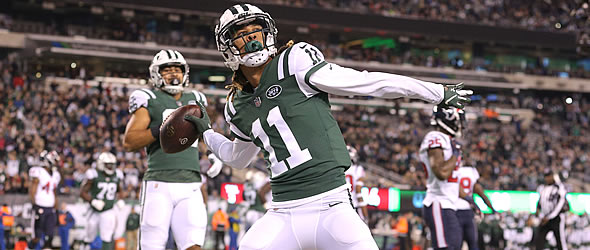 Fantasy owners are hoping Robby Anderson can carry his strong 2018 finish into 2019.
QB Sam Darnold
(2018 QB Rank - No.31, 17.8 FPts/G)
Darnold's rookie season with the Jets was an up and down rollercoaster that one would expect of a young QB starting Week 1. After beginning the year with a bang that included three touchdowns and over 500 passing yards against the Lions and Dolphins, the former USC Trojan failed to top 15 fantasy points in five of his next nine games.
Darnold did post two games of over 330 passing yards and five games of double-digit passing touchdowns. However, he did give up 15 interceptions and completed a pedestrian 57.7% of his passes. On the positive side, he did appear to develop a rapport with Robby Anderson in the latter half of the season, with a touchdown and/or 100 yards in each of the final three games.
The addition of Jamison Crowder as a weapon over the middle and running back Le'Veon Bell will help keep defenses honest and give Darnold two weapons on short passes and routes out of the backfield. Despite these improvements, with the quarterback position as deep as any in fantasy, Darnold is ranked outside of the top 20 and will only be rostered in two QB leagues.
Bell held out the entire 2018 season with the goal of protecting his body from injury and securing a lucrative free agent deal. While you could argue that Bell did not get the monster deal he anticipated, he did cash in with the Jets and enters 2019 with fresh legs and something to prove.
The problem for Bell is he left a team in the Steelers with a veteran QB, elite wide receivers, and one of the best offensive lines in the league to join a New York Jets squad that does not boast any of those three attributes. Like Todd Gurley in his second year, Bell may find out that even the best running backs can struggle when playing in an offense with a young quarterback and a substandard offensive line.
The saving grace for Bell is the presumed volume he will receive both the passing and ground game. The Jets did not give him $27 million guaranteed not to be used as a workhorse back, although it remains to be seen if head coach Adam Gase will use Bell like a workhorse.
Bell's supreme talent and likely elite touch volume will likely make him a first-round pick in most formats. Just don't be shocked if he does not put up Le'Veon Bell-esque numbers with Gang-Green.
WR Robby Anderson
(2018 WR Rank - No.37, 7.9 FPts/G)
At first glance, Robby Anderson's 2018 season does not look that impressive, with the former undrafted wideout from Temple catching 50 balls for 752 yards and six touchdowns in 14 games. But a closer examination of his game log reveals a strong finish to the year with an average of 17 fantasy points in each of his final three games of the fantasy regular season and playoffs.
Anderson and Sam Darnold appeared to build a rapport in the final few games, highlighted by a 9/140/1 game at home against the Packers in the fantasy Super Bowl. Hopefully, that chemistry will continue over the offseason programs and into training camp this summer.
The addition of Le'Veon Bell in the backfield and Jamison Crowder out of the slot should make Darnold's second season in the NFL easier and should make the offense better overall. Although Quincy Enunwa is still on the roster and will continue to garner a decent amount of targets, the wide receiver to own for the Jets this season is Robby Anderson.
WR Quincy Enunwa
(2018 WR Rank - No.93, 4.6 FPts/G)
Enunwa jumped out of the gates last season on a tear, with 21 targets and 13 catches in his first two games, only to fade out of fantasy relevance with just eight total catches from Weeks 5 to 10.
The fire burned hot and fast for Enunwa owners who thought the 27-year-old vet from the University of Nebraska was on the verge of a breakout season. With a final line of 38/449/1 in an injury-shorted campaign, Enunwa turned out to be a dud in 2018.
To make matters worse, the Jets brought in slot receiver Jamison Crowder as a free agent to presumably take over the majority of snaps out of the slot, a place where Enunwa thrived last year. At 6'2", 225 pounds, Enunwa has the size to be a viable outside receiver opposite of Robby Anderson, but the likelihood of him getting enough volume to be fantasy relevant is low.
WR Jamison Crowder
(2018 WR Rank - No.67, 6.0 FPts/G)
The breakout season that many fantasy football analysts have been predicting for years once again did not come to fruition for Jamison Crowder last year, as injuries to both Crowder and quarterback Alex Smith derailed the Redskins offense in 2018.
Crowder moved on to a new situation and team over the offseason with a three-year, $28 million contract that includes $17 million guaranteed, to be the slot receiver in Adam Gase's offense with the Jets.
Although much maligned in the fantasy community for how he treated skill position players like Kenyan Drake and DeVante Parker in Miami, Gase has a long history of producing viable slot receivers in his passing offense.
TE Chris Herndon
(2018 TE Rank - No.18, 5.3 FPts/G)
A two-game suspension for Herndon stemming from a DUI conviction makes Herndon a player to avoid in most drafts unless owners play in leagues deep enough to carry two tight ends. As a rookie, Herndon finished the season as the No.18 tight end in fantasy points per game, just six-tenths of a point behind Greg Olsen for TE12.
The former fourth-round pick in the 2018 NFL draft out of the University of Miami proved to be a championship winning streamer last year, with six catches for 82 yards and a touchdown at a position void of many strong performances.
While he may be someone to avoid in drafts, Herndon does have streaming value this season and could once again flirt with TE1 status.