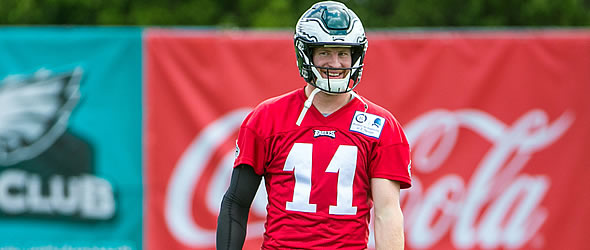 Carson Wentz will have plenty of weapons but can he stay healthy enough to return fantasy value?
QB Carson Wentz
(2018 QB Rank - No.12, 22.5 FPts/G)
Carson Wentz enters the 2019 season as one of the better values at the quarterback position. Although he was limited in each of his last two seasons with leg and back injuries, Wentz continues to put up QB production in what should be a potent Philadelphia offense.
Wentz played in only 11 games last season as a back injury forced him the IR. However, in those games, Wentz averaged more fantasy points than a host of other fantasy players, including Baker Mayfield, Russell Wilson, Tom Brady, Philip Rivers, and Kirk Cousins.
The second overall pick in the 2016 NFL draft ranked 5th overall for qualified QBs on our consistency rankings (at least ten games), behind only Patrick Mahomes, Matt Ryan, Andrew Luck, and Cam Newton.
Positive trends surround the Eagles offense on both the offensive line and skill positions, as Howie Roseman added tackle Andre Dillard in the draft, along with running back Miles Sanders and wide receiver JJ Arcega-Whiteside. Perhaps the most significant addition to the offense is the return of wide receiver DeSean Jackson, who will give Wentz a much-needed player to stretch the field.
Only a few quarterbacks in the league boast the number of weapons that Carson Wentz has at his disposal. While there is always the concern of injury, Wentz could be one of the best values of the draft.
RB Miles Sanders
(2018 RB Rank - N/A)
Miles Sanders followed his former backfield mate at Penn State, joining an NFC East team in the NFL Draft. Although not as highly touted as Saquon Barkley, Sanders is a well-rounded player who could end up being the three-down back that the Eagles have struggled to find over the last few seasons.
Unfortunately for Sanders, the backfield of the Eagles is deep, and head coach Doug Pederson loves to use different backs in different formations. The team traded for veteran back Jordan Howard this offseason, and Corey Clement, Wendell Smallwood, and Josh Adams are still on the roster.
It may take Sanders time to earn more carries, but there is no question that the Eagles offense is potent and there is a ton of fantasy value to be had there. The one area in which Sanders shines over his competitors, notably Howard, is in the passing game.
RB Jordan Howard
(2018 RB Rank - No.27, 10.1 FPts/G)
Before using an early draft pick on Penn State running back Miles Sanders, the Eagles shipped off a late-round pick to the Bears for running back Jordan Howard, a north-south tailback who did not fit the scheme run by Chicago head coach Matt Nagy.
One could argue that the move is a bit of a head-scratcher for the Eagles based on the fact that Doug Pederson also likes to have running backs that can catch. The one thing that does make sense is the Eagles did not have a bruising back on their roster for short yardage and early down work, a role that Howard will likely assume to start the season.
Howard finished the 2018 season as the No.27 ranked running back based on fantasy points per game, just .2 points per game behind his former backfield mate, Tarik Cohen. A concerning trend for Howard is the fact that he has declined in fantasy points per game and yards per attempt in each of his three seasons in the league. His 3.7 yard per carry average last year was disappointing considering the improvements to the Bears offense, and he continues to be a non-factor in the passing game.
WR Alshon Jeffery
(2018 WR Rank - No.24, 9.3 FPts/G)
For the second consecutive season, Alshon Jeffery finished just inside the top-24 rankings at the wide receiver position. In only 13 games of action, the seven-year veteran posted 65 catches for 843 yards and six touchdowns on 92 targets. His 16-game pace would have given him 80 catches for 1,037 yards and seven touchdowns, which would have made him a strong No.2 WR in all formats.
Injuries continue to be an issue for Jeffery - a player who has logged a full-16 game season just three times in his career and just once dating back to 2014. Another issue is the chance for a decline in targets with the addition of DeSean Jackson and JJ Arcega-Whiteside. There are a finite number of targets to go around, and tight end Zach Ertz is going to once again be the leading target hog on the team. Will Jeffery get enough volume to justify the mid-round draft cost required to get him? In standard leagues, the answer is likely yes, but owners in PPR formats may want to find another option.
WR DeSean Jackson
(2018 WR Rank - No.26, 9.2 FPts/G)
Jackson returns to the team that drafted him out of the University of California in the second round of the 2008 NFL draft. At age 32, Jackson still possesses elite speed and exceptional talent for beating coverage downfield, which are two aspects that were missing from the Eagles last season.
As the third or fourth option in the passing game, Jackson will not be a volume player and reaching the 100-target mark may be a challenge. But with opposing defenses focused on stopping Zach Ertz and Alshon Jeffrey, Jackson should get more than his fair share of deep passes with the opportunity for big plays.
In standard scoring leagues where touchdowns are more valuable, adding a player like Jackson as a high-end No.3 WR is an excellent strategy.
WR Nelson Agholor
(2018 WR Rank - No.59, 9.2 FPts/G)
Agholor might be the forgotten man in a crowded Eagles wide receiving corps that now includes DeSean Jackson and JJ Arcega-Whiteside. The former first-round pick in the 2015 NFL draft posted a career-high 62 catches for 768 yards and eight touchdowns in 2017, only to follow up with four touchdowns last season on nearly the same number of targets, receptions, and receiving yards.
The eight touchdowns in 2017 appear to be more of an outlier than a trend in the right direction for Agholor, and the addition of Jackson will make it difficult to approach the 97 targets he received last season.
At 6'2", 225 lbs, Arcega-Whiteside has excellent size to be a downfield and red zone threat for the Eagles. On film he played even bigger than his 6'2" frame, excelling at boxing out defenders on contested catches like a power forward grabbing a rebound.
As a senior at Stanford, he posted career-highs in catches (63), touchdowns (14), and receiving yards (1059). While his combine scores may not be as impressive as fellow draft mates like D.K. Metcalf, his production on the field in college is undeniable.
It remains to be seen how much action Arcega-Whiteside will see as a rookie on a team flush with capable wide receivers and the league's leading pass catcher at the tight end position. Look for Arcega-Whiteside to start slowly; as most rookies do, but he could have some value in standard formats should he become a TD-dependent red zone option in the offense as a rookie.
TE Zach Ertz
(2018 TE Rank - No.3, 10.3 FPts/G)
Ertz set an NFL tight end record with 116 receptions last season in route to finishing as the No.3 tight end behind Travis Kelce and George Kittle. In addition to making a sizable leap in receptions, targets, and receiving yards, Ertz followed up 2017 with a second-consecutive year of eight receiving touchdowns.
With four straight seasons of at least 100 targets, there is no doubt that Ertz will once again be the focal point of the Eagles offense. As many teams struggle to incorporate the tight end position into their offense, the Eagles, 49ers, and Chiefs each feature their respective tight ends prominently, making Kelce, Ertz, and Kittle worth an early draft pick in all formats.
You could argue that no other team in the NFL did more this free agent and NFL draft period to improve their offense that the Eagles. With additions to an already highly touted offensive line, and the signing of free agent DeSean Jackson and rookies JJ Arcega Whiteside and Miles Sanders, Philadelphia is going to be a very strong offense filled with fantasy value. Sitting atop that value pyramid is Zach Ertz, who has another strong chance to be an elite TE in 2019.