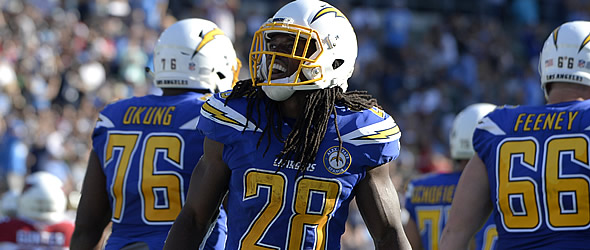 Gordon is unlikely to be a workhorse in Denver as he splits time with Phillip Lindsay.


Dynasty owners of Melvin Gordon were patiently waiting to hear where the former Los Angeles Charger would sign this free-agent period.

With teams like the Bucs, Texans, and Falcons each looking to presumably sign a starting running back, things appeared to be looking up for Gordon after he made the mistake of turning down a reported $10 million per year deal last season while holding out for a Le'Veon Bell-size deal.

Houston decided to make a head-scratching deal for David Johnson that included sending all-pro wide receiver DeAndre Hopkins to the desert, taking the Texans out of consideration.

The Rams then cut Todd Gurley, and the Falcons swooped in quickly to sign the former University of Georgia star.

Somewhat frustrated, but not wholly deterred, the Bucs remained an option for Gordon and his dynasty owners. With Tom Brady now signed, the offense lacked just one thing, a proven star running back who could be a three-down back for head coach Bruce Arians. So when news hit Twitter, Gordon fans must have been excited to see the running back join the pewter and red (or whatever the Bucs colors are this season).

Instead, Gordon signed a two-year deal $16 million contract to join the Denver Broncos, a team that had more than a few holes on their roster, but running back was not one of them. Phillip Lindsay, Royce Freeman, and the other Broncos running backs combined to rush for the 15th-most yards among the 32 NFL teams. Not great, but certainly not a bottom-tier unit in need of a veteran running back like Gordon who's career yard per carry average is barely over 4.0.

So why did the Broncos sign Gordon for nearly the same deal Chargers paid for Chris Harris, the former star cornerback for the Broncos who the team presumably could not afford? I imagine Bronco fans would rather have Harris back instead of a third running back to add to the Denver stable.

We may never know the reasons why Elway made the deal. Perhaps he will trade Freeman away for draft picks, and he wanted a veteran tailback to pair with Lindsay.

For fantasy purposes, the signing is less-than-exciting.

Adding Gordon to the backfield of Freeman and Lindsay limits the value of Lindsay and all but makes Freeman avoidable in all formats.

Lindsay finished as the 25th running back overall with 10.2 points per game, while Freeman finished as the No. 53 running back with 6.2 points per game.

Considering the reasonably large contract given to Gordon, one would assume that he would be the starter with Lindsay working in like Freeman did this past season. Lindsay will still have a role, but it is unknown how the carries will be divided. Gordon is a reasonably skilled goal-line back and should get those carries, but Lindsay has proved over the first two years of his career that he is a talented back as well.

Can Lindsay be the Austin Ekeler to Melvin Gordon in Denver? Considering Lindsay has just one receiving touchdown in 21 career games, that is not likely. But he still could be a low-end flex should the Denver offense as a whole take a step forward (Denver ranked 27th in total offense in 2019).

As far as Gordon goes, it is nice that he has a job again and could be a low-end RB1 should he stay healthy and get a sizable number of the receptions out of the backfield. Yet considering the other options that appeared to be in store or the former Wisconsin Badger, landing in Denver is not exactly the best scenario for his fantasy value.