8/18/10



Breakout wide receivers surface every season. Steve Smith (NYG), Mike Sims-Walker, and Miles Austin are a few names that jump out from last year, and if you were lucky enough to draft one of these players late or obtain them from the waiver wire, you know the importance of strengthening the back-end of your roster with "inexpensive" players. Here's a list of a few names that qualify as breakout candidates for this season. But be careful not to overpay for these bargain basement–priced players.

Michael Crabtree, SF
(ADP: 4.06)

I still can't believe the Oakland Raiders drafted Darrius Heyward-Bey over Michael Crabtree in 2009. What a disastrous draft choice that was. But I digress. The fact that Crabtree was unable to train most of last season due to a bum foot, coupled with a lengthy holdout that lasted until October, yet quickly looked like the force many were anticipating him to be is all we need to know about the otherworldly potential this kid has. Head coach Mike Singletary wants to be a physical, run-first offense, but the aerial game won't be forgotten. Tight end Vernon Davis' breakout season last year only enhances the chance that Crabtree will have success in 2010. While Davis terrorizes defenses down the hash marks, Crabtree will be left to roam the perimeter in one-on-one situations.

No different than any other player on this list, Crabtree's potential in 2010 hinges on the ever-inconsistent quarterback play in San Francisco. If Alex Smith can simply be slightly above average, the Niners passing game could easily be the second best in their division. Crabtree is not a player who's reliant on sheer speed. Rather, he's a receiver who uses his physicality to outmuscle defensive backs and his raw skill to deceive them in his route running. Crabtree could finish the season in the neighborhood of 70 receptions while at least tripling his TD output (2) from last year.

Steve Breaston, ARI
(ADP: 9.06)

There's no doubt Kurt Warner's retirement will prevent the Arizona Cardinals passing game from being the force it's been the last couple seasons. But the fact that it won't be as exciting or productive as before doesn't mean all of the passing game components won't be worthy fantasy starters. Steve Breaston now inherits the #2 WR spot opposite Larry Fitzgerald. Fitz will definitely be in the crosshairs of opponents, leaving Breaston matched up one-on-one. The Cards don't utilize the running backs and tight ends much in their passing attack, which only increases Breaston's stock that much more.

It seems to be a consensus that Matt Leinart's ascension to the starting spot drops Fitz a couple notches on cheatsheets while simultaneously improving Breaston's value. I'll buy into that theory. There's no recent history from which to view any chemistry between Leinart and Breaston, but it's Breaston's role in the passing game that has many fantasy owners targeting him as a solid sleeper in 2010. Despite the obvious downgrade in quarterback for the Cardinals, Breaston has become a nice low-end WR2/high-end WR3 this season.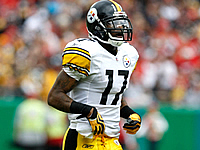 Wallace may need a little help from Roethlisberger before making good on his breakout potential.
Mike Wallace, PIT
(ADP: 7.05)

As a rookie in 2009, Mike Wallace provided the Pittsburgh Steelers with one of the league's best deep threats. He averaged more than 19 yards per reception and showed enough during his debut season that the team felt they could get rid of Santonio Holmes without missing much production. Whether the quarterback is Dennis Dixon, Byron Leftwich, or Ben Roethlisberger, the Steelers will look to Wallace to give them a consistent deep-threat dimension.
Wallace won't reach his full potential, though, until Roethlisberger returns from suspension. Neither Dixon nor Leftwich is known for throwing deep passes, but Wallace should still be productive until #7 returns. Fellow wideout Hines Ward should be the productive receiver he's been the last decade, running those short and intermediate routes with precision. The tactical route runner that Ward is will open things up deep for Wallace. Look for a lot of play-action passes to Wallace all year. He may not average a jaw-dropping 19 YPC like last year, but his production will make him a valuable member of your roster.
Devin Aromashodu, CHI
(ADP: 8.04)

I normally put zero value on performances in preseason games relative to how they may translate to the regular season. But if Chicago's first preseason game this year is any indication, Devin Aromashodu is well on his way to being one the season's best sleeper receivers. Four receptions for 78 yards and a TD is a good stat line regardless of the time of season. Chicago is poised to be a pass-happy offense with first-year offensive coordinator Mike Martz calling the shots. Aromashodu will get his fair share of targets and consequently his fair share of receptions.
Aromashodu closed out 2009 on a tear, with 12 receptions for 196 yards and 3 TDs in his last two games. Those games put him on the fantasy map for 2010; Martz and his throw-it-at-all-costs offensive scheme that will keep him there. He will have competition for receptions from fellow receiver Johnny Knox, tight end Greg Olsen, and even running back Matt Forte. But make no mistake about it: Aromashodu will play the role of lead dog in Chicago's passing attack.
Dez Bryant, DAL
(ADP: 7.06)

Dez Bryant's sprained ankle will undoubtedly drop him a round or so in your fantasy draft. But the injury is not a long-term deal and he should return in enough time to still contribute mightily to a team that's already loaded from a fantasy perspective. Miles Austin, coming off a career year in 2009, will be the primary target for quarterback Tony Romo, and tight end Jason Witten will battle Austin for the most receptions on the team. But as good as the Cowboys were offensively last season, the number two wideout position was a glaring weakness.
Roy Williams and the king's ransom it took to pry him away from the Detroit Lions in 2008 have been a waste. In time, Bryant will be the starter opposite Austin and will put up the numbers many Cowboys fans hoped Williams would. Williams' struggles aside, Bryant was the talk of Dallas's training camp up until his injury. His hunger, work ethic, athleticism, and his superior quarterback all point toward Bryant being a surprise in 2010.
Malcom Floyd, SD
(ADP: 6.12)

Antonio Gates can't catch ALL the passes in San Diego, can he? Vincent Jackson's absence opens the door for Malcom Floyd, whose physical stature mirrors that of Jackson. If ever there were a breakout candidate, Floyd is it. He hasn't exactly set the world on fire with his play (his 140-yard game in Week 17 last year was his first 100-plus yard receiving game in the last 35 contests), but sometimes situations dictate the possibility of special things. Jackson may not return in time—if at all—to do anything of note for fantasy owners. Consequently, Floyd would take over the #1 WR spot in an offense that ranked 5th in passing last season. There will be plenty of opportunities to go around, allowing Floyd to mimic the production of Jackson.
The Chargers often abandoned the run with curious quickness in 2009. Rivers' 486 pass attempts marked the most in his career. Whether that'll be the case in 2010 remains to be seen. But however often they decide to throw the football, Floyd, with his superior size, will be a good target on the outside for Rivers and a suitable replacement for Vincent Jackson.
Devin Thomas, WR
(ADP: 13.08)

Does the name James Thrash ring a bell? How about Todd Pinkston? These were both average receivers who enjoyed their best seasons with Donovan McNabb as their quarterback in Philly. Neither was ever anything special, but both were occasional spot starters on fantasy teams with McNabb under center. Devin Thomas now has #5 tossing him the rock and looks to have a breakout season. Thomas has excellent size (6-2, 215 lbs) but has struggled in his career so far. Entering his third year, however, Thomas now has the best quarterback and best head coach (Mike Shanahan) he's ever had. That combination will give Thomas the tools necessary to produce his best season yet.
Thomas displayed his potential in Week 12 of last season. He caught a team-high 7 passes for 100 yards and 2 TDs against New Orleans. He was all over the field. But he followed that up with a 2-catch, 38-yard, no-score stinker the following week. That kind of inconsistency will be a lot less pronounced this year, with the new supporting cast and head coach giving Thomas some structure. It will be fun to see the maturation of a player who entered the league with such promise as he finally approaches his potential.
Hakeem Nicks, NYG
(ADP: 5.07)

Both Steve Smith and Mario Manningham were all the rage after Week 2 against Dallas last season—a game in which both caught 10 passes and scored once. Only Smith maintained a high level of production throughout the season, however, while Manningham fell off the fantasy map with a thud. Manningham's decline gave Hakeem Nicks an opportunity to show what he could do. Nicks was fairly consistent and productive, despite starting only six games. He now enters 2010 the unquestioned #2 WR alongside Smith, giving quarterback Eli Manning a nice set of receivers.
Speaking of Manning, his 27 TDs and 93.1 QB rating were the best of his career thus far. He's starting to hit his stride as a quarterback and as a leader, and receivers such as Nicks are primed to benefit from such maturation. Nicks is not the biggest receiver you'll ever see, and he had a few lapses in concentration last year with dropped passes, but as the #2 WR on a team that in '09 threw the ball 100 times more than it ran, the pieces are in place for Nicks to contribute to your fantasy team in a big way.