8/25/12



The middle of my league's draft is the most exciting time of the entire fantasy season. Humbly, I'll admit that I'm one of the most well-prepared owners in my league, and the middle of the draft is the time when I try to separate myself from those who otherwise view the drafting process as a casual walk in the park. Targets in this area of the draft are plentiful, but here are half a dozen that I see as strong candidates for a high return-on-investment:

WR Justin Blackmon, JAC
ADP 9.12

Jacksonville quarterback Blaine Gabbert was nothing special last year during his rookie season. Part of that indeed had something to do with the dearth of talent at the receiving position. The Jags set out to do something about it by selecting Justin Blackmon in the first round of this year's draft. Blackmon was arguably the most dynamic collegiate receiver the last two years, and he's primed to continue displaying his talent even as a rookie. Fellow receivers Mike Thomas and free agent pick-up Laurent Robinson, along with tight end Marcedes Lewis, should help improve the overall performance of Jacksonville's passing game. But make no mistake about it: Blackmon is the lead dog in this aerial attack. His 9.12 ADP suggests he's a WR3 in fantasy this year, but I see the potential for him to outperform that spot. He has a very good chance of mirroring the achievements of A.J. Green and Julio Jones during their rookie seasons last year.

QB Matt Ryan, ATL
ADP 6.04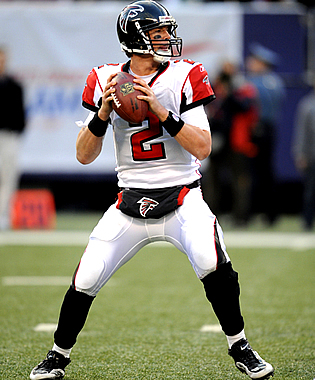 Ryan is more than capable of cracking 30 TDs in 2012.

Ryan finished last season with career highs in passing yards and touchdowns, yet he's routinely listed behind such players as Michael Vick (injury risk) and Philip Rivers (coming off a subpar season). I foresee Atlanta leaning more on Ryan than they ever have. Where once this team fed workhorse back Michael Turner more than 300 times a season, we can now expect them to utilize the strength of this offense, which is its passing attack. Roddy White and Julio Jones are both poised to have solid seasons, and don't be surprised if backup running back Jacquizz Rodgers becomes more of a factor this year. What does all of this mean? It means that Ryan has all the necessary tools around him to eclipse 30 touchdowns for the first time in his career and that he will outperform several QBs selected ahead of him. Building your team with solid RBs and WRs first before picking Ryan is a fine strategy to have.

RB David Wilson, NYG
ADP 8.07

Brandon Jacobs' departure and Ahmad Bradshaw's annual bout with nagging injuries make David Wilson an intriguing selection come draft day. The Giants have employed a committee approach at running back the last several seasons, and that should continue this year. Wilson is a freakish athlete who was on the track and field team at Virginia Tech, and his quickness and speed should add value to New York's running attack. With Bradshaw nursing his hand injury, Wilson has taken first-team reps at practice ahead of D.J. Ware, adding even more credence to the notion that Wilson will see his share of opportunities. He should be drafted as an RB3 with tremendous upside.

RB Rashad Jennings, JAC
ADP 8.12

Jennings' stock is rising maybe as rapidly as any other player in the league. Maurice Jones-Drew's continued holdout coupled with Jennings' stellar play so far this preseason has led many fantasy players to hop on the Jennings bandwagon. He's been a career backup, but one common thread that is woven between all fantasy sleepers is the fact that they were given an opportunity—and opportunity, from my perspective, is the most important component when we're trying to figuring out targets for the middle of the draft. It's also no accident that two Jaguars are on this list. Jacksonville, I believe, will be a team that surprises many people this year. They may not make the playoffs, but they'll give playoff teams fits all year, and Jennings should be a primary reason why. And, sure, MJD will at some point return, but it's no secret that running backs who hold out never perform to the level that they could have if they had arrived in camp on time. So use that to your advantage by taking Jennings as an RB3, and expect productive results.

WR Nate Washington, TEN
ADP 9.09

Nate Washington had the most receptions, receiving yards and touchdowns of his career in 2011. He stepped up his play the moment the Titans lost Kenny Britt for the year, including a couple of monster performances during the second half of the season. Jake Locker gets the nod at quarterback, but that shouldn't hinder Washington's chances of building upon last year's production. Locker can produce the same kind of numbers that Matt Hasselbeck did last year (3,514/18/14). Throw in the fact that the Titans have a conditioned Chris Johnson in the mix, and all of a sudden you have a Tennessee offense that can do some things. There are whispers as well that offensive coordinator Chris Palmer will utilize Run 'n' Shoot concepts in the passing game. Chances are that won't be their base offense, but the fact that they're thinking about using a scheme that puts pressure on the secondary bodes well for a player like Washington. He's a solid pick at his ADP and should become a fixture in your lineup.

TE Jermaine Gresham, CIN
ADP 10.11

The Bengals had a slight scare when Gresham hyper-extended his knee during the preseason opener, but it was only a minor setback. He should be fine and will serve as Cincy's second receiving option behind A.J. Green. The team even plans to line him up as a receiver on the outside to take advantage of his athleticism against smaller players. He's not in the league of a Rob Gronkowski or Jimmy Graham, but Gresham is inching up the ranks of the Tier 2 TEs. And he is part of this new breed of tight end. He has the size to overpower smaller defenders and the speed to outmaneuver slower ones. Don't panic if you miss out on the top TEs; remain patient, snatch Gresham with a mid-round selection, and be happy you did.