7/28/12



Football is a young man's game, that much is certain. There are some, however, who defy Father Time's arrival a bit and perform at a level that disregards the creaking knees and slowly deteriorating skill set. Then there are others, like Shaun Alexander, who fall off the radar quickly and soon become afterthoughts in the fantasy world. Alexander won league MVP in 2005 and was out of the league three years later. His fall was swift and painful for those fantasy owners who banked on an imminent return to his 2005 form.

The trick is seeing the downturn before others in your league. Signs of decline vary from player to player, and even from position to position. Some quarterbacks tend to perform at a high level well into their 30s, while running backs usually hit the wall at 30. There are fewer things worse in fantasy football than using a high draft pick on an aging player whose skills are in decline. As we enter the 2012 season, here is a list of several "over the hill" players who you should remain mindful of come your fantasy draft:

Reggie Wayne, WR – IND
Age: 33

Wayne has 100 or more catches in three of his previous five seasons, and last year he came 40 yards short of reaching the 1000-yard mark in receiving yards for the eighth consecutive year. That type of recent track record speaks volumes to his overall ability, but keep in mind that Wayne will turn 34 in November and doesn't have Peyton Manning throwing the ball to him anymore. His inconsistent play in 2011 had as much to do with the Colts' struggles at quarterback than his own ability. But only one touchdown through the first ten games last season? Ouch.

Wayne salvaged an average season by closing out the year with eight catches in each of his last two games. He remains a quality WR, but his numbers will continue to drop as Indianapolis infuses youth throughout the offense in a way that Wayne has never had to deal with. I don't see his numbers falling completely off the table to the extent that his spot on your roster should be questioned, but whether or not you decide to start him as your WR3 will definitely be a head-scratcher of a decision on a weekly basis. Expect mediocre numbers from this one-time fantasy star.

Matt Hasselbeck, QB – TEN
Age: 36

Hasselbeck had a rebirth of sorts during his first season in Tennessee. He started every game last year—something he hadn't done since 2007—and posted his most passing yards, his most touchdowns, and his best completion percentage since 2007 as well. He even peppered in a few 300-yard passing games. Not bad for a quarterback who'll be 37 by the end of September. But let's not kid ourselves. Hasselbeck is keeping the seat warm for youngster Jake Locker, and Locker's chance may come much sooner than later.

Back issues plagued Hasselbeck late in his tenure with the Seahawks, which could be a very plausible explanation for his erratic play in the Great Northwest. He remained upright for the entire season in 2011, though, and appeared as healthy as a guy close to 40 can look. But there simply haven't been many productive starting quarterbacks in the NFL at 37 years of age. All of this—combined with the Locker factor, the questions at wide receiver (the idiocy of Kenny Britt, the youth of Kendall Wright, the inconsistency of tight end Jared Cook), and the brittleness that usually accompanies 37-year-old quarterbacks—makes Hasselbeck a card-carrying member of the Over-the-Hill Club.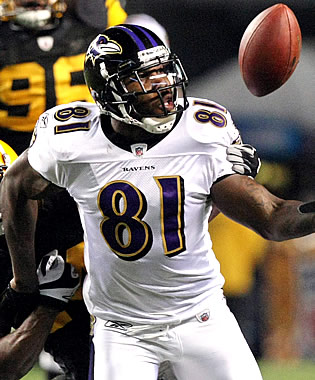 Anquan Boldin's fantasy production has declined every year since 2008.
Anquan Boldin, WR – BAL
Age: 31

I thought when Boldin signed with Baltimore he was going to be an absolute force. I felt no other wide receiver fit the styles and contours of his team better than Boldin with the Ravens. Two years later, he's had two of his worst statistical seasons since his injury-plagued second year in the league. Boldin will turn 32 during the 2012 season and he has definitely lost a step—a big deal when you came into the league not known for your swiftness.
Most fantasy pundits have receiving mate Torrey Smith rated higher than Boldin heading into this season, and I agree. Smith's presumed ascension to No. 1 receiver status with the Ravens, in addition to the increased role of tight end Ed Dickson, makes Boldin's chances of returning to a starting-quality fantasy receiver a thing of the past. It's also not a good sign that he had two fewer touchdown receptions than Dickson last year. Boldin is heading for the cliff, no doubt.
Brandon Jacobs, RB – SF
Age: 30

Jacobs, who Warren Sapp dubs the Tiptoe Burglar because of his sometimes less-than-aggressive running style, relocates to San Francisco from the New York Giants after completing his worst season since 2006. While his seven rushing touchdowns last year were respectable, four came during a three-game stretch. Some may look at the RBBC that he was part of during his entire career with the Giants and say he's not as worn down as most 30-year-old running backs. But at some point, that upright running style is going to cost him. Those 30-year-old knees are inviting targets for defenders as well.
What will also potentially expedite Jacobs' downward production is the three-headed running back attack he now is part of in 'Frisco. Incumbent Frank Gore is coming off a solid season, and rookie LaMichael James is sure to be used as a change-of-pace back. Jacobs could be used exclusively as a short-yardage and goal-line back, which could heighten his value a bit in touchdown-only leagues. But I don't see Jacobs making much of a splash in San Francisco.
Antonio Gates, TE – SD
Age: 32

Gates battled through his foot injury early in 2011 to actually salvage a solid season. But we've seen time and time again how injuries hasten the demise of even the most gifted players. Last year marked the second consecutive season that he battled through injuries, and 32-year-olds tend to find that progressively more difficult to do with each passing season. If you noticed, Gates had a hard time getting separation from defenders in 2011. I had him on my team last year and witnessed even during his best games how he had defenders literally draped all over him with every reception. I find it difficult to conclude that defenses are now equipped with a scheme to cover the former fantasy stud; rather, I think his inability to create space between himself and the defender is a direct result of a skill set that's eroding right before our eyes.
Vincent Jackson's exit, some would argue, gives Gates a chance to become San Diego's go-to receiver, the way he was during his time as fantasy's top TE. Again, his age and chronic foot issues will prevent that from happening. Plus, I'm not high on the Chargers' offense this season. Don't be surprised if we see Gates' numbers take a dramatic dip in 2012.
Santana Moss, WR – WAS
Age: 33

Moss's receiving yardage total from 2011 was his lowest since his rookie season with the Jets. In previous seasons, Moss owners could always count on the occasional big game, but last year he neither caught more than six passes nor had more than 81 yards receiving in a single game. In fact, it's been since Week 10 of the 2010 season that Moss last topped the 100-yard receiving mark. Sure, fingers can be pointed at the struggling quarterback play in Washington as the culprit for Moss's struggles. I won't argue against that. And, sure, those optimistic folks could look at Robert Griffin's arrival as the much-needed jolt to Moss's potential. But I think Moss is one of those players whose production will continue to decline at a rapid pace, and whose spot on your roster should be scrutinized on a regular basis.
Peyton Manning, QB – DEN
Age: 36

OK, it could be sacrilege to have Peyton on this list, but something has to be said about a 36-year-old quarterback who, when the season starts, will have not taken a hit since January, 2010. That's a long time between live action, even for someone of Manning's ilk. And, oh, there's also this neck injury thing.
Look, I'm not saying Manning will suddenly turn into Colt McCoy; what I am saying is people need to lower their expectations. Expecting him to waltz into the Denver offense and pick up where he left off in Indy is wishful thinking as far as I'm concerned. Manning is way too good to fall off the map quickly, but I think there will be some obvious signs of decline in 2012, with 2013 really being a watershed season for the future Hall of Famer.