The Shifting Winds of Fantasy Football Draft Strategy




8/11/12



As we all know, the NFL has gradually morphed into a passing league—a league where rules promote offensive prowess in general, and quarterback productivity in particular. It's no surprise, then, that fantasy football draft strategy has transformed accordingly. Remember the Marshall Rule? Named after Hall of Famer and former fantasy football stud running back Marshall Faulk, this antiquated strategy called for owners to select a running back in the first two rounds of a fantasy draft, regardless, by and large, of the league's size and scoring system. This, experts said, would solidify your fantasy roster and put you on the fast track toward dominating your league.

While it played into the mindset of the NFL at the time—a league that touted workhorse running backs—I never bought into that line of thinking. Even at that time I felt it was a prehistoric view and a rigid, unyielding approach to what I believe is a fluid process. For competitive and casual fantasy drafts alike, things can become unpredictable and owners must adapt and respond with skill if they are to separate themselves from others in the league. The Marshall Rule seemed to constitute having a made-up mind before entering the draft, which to me seemed outlandish. Nonetheless, it was a strategy that many fantasy owners employed because of the nature and offensive mindset of NFL teams. Consider this: Just ten years ago, there were nine running backs that finished the season with 300-plus carries. By 2011, that number had dropped to two. And similarly, four quarterbacks completed the 2002 season with 4,000-plus passing yards. By 2011, that number had become ten—including three with 5,000 or more yards.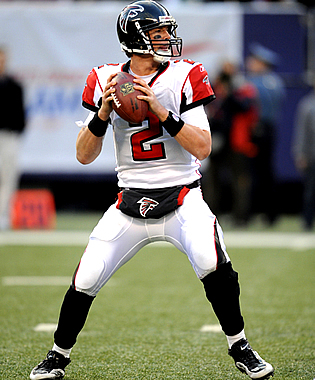 Matt Ryan is one reason to wait until after the first round to draft your quarterback.
What does that changing trend say from a fantasy football draft perspective? Plenty. For starters, it says the Marshall Rule, as far as I can tell, has gone the way of the dinosaur and will never return. Running backs have been devalued considerably in the NFL, and thus in fantasy football drafts as well. The running-back-by-committee approach has taken over and is now the rule and not the exception. We as fantasy owners have to deal with that and adjust accordingly. Secondly, and perhaps most importantly, this pass-happy NFL says from a fantasy draft perspective that QB options—quality QB options—are available deep in drafts. Only three QBs from the 4000-yard club of 2011 were possible first-round picks (Aaron Rodgers, Drew Brees, Tom Brady). The other seven (Matthew Stafford, Eli Manning, Philip Rivers, Tony Romo, Matt Ryan, Ben Roethlisberger, Cam Newton) were all mid-round selections, and in Newton's case, probably not even drafted.
Sure, there is some separation between some of the aforementioned players. A few threw well over 40 touchdown passes, while others didn't even hit 30. But the fact remains that value at the QB position can be unearthed in the middle of your draft. That's the primary reason why I'm against selecting a QB in the first round of a fantasy draft. The unprecedented depth at the position, I contend, should help eliminate the enticement of paying too high a price for those QBs sitting atop almost all cheat sheets. Instead, a bigger bang for your buck could come in the form of one of those second-tier, top-notch QBs such as Ryan (ADP 7.02), Romo (5.05) or Eli Manning (6.06). Selecting QBs in that area of the draft after fortifying your roster with solid, predictably productive players at the RB and WR positions will lead you away from any possible misguided enchantment you may have with those high-priced prima donnas in the first round.
There are plenty of arguments to the contrary of my view, and I can see the other side as well. In fact, the two owners in my big-money league that drafted QBs in the first round last year (Rodgers, Brady) both made the playoffs. The only problem was they were both top-heavy teams. The first owner had Rodgers, Maurice Jones-Drew and a bunch of average players, while the other had Brady, Rob Gronkowski and a team full of has-beens and never-has-beens. It just seemed that those first-round QBs had to perform at such an alarming clip each week simply to justify their lofty selection. Meanwhile, QBs drafted five or six rounds later, although not as prolific, were just as formidable when you couple them with RBs and WRs that were picked early.
We all have our methods, our strategies, our superstitious approaches to preparing for a fantasy draft. My way may not be your way. If drafting a QB in the first round has worked for you in the past, continue with that philosophy. I'll proceed to use the tactic that has worked best for me. Good luck in your drafts!