Keep your eyes peeled. Fantasy rosters are solidified during the middle rounds, and it is the knowledgeable owner capable of noticing opportunities where others may not who could walk out of his draft with one of his league's best rosters. Here are six players I think can be solid contributors on any fantasy team.

QB Sam Bradford, STL
ADP: 13.01

I get it. Sam Bradford has been a pedestrian quarterback in his first three seasons in the league. Nothing really stands out so far--no signature play or signature game. A quarterback that has only six games of 300-plus yards passing, one who at one stretch between his first and third years went 19 of 20 games with one or fewer touchdown passes. Very nondescript career so far, no doubting that. All that being said, the Rams have tried to surround their franchise quarterback with the tools necessary to become a more productive player. Sure, losing Steven Jackson may be viewed as a setback by some, but St. Louis will help fill that void with Daryl Richardson and even rookie receiver Tavon Austin.

Fellow receiver Chris Givens battled through inconsistency last year, but I think Austin's arrival, along with that of tight end Jared Cook, will help complement Givens' deep speed, while opening things up on short routes across the middle or dump-offs to the backs. Bradford's weapons may not be household names, but they are serviceable enough for the fourth-year quarterback to take another step up the developmental ladder. Additionally, another reason I put Bradford on this list is my belief in head coach Jeff Fisher. It's not that he's some kind of quarterback guru or offensive mastermind; rather, he simply has a way of usually getting the most out of his players. Some may shy away from Bradford based on the tough defensive division he plays in, but keep in mind that he averaged 242 passing yards in the four games against San Francisco and Seattle, with three total touchdowns and two interceptions. Not eye-popping numbers, but he didn't collapse under that pressure either. Those are good attributes to build upon a surprising season heading into the 2013 season.

QB Andy Dalton, CIN
ADP: 10.10

Andy Dalton is another young quarterback who's had a rather nondescript career so far. The Bengals, though, are looking to construct an offense that suits the skills of the third-year pro. And as mentioned above, while it took Bradford three full seasons to reach six games of 300-plus yards passing, Dalton has already reached five such games in one fewer season. Having A.J. Green to throw to certainly doesn't hurt those numbers. And therein lies the hidden and perhaps unheralded fantasy stock of Dalton. He orchestrates an offense that boasts numerous players capable of becoming fantasy studs themselves.

Of course there's Green, but the selections of running back Giovani Bernard and tight end Tyler Eifert bode well for Dalton's surpassing last year's numbers. Some have touted how Dalton fizzled to close out 2012, tossing four touchdowns and five interceptions over the season's last five games. I truly don't believe in that nonsense of successful or struggling play spilling over into the next season, but perhaps it is that stretch of games to end last year--in addition to the stinker of a playoff game he had--that gives fantasy owners a bad vibe when it comes to Dalton. I say take those opinions of others and use 'em to your advantage by snatching Dalton with a mid-round selection, and give yourself one of the more solid QB2s in fantasy football.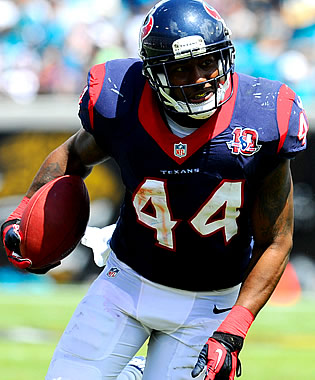 Big upside makes Tate a perennial mid-draft selection.
RB Ben Tate, HOU
ADP: 7.03

No mention of mid-round selections is complete without the obligatory Ben Tate inclusion. I used mid- to late-round selections on him the last two years, but to no avail. This year, though, I think things will change. Arian Foster's injuries have been well-documented everywhere, and it is Tate who should benefit. Word out of Texans camp is that Foster's issues have kept him fresh and ready to roll come September. While that may be true, something has to be said about his absence from practice since OTAs in May. Meanwhile, the vaunted Houston running attack and the team's commitment and outright dedication to rushing the football spells success for whichever running back gets the majority of carries. That being said, Tate should see more action this season regardless of how serious (or not) Foster's injuries are.
Tate's success was essentially nonexistent last season. He never ran for more than 74 yards and never had more than 12 rushing attempts. That, and the fact that his only two rushing touchdowns came in Week 2, may give the misinformed the idea that Tate isn't worth his bloated ADP. But all the uncertainty surrounding Foster makes Tate one of the most coveted mid-round selections this season--and a must for Foster owners.
WR DeSean Jackson, PHI
ADP: 5.10

Admittedly, I've never been a real big fan of DeSean Jackson. Even during the height of his fantasy stock in 2009 and 2010 I had questions about his consistency and maturity. But now I think his ADP is where it should be; now I think even I would feel okay with his occupying a spot on my roster. New coach Chip Kelly and his new-school offensive philosophy has given many fantasy owners pause, trying to figure out how an offense that worked so successfully in college can transfer to the NFL. Jackson and his quickness seem to be a solid match for what Kelly hopes to do, and with the relative dearth of receiver depth, Jackson's value creeps up a bit more.
Of course, any talk of Philly's passing game components begins with Michael Vick and his ability to secure the football while remaining upright himself. If Vick can somehow direct the offense efficiently while utilizing the multi-dimensional skill set of Jackson, perhaps Jackson can recapture the magic of his first three years, in which he hauled in 17 touchdown passes; if not, Jackson will continue along the path toward fantasy WR mediocrity. Chances are, however, 2013 should be closer to the former.
WR Anquan Boldin, SF
ADP: 7.07

The days of Anquan Boldin being anything more than a solid WR2 in fantasy football were left in the desert when he bolted Arizona for Baltimore. Not that his days with the Ravens were a complete loss; he maintained a high degree of relevance in fantasy football last year when I thought the wheels would pop off at any time. He even peppered in a few solid games during his three years in Baltimoreógames that brought back memories of his exploits with the Cardinals. Now he hightails it out west to the Niners and, by default, is handed the top receiver position on the team.
Colin Kaepernick's superior and unique athleticism helps keep plays active longer than your usual signal-caller, giving crafty, veteran route-runners like Boldin time and space to find holes in the secondary. The irony of Boldin is the over-emphasis of his being a "possession receiver." While that may be true, he actually averaged more yards per reception during his three years in Baltimore than he did his last three years in Arizona. None of that, of course, has anything to do with Boldin's "speed," but rather his yards after the catch and physical style of play. He should find himself at the end of the season with 65-70 receptions for about 1,000 yards and 4-6 touchdown receptions.
TE Brandon Myers, NYG
ADP: 12.07

Brandon Myers was the lone bright spot in an Oakland passing attack that was anything but pretty. Myers had 27 more receptions than his next closet teammate, and that teammate was running back Marcel Reece. Carson Palmer looked to him early and often, and that should be the case again this year with Eli Manning tossing him the rock. Myers is no doubt an upgrade over the recent tight ends that have called the Giants home during the previous three seasons, including Martellus Bennett, Jake Ballard and Kevin Boss.
Last season was Myers' best of his career, and he benefited the most from Oakland's lack of receiving threats. The complementary players on the Giants should provide the extra space he needs to be a solid contributor in 2013. And with the hobbling Hakeem Nicks and Victor Cruz, Myers' opportunity to become more of a focal point of the passing game may come sooner than anyone expects. He could be a steal in drafts this year, especially TE-optional leagues that don't put great emphasis on sleeper TE options.