In dynasty leagues, it is critical to keep in touch with the value changes that players experience. Whether real or perceived moves in value, a savvy owner is well aware of the changing tide and is able to capitalize on the opportunities that develop. Tracking player value changes carefully and making roster adjustments accordingly are key components to your team's long-term success. Consistent contenders in dynasty leagues don't separate from the pack merely by chance or simply by getting "lucky" on a few rookie draft picks. These are the owners that put in the work and find ways to improve their team all year round.

Below, I provide in-depth analysis on two players that have recently experienced a real or perceived value change in dynasty formats. Soak it in, give it some real consideration, and if it rings true for you, potentially use this information to help improve your team.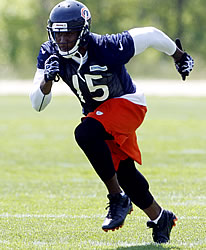 No offense Miami, but Marshall's upside is higher in the windy city.
Brandon Marshall - An argument can be made that Marshallís character concerns are simply too significant to rely upon him as a cornerstone for your fantasy team. I donít necessarily blame those that are scared off by Marshallís antics, but at the same time, his upside is so alluring that many of us are willing to be quite forgiving. And now that he has been reunited with Jay Cutler in Chicago, his upside appears to be even higher than it was in Miami.
Marshall has many positives working in his favor. While he is not a young WR, at 28 years old he still has plenty left in the tank. And, as mentioned previously, he is now playing with a QB that he has a great history with, albeit in a different city and offensive system. Marshall immediately steps in as Chicagoís number one WR and is currently the only major receiving threat on the team, aside from Matt Forte out of the backfield. Marshall has had five consecutive 1,000-yard seasons and during that stretch has never dropped below 82 receptions a year. It is worth mentioning, that even though Marshall is the clear top dog among the Chicago receivers, Alshon Jeffery is a talented rookie that has a chance to develop into an impact player in the long run.
Despite having a nice list running on the pros side of the ledger, Marshall also has some cons to consider. The most obvious of said cons is the aforementioned character issues. He gets involved in far too much off-field trouble. Heís not in his early 20ís any longer and should be well past these issues, but that isnít the case. His latest issue Ė New York nightclub fun, which has not led to any charges levied against him - helped motivate Miami to trade him away. Hopefully this last matter serves as a wakeup call for the veteran WR.
There is another noteworthy negative to consider; namely, the overall state of the Chicago offense. A shaky offensive line that has had trouble protecting Cutler and an overall air attack that has been less-than-stellar in recent years is concerning. However, these things could change now that Mike Martz is out as OC and Mike Tice has replaced him, but there is definitely some uncertainty surrounding the Bears offense right now.
Overall, the move to Chicago should be a positive one for Marshallís value, even if only because he should benefit from improved quarterback play. Jay Cutler is definitely a better QB than Matt Moore, but this alone doesnít propel Marshall into a higher tier at WR, and instead only moves him up a decent notch within that same tier. If you can find a Marshall owner that is concerned about his off-field garbage, then you may be able to acquire him at a price where heíll be a clear benefit to your team. Sure, you may have to deal with an occasional Marshall-induced headache after you trade for him, but the upside should be worth it. He is a talented player and once again has a very good NFL QB chucking him the rock.
On the flipside, if you own Marshall already, you may be able to capitalize on the buzz surrounding him. There might be an owner in your league willing to overpay for his services if they get too locked into the numbers Marshall posted with Cutler while in Denver. This Bears team isnít the Broncos of 4-5 years ago. You shouldnít expect 100+ receptions and 1,250 yards from Marshall the next couple of seasons, and if you can find an owner that does, and is willing to pay for such, then I recommend you take the money and run.
Jacob Tamme - When Dallas Clark got hurt in 2010 Jacob Tamme had a meteoric rise from obscurity in fantasy football and became one of the biggest waiver wire additions in leagues everywhere. In weeks 8 through 17 in 2010, Tamme posted 67 receptions for 631 yards and 4 TDs. These are big numbers from a TE in only 10 games. Now that Tamme has joined Peyton Manning in Denver, many are hoping that they can recreate the magic that they had for a good chunk of the 2010 season.
Tamme, a former fourth-round pick, is now 27 years old and has never entered an NFL season as his teamís starter. He is a small-ish TE and his game is more about receiving than blocking. In Denver, heíll be competing against Joel Dreessen, Julius Thomas and Virgil Green for snaps. Dreessen has had some nice moments in Houston and Thomas is a former collegiate hoopster that many feel has a chance of developing into a good all-around TE. Currently, it is a bit unclear how the TE rotation will play out in Denver.
With all of that said, it seems like a reasonable assumption to pencil Tamme in as the starter right now as well as the most fantasy-relevant TE on the team. Things are still very fluid and could change quickly, but the primary indicators are pointing toward Tamme at the moment. And seemingly any starting TE in a Peyton Manning led offense can post some very strong numbers.
Out of all of the WRs and TEs that could see significant targets for the Broncos, Tamme and Stokley are the only two with extensive experience playing with Manning. This is critical because Manning is a tactician and expects similar from his receivers. It isnít always easy for newbies to get on the same page with the veteran QB, so it isnít far-fetched to think he could lean on a trusted target such as Tamme a good amount. They developed a good on-field rapport back in 2010 and I look for this connection to follow them to Denver.
My big caution to those looking at Tamme as a TE option is that the total receiving pie for Denver in 2012 may not be quite as large as the receiving pie was in Indianapolis in 2009 or 2010, meaning the slice for the TEs might be proportionally smaller as well. Expecting Tamme to pull in something near 6 receptions most weeks in 2012, just because it was common for him to do such back in 2010 with Manning throwing him the ball, is unrealistic. You need temper your expectations.
Assuming he secures the starting gig, Tamme easily could edge up to high-end TE2 status. He has some nice upside playing with Manning and right now seems to be the ideal time to buy him, particularly if he can be reeled in at the price of a low-end TE2 (which is typically dirt cheap). After he posts one nice game for Denver, even if itís in the preseason, it is likely that his asking price will go up considerably. Admittedly, Tamme isnít risk-free, as Dreessen and Thomas are lurking in the shadows.
If you currently own Tamme, the primary situation where it may make sense to send him packing is if you can find a TE-desperate team that is willing to pay something close to a TE1 price for him in the hopes that theyíre landing the 2010 version of the former Colt. In order to have a realistic chance of pulling this off, youíre probably going to have to wait to make your big move until after the aforementioned ďnice gameĒ early in the regular season or sometime during the preseason. Patience and timing will be required.