In dynasty leagues, it is critical to keep in touch with the value changes that players experience. Whether those moves in value are real or perceived, a savvy owner remains well aware of the changing tide in order to capitalize on the opportunities that develop. Tracking shifts in player value carefully and making roster adjustments accordingly are key components to your team's long-term success. Consistent contenders in dynasty leagues don't separate from the pack merely by chance or simply by getting "lucky" on a few rookie draft picks. These are the owners that put in the work and find ways to improve their team all year round.

Below, I provide in-depth analysis on two players that have recently experienced a real or perceived value change in dynasty formats. Soak it in, give it some real consideration, and if it rings true for you, use this information to help improve your team.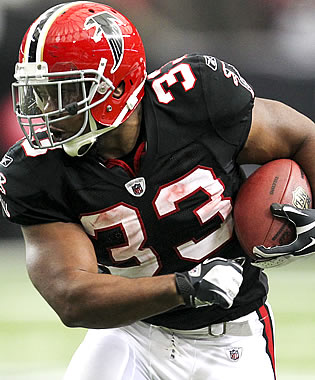 Hold Turner if you're a dynasty playoff contender.
Michael Turner - I know Iíve said it before, but the closer a RB gets to 30 years old, the more heartburn they give me. Once they actually cross beyond that threshold, I typically have major doubts about what they have left to contribute to my dynasty team. RBs in their 30ís have one foot in their fantasy football grave and the other on a banana peel. This is the crux of the issue with Michael Turner currently, as he is entering this season at 30 years of age and can be found slipping significantly down dynasty rankings everywhere.

A thirty-something stud RB might be phased out gracefully or their production might fall off the proverbial cliff. Either way, their days of being an elite fantasy performer are numbered. Unfortunately for them, as well as their dynasty owners, the end is nigh. In Turnerís case, when you factor in his age along with his limited role in the Falcons burgeoning passing game, you probably come away with a rather grim outlook for the veteran RB. Raising the level of concern further is the fact that the Falcons have openly talked about cutting down Turnerís touches this season.

From a long-term perspective, Turner is absolutely a guy that worries me. However, there are some legitimate reasons to like him in the near term.


He is one of the most proven and consistent RBs in the league and his numbers have yet to show any real signs of fading. Turner has rushed for over 1,300 yards in 3 of the last four seasons and reached double-digit TDs in all four of those years.


Not only were Turnerís totals strong from last season, but he was efficient with his opportunities, averaging 4.5 yards per carry, up noticeably from his 2010 average of 4.1. Further, he posted a career-high 168 receiving yards in 2011.


His heir apparent may not be on the team currently. I do believe that Jacquizz Rodgers is talented and will carve out a bigger role going forward, but I think Rodgers might be better suited as a committee back and not a lead RB that can carry the bulk of the load. Only time will tell.


While the team ran the ball only 28.3 times per game in 2011 vs. 31.1 in 2010, their rushing yardage per game was minimally impacted and rushing TDs remained unchanged. The increased focus on the air attack might help a small amount in opening up running lanes for Turner and others. There is a high likelihood that Turnerís touches will dip this season, but he doesnít need 300+ touches to remain fantasy-relevant if he continues to average over 4 yards per carry and retains goal line duties.
If youíre a playoff-caliber team and need help at RB in order to make a deep run this season, then Turner might be a good player to target, particularly in non-PPR formats. The ideal seller is an owner that has a struggling team or simply has a roster focused primarily on youth. Teams in these situations should be more willing to heavily discount the aging RB. However, I should caution that if you decide to try to acquire Turner, you should only view him as a one-year solution, and not a low risk one, given his age. While Turnerís perceived value has dropped markedly in the last year or so, it could slip to virtually nothing in no-time flat. Most Turner owners are well aware of this. If they are motivated, you might be able to land him at bargain-bin pricing.

If you currently own Turner, he is almost certainly a ďholdĒ if you are a contender. Keep going to the Turner well until it dries up. Selling low makes no sense for you. On the other hand, if you are not a playoff-caliber team and are instead trying to rebuild or simply shake things up, then selling Turner would probably be a wise thing to consider. Admittedly, getting much in return for him might prove difficult, so youíll need to be patient. Turner may have increased appeal several weeks into the season, once teams are dealing with byes and injuries. Timing your sale just right could be critical in order for you to maximize your return.

Jay Cutler - During his three seasons as the Bears starting QB, Jay Cutler has definitely had his ups and downs. In 2009 he posted a league-high 26 interceptions thrown and was unable to get Chicago into the playoffs. The very next season, Cutler cut his INTs down to 16 and he was a critical factor in leading the Bears all the way to the NFC Championship Game. Last season, Cutler was playing well and had the team pointed in the direction of the playoffs once again, until a thumb injury derailed his season after 10 weeks. Ultimately, that injury largely derailed the season for the entire Bears franchise.

Now 29 years old, Cutler should be in a sweet spot for his career arc; experienced enough to have a thorough understanding of what it takes to succeed at QB in the NFL and not so advanced in age where his physical prowess has begun to erode. Frankly, there are more-than-adequate grounds for being excited about Cutler going forward. Here are a few key points working in his favor:


Brandon Marshall was added to the Bears roster. This is the first upper-tier receiving option Cutler has had during his tenure in Chicago. Marshall is a big-bodied playmaker that Cutler can rely on, something the veteran QB has openly lobbied for.


Alshon Jeffery was selected in the second round of the draft. There have been concerns about his work ethic, but his talent and size is undeniable. Jeffery offers Cutler the possibility of another quality, big-bodied WR for the long term.


Mike Martz, and his system that relied heavily upon deep drops for QBs, is gone. The Bears offensive line has been ineffective at pass blocking, so the implementation of shorter drops and rollouts might assist in keeping Cutler upright more frequently and seems to be a better match with his skill set.
On the flipside, there are legitimate reasons such as these to temper your expectations for Jay Cutler:


As mentioned previously, the Bears offensive line has not protected the QB very well in recent years. It seems likely that this could continue to be an issue going forward, but Iíd expect to see some improvement now that Martz is gone. Further, the return of a healthy Gabe Carimi should help as well.


While the additions of Marshall and Jeffery may lead some to think that the team is looking to open up the passing game in 2012 and beyond, the Bears have two effective RBs in Matt Forte and Michael Bush. Both of these players are expected to be significantly utilized in the offense. I think it is probable that the Bears will employ a balanced attack on offense. This would effectively limit Cutlerís upside.


Cutler has a propensity to make questionable throws into tight coverage. He has a big arm and confidence in his abilities, great qualities for a QB, yet a combo that can get him into trouble at times. His INT count will possibly always be elevated, and even more so if the Bears actually do transition into a pass-happy offense.
Overall, Cutlerís situation has noticeably improved in Chicago. He now has better playmakers surrounding him and is in a new offensive scheme that appears to be a better fit for his skill set. Cutler has the makings of a strong QB2 for a dynasty team, serving as a high-end backup or possibly in a quarterback-by-committee situation. However, I would be hesitant to rely upon the gunslinger in Chicago as my outright starter. Now reunited with Marshall, some may be expecting him to put up numbers on par with what he was posting in his Denver days, but I think that may be wishful thinking.

Cutlerís asking price has probably edged upward in recent months due to the changes Chicago has made on offense. These changes have generated some buzz, and rightly so, yet I am not so sure that they will translate into much more than a small-to-moderate increase in production. Unless the Cutler owner in your league is very reasonable in their trade negotiations, you may need to look for QB help elsewhere, assuming you are in the market. Make sure you donít end up paying an inflated price that is artificially held up by the aforementioned buzz.