Highlighting a few key risers and fallers, the Dynasty Dashboard assists in keeping you on top of player valuation changes as they are developing. Further, a deep sleeper or largely overlooked player worthy of consideration for a spot on your roster will also be identified each week. Keep an eye on the dashboard and drive your team toward dynasty league success.



Accelerating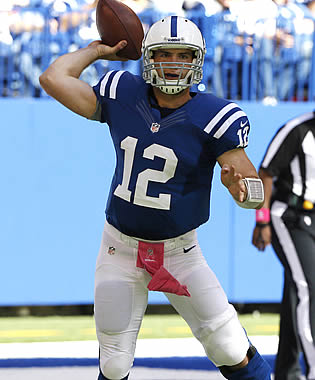 Andrew Luck is a top five dynasty Quarterback.

Andrew Luck - Luck and Robert Griffin III will forever be linked with another and their successes measured against the other. Expectations for each player are off the charts, and this is the case in real terms as well as in fantasy football. From a dynasty league perspective, both QBs are already emerging as elite options for the long haul. Just looking at the stats that they have produced in the first half of their rookie seasons is mind blowing. RGIII got off to a bit of a quicker start and immediately had many of us buying into the hype. However, lately it has been Luck that has been turning heads and putting up out-of-this-world fantasy numbers.

In the last five weeks, only 6 QBs have posted a higher points-per-game average than Luck (using FFToday standard scoring). He has been red hot in the last month and has analysts singing his praise in nearly perfect harmony. His huge game against Miami on Sunday actually earned him the record for most passing yards in a single game by a rookie (433 yards). Frankly, it's hard to come up with much to say about Luck's level of play that hasn't already been said. He is as good as advertised, if not better, and is already proving to be a truly special player.

Luck has all of the measurables you could want in a QB and he also has the football IQ and work ethic to match it. If NFL executives could have the perfect QB designed in a laboratory, the end result likely would look suspiciously similar to Andrew Luck. The sky is the limit for the first-year player. His numbers already place him in the QB1 range in fantasy football, but when you consider his upside as he progresses in the coming years, the case can easily be made that he should be in top five at his position in dynasty leagues. While I'm not one that often gets carried away with the hype of rookies and young players, I do believe that RGIII and Luck are both top 5 dynasty QBs today.

Chris Givens - Previous to the Danny Amendola injury, I highlighted Givens and Brian Quick as solid stash candidates. The opportunity for someone to emerge from the St. Louis receiving corps was significant. Outside of Amendola, the veterans leading the way at the position leave much to be desired. And even though Amendola has proven to be a very reliable possession receiver, he is limited in what he brings to the table. Well, in the last few weeks, Givens has earned more playing time and he has clearly emerged as a player capable of making big plays down the field.

Givens has now logged 5 consecutive games in which he has registered a reception of 50 yards or greater. According to the Elias Sports Bureau, this is longest streak among active players and is the first time it has been done since Pat Studstill performed the same feat for Detroit back in 1966. During this impressive stretch of five games, Givens has averaged 64.8 yards and 0.4 TDs. The fourth round draft pick out of Wake Forest is making a significant splash in his rookie campaign. Admittedly, I don't think his ceiling is as high as several of the other WRs in his draft class, yet he is proving that he can be a very productive pro. If Givens can continue to learn and fine tune some things in coming seasons, he can definitely blossom into a more substantial contributor for the Rams and fantasy teams.



Downshifting



Darren McFadden - Coming into this season, it seemed as though there were two distinct camps regarding McFadden's dynasty stock. Camp 1: McFadden has elite skills and playmaking ability. The injury history is the only thing that is keeping him from being mentioned in the same breath as guys like Arian Foster and Ray Rice. Camp 2: McFadden is a good RB, but he is not elite. He's had some big moments, but hasn't been consistent enough when you look at his entire track record as a Raider. Further, the injuries are significant red flag. --Unfortunately for McFadden owners, it is looking like things are shaking out a bit more in line with how Camp 2 had envisioned things.

In eight games played this season, McFadden is averaging 80.6 yards from scrimmage and 0.25 TDs per game. Using FFToday standard scoring, he is 26th in fantasy points per game at RB among those that have played 5 games or more. This level of production simply isn't getting it done for those that penciled in McFadden as their RB1 for this season (and beyond). On its surface, the lackluster stats are a bit of a head scratcher. Has the Lisfranc injury from last year slowed him down or is his slow start more of a result of Oakland's implementation of the zone blocking scheme?

In my view, both of these things could be contributing, but I believe the latter has been more impactful. In recent weeks, I've seen some good burst out of the former Razorback, it simply hasn't amounted to much on the stats sheet. The zone blocking scheme seems to be the larger issue for McFadden and the Oakland offensive line. I don't know if more time is needed to iron things out in the new scheme or if McFadden will continue to struggle in it no matter what. This is definitely reason for concern. Further, McFadden's recent high ankle sprain is worrisome in the near term. As it stands right now, McFadden's dynasty stock is subtly starting to slip. I now see him as a low-end RB1 or high-end RB2. If it weren't for his enormous upside, he'd probably be slipping even more significantly.

Alex Green - A few months back, it seemed like James Starks had the lead RB gig locked up in Green Bay. With Ryan Grant not re-signed, there was an obvious opportunity for Starks to step up and become the clear leader in the team's rushing attack. Unfortunately for Starks, injuries and subpar play nixed those plans and the team moved on to sign free agent RB, Cedric Benson, with expectations that he'd carry a heavy load for them on the ground. Benson's production was decent through five games, averaging 3.5 yards per carry and 69.0 yards from scrimmage per game. Sadly, a foot injury sustained in Week 5 put him on the shelf for several weeks and left the Packers considering "Plan C" at RB (Alex Green).

Green Bay drafted Alex Green out of the University of Hawaii in the third round of the 2011 draft. He saw limited action with the team as a rookie due to an ACL injury. Coming into this season, Green was looking at a role as a backup RB or perhaps that of a change-of-pace back. However, as detailed previously, the situation changed for the young RB and he eventually found himself starting for the Packers. In his last four games played, he has logged a total of 75 carries for 207 yards on the ground; an average of 2.8 yards per tote. He also put up 11 catches for 90 yards during that stretch. Given the amount of work that Green has received in the last month, his numbers have been very disappointing.

Many Green owners likely had hopes that their young RB would emerge as a fantasy factor when given the opportunity to prove himself. Sadly, that did not come to fruition and now the Green Bay backfield is mired in committee mediocrity. Starks has popped back on to the scene and is slated to share carries with Green for the time being, and then, of course, Kuhn is in the picture as the dreaded goal line vulture. Further muddying the water in coming weeks will be the return of Cedric Benson. From a fantasy perspective, the Green Bay backfield is a mess. Alex Green had a golden opportunity, but he was unable to capitalize on it.



Spotted in the High Beams



Rod Streater - Those that paid close attention to the Raiders in the preseason know that Streater generated some nice buzz for the team during that stretch. With all of the WR injuries the team had suffered, the little known rookie out of Temple got a lot of playing time and was reasonably productive with it. He, by default, became Palmer's go-to receiver in the preseason. However, once the Oakland WR corps got somewhat healthy, Streater's role clearly shrunk. Yet, despite his decreased involvement in the aerial assault, Streater is still seeing some good action and making an occasional nice play when given the opportunity. This past week, he registered 4 catches for 54 yards and a TD against the Buccaneers.

At 6'3" tall and 200 lbs, Streater is a long and lean WR. He has flashed some sneaky-good playmaking ability, but doesn't have elite speed at his position and needs to become more consistent. That said, Streater is getting a real shot to contribute as a rookie and he's been a solid producer for the Raiders through the first nine weeks of the season. Admittedly, the eventual return of Jacoby Ford and potential development of Juron Criner have me a bit skeptical about where Streater fits into the team's long-term plans. However, if he keeps making strides, the team will have to find a way to continue to work him into the mix. Further, because Oakland doesn't have a bunch of established producers at WR, Streater has at least a fighting chance to carve out a nice role for himself moving forward.