8/11/11



Most fantasy football veterans have been part of a draft where the player with the first pick uses every last second of the clock before submitting his choice. In my experience, this usually happens for one of two reasons: he is either trying to be a wise guy and irritate the rest of the league, or he is actually having a hard time deciding who to take. Unfortunately, I can't do anything about the gamesmanship, but if you're truly having trouble deciding who to pick, hopefully the following will help.

Depending on who you talk to, the first overall pick in is either the hardest pick or the easiest. Either way, it's a pick you don't want to mess up. As in most years, there are less-than-conventional options for the first pick, including names like Michael Vick, Jamaal Charles, or Aaron Rodgers. These players are certainly fantasy studs, but all fail to make my list of the top four legitimate players you should consider as the first overall pick in standard scoring redraft leagues.

#4 RB Arian Foster, HOU

Pros:



He Did it Last Year


Last year at this time you would never have thought to take Foster in the first round, much less with the first pick overall. Fast-forward to a year later and Foster has shown he is very capable of being fantasy's top performer. By finishing 2010 as the top running back, Foster has history, momentum, and confidence in his favor.



Good System in Place


With a well-balanced offense made up of an excellent run-blocking offensive line, a near-elite quarterback, and an all-world wide receiver, Foster is in a great position to succeed again, especially as a second-year starter in the same system. With mostly the same personnel surrounding him, continuity is a good thing for last year's No. 1 RB.



Passes the Eye Test


Foster is not as chiseled as Adrian Peterson (who is?) or as quick and agile as someone like LeSean McCoy, but as you watch him play, you really get a sense that he is a guy built to last in the league. He is relatively thick (making him good at the goal line) but also has above-average speed and burst and a great pair of hands (66 rec. in 2010). He also spots the hole quickly and is very decisive when he sees it.

Cons:



Leach-less


Although Vonta Leach rarely appeared in the stat book, it could be argued that he was as much a factor as Foster himself in the success of Houston's extremely effective run game last year. As blocking fullbacks go, Leach is considered elite, and thus it's hard to imagine that his departure will have no effect on Foster's performance. Lawrence Vickers was recently signed to replace Leach, but he is not on the same level, so expect at least a small drop-off in production.



Tate Time?


When Houston drafted Ben Tate in the second round last year, many people (including the Texans) figured he was the RB of the future—until he got hurt and missed his entire rookie season. He's back this year and it's hard to imagine that the Texans won't at least kick the tires to see what they have in the former Auburn back. This is not to say that Foster has any chance of losing the starting job, but if Tate can overcome his early camp hamstring woes and is successful in the limited carries he gets, Foster may lose a significant amount of touches, limiting his chances of repeating as the No. 1 RB.



My Hammy Hurts


Although it's early in the season, hamstring "tweaks," even minor ones, always seem to linger if not fully healed. Foster played through his injury last year, but we don't have enough history on him to state outright that he is not an injury risk. Watch and see how his hamstring issue progresses through camp before you spend the first pick on him.

Verdict: I certainly don't think Foster is a one-year wonder, but with the No. 1 overall pick you want more of a sure thing. While Foster should certainly be a safe top-ten choice—if not top-five—in all formats, there are a number of guys who are safer picks.

#3 RB Chris Johnson, TEN

Pros: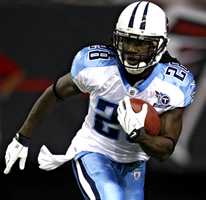 A 50-yd TD run waiting to happen.

He's Not Slow


As one of the fastest players in the league, Johnson is capable of breaking off a huge run at any point in any game. This not only means that he can have huge scoring games, but he can turn a subpar fantasy day into a respectable showing with one run.



No Competition


Unless Johnson gets hurt or is too winded after a huge run, he is staying in the game, every down, every situation, every week. Unlike the other three guys in this list, Johnson doesn't have a high draft pick or well-established veteran behind him ready to steal his carries. Don't believe me? Quick, name the next two guys behind Johnson on the depth chart. Didn't think so. Javon Ringer and Jamie Harper are not going to affect Johnson's workload.



Hass Is Here


Anyone who followed the Titans last year knows that the quarterback situation was, to say the least, unstable. While Matt Hasselbeck is far from elite, he has an accurate arm and should do just enough to keep defenses from focusing all eleven guys on Johnson. Since the offense runs through Johnson, an improvement at the quarterback position should be seen as an improvement for Johnson as well.

Cons:



Inconsistency Be Thy Name


While Johnson has certainly put up some of the more memorable games in recent fantasy history, he has also had his share of less-than-stellar performances. Last year he had six games where he was held to single-digit fantasy totals, including a seven-yard performance (rushing and receiving combined) against the Texans in Week 12. If defenses decide, as they often did last year, to let any Titan but Johnson beat them, CJ may again have several weeks of below-average results.



Hold Everything


Johnson is not a happy man right now when it comes to his contract. Chances are he will end his holdout eventually, but what toll will it take? Will he play well with contract issues on his mind? Will the missed time mean more chance of injury? While this issue may not be a major one, fantasy owners certainly need to consider it, especially if they are drafting before Johnson ends his holdout.

Verdict: I can clearly see the argument for taking Johnson number one overall simply based on his explosiveness and potential for huge games. For those that need that excitement level in their first pick, he is a worthy contender. But I believe there are still two safer and better choices.

#2 RB Ray Rice, BAL

Pros:



Backfield in Motion


Big changes in the Ravens backfield this year should actually favor Rice. Gone are Willis "touchdown stealer" McGahee and Le'Ron "gimmie the rock but doesn't block" McClain; in are Ricky "geriatric" Williams and Vonta "clear the way" Leach. What this means in a nutshell is that Rice should not only find more holes up front with an elite blocking fullback, he'll also get more opportunity around the goal line where McGahee and McClain used to vulture touchdowns.



Defend well, Run well


Of the four guys in this list, Rice has the best defense on his sideline. This not only means close games where the Ravens will likely be running for all four quarters, but it means better field position for the offense and more scoring opportunities for Rice.



I Do It All


With 174 receptions his first three years in the league, Rice is a true all-purpose back in the mold of a Marshall Faulk. Whether it's a first-and-ten run outside or a third-and-long screen pass, Rice is always involved in the game plan. Much like Johnson in Tennessee, Rice is usually not done accumulating fantasy points till the final whistle sounds.

Cons:



Conservative Trends


Anyone who has watched a few Ravens games knows, they are not exactly the Greatest Show on Turf, Part II. With a fairly conservative offense and mediocre weapons around him, Rice is often the focus of the defense's full attention. If one of the new Ravens receivers does not take some pressure off the run game, or if Flacco does not take the next step up in his game, we may be looking at a lot of three-and-out drives this year.



The "It" Factor


While much plays into Rice's favor this year, there still seems to be something lacking in his game. He's not very elusive or quick compared to the other three backs here, and he's not a real pile-mover either. While he's had his share of big games, he's put up a few duds as well—not something that exudes a lot of confidence from fantasy owners. It may be hard to invest a lot in a guy that isn't a real physical "freak."

Verdict: Personally, I'm very high on Rice this year and feel like this is his "now or never" year to be fantasy's top back. That being said, I'd feel more comfortable taking him number two overall, right behind this guy...

# 1 RB Adrian Peterson, MIN

Pros:



Tale of the Tape


I know, I know, I'm really going out on a limb picking AP number one. What's next, picking the Patriots to not finish in last place? Well, it may not be the sexy pick, but how can you argue with a guy who is perhaps the most physically talented back in the league, going into the prime of his career, after four straight seasons of being a top-five back? Sometimes we as fantasy managers try to get cute with our drafting strategies. Sometimes it's as easy as taking the best guy available.



Progress is Grand


You know what's scary good about Peterson? It's very possible that he has not even reached his peak. Everybody knows about his fumbling problems his first three years in the league, but guess what? He worked on it and had only one fumble through all of last year! On top of that, Peterson averaged just over one reception per game through his first two seasons, but in his last two, he has more than doubled that average. Peterson himself has said that the passing game is an area where he is trying to improve and hopes to be even more involved in it this year. If that comes to be, we may all witness a record-breaking fantasy season.



Stability Please!


For those who watched Minnesota play last year, especially late in the year, it was always interesting to see what they were going to do at quarterback. By interesting I mean of course scary, yet often funny. I'm pretty sure the coaches picked names out of a hat. Anytime a pro team starts a QB who only has WR eligibility in your fantasy league, you know it's bad. They didn't exactly go get Joe Montana this year, but with savvy veteran Donovan McNabb and pro-ready first-round pick Christian Ponder, the Vikings should have enough to keep defenses from laughing—and concentrating solely on Peterson.

Cons:



Give and Take


There is little doubt than any other back in the league hands out punishment to opposing defenders the way Peterson does. While this makes for better runs and great highlights, it also means that Peterson takes quite a beating. This kind of running style is bound to catch up with him sooner or later, and most likely sooner compared to other backs in the league who prefer to run out of bounds or avoid hits. While the "when" part of Peterson breaking down is impossible to predict, there is a chance we will start to see it as soon as this year…as would be, around fantasy playoff time.



Pass Game Blues


While Peterson hopes to be more involved in the pass game this season, he is the least skilled of these top four guys at catching the ball. That may not be a major concern, but every touch counts, and if Peterson is catching 20-30 less balls than similar-caliber backs, it certainly comes into play. Another minor thing to look for is perhaps a few less red zone touchdowns, as Mcnabb should have the chance to throw—or even run—a couple more in, compared to last year's gang of no-name quarterbacks.

Verdict: You know him, you love him, he's a beast and he's still the safest and most consistent back across the fantasy spectrum. Every player is going to have positives and negatives, but Peterson offers the best combination of safety and upside.


Suggestions, comments? E-mail me.