In fantasy football every single player has a risk associated with them, whether minimal or considerable. On the flip side, most players have some degree of reward or upside. The key in drafting and acquiring players is to weigh the risk and the reward versus the value and cost, whether that is draft capital or through a trade.

I will look deep at several players at the major fantasy positions (QB, RB, WR), analyze the risk versus reward and come to a conclusion on whether I'm buying or selling the player based on their current ADP (12 team standard leagues). Hopefully you can use this as a tool in your own draft so you maximize the value of your draft capital while taking risk/reward into account.

Note: ADP based on 12-team, standard scoring leagues.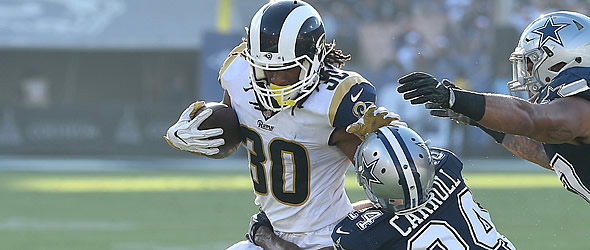 There are less than a dozen "workhorse" backs in the NFL today and Gurley is certainly one of them.


Todd Gurley, LAR


(ADP 2.06)





Risk:

After exploding onto the scene his rookie year with 10 touchdowns and nearly 1,300 total yards, Todd Gurley looked like a beast that would only get better with time. Unfortunately, in year two, despite touching the ball 71 more times, Gurley racked up six fewer touchdowns and nearly 100 fewer yards. His yards per carry dropped from 4.8 to 3.2 and at times he looked more like a bust than a stud.

While some will argue that it was his supporting cast that should shoulder the blame, Gurley clearly left a lot of yards on the field and did not put the team on his shoulders and raise his game to another level. Even if the supporting cast did play a large role in his downturn, what has really changed this year? The Rams still have one of the weaker quarterbacks in the league and the offensive line, which was horrible, only made one upgrade - signing 35-year-old Andrew Whitworth. Add this to the fact that the whole offense will have to learn a new playbook and face a difficult schedule, and there's a very good chance this offense never gets going. With defenses still focused on stopping the run, you should focus on avoiding him in drafts at his current ADP.



Reward:

While the Rams offense may not blow anyone away, the Whitworth signing is significant, and the recent trade for WR Sammy Watkins gives them a legitimate receiving threat on the outside. Plus, the major addition that needs to be accounted for is new head coach, Sean McVay.

Anyone that has followed NFL football the past few years knows that Jeff Fisher was in over his head. His offense was as vanilla as you could get and his play-calling was predictable if not often head-scratching. This offense now has some creativity, some energy, and some hope, thanks to McVay.

While the Rams do not have an all-star cast, they have enough to keep defenses honest if put in the right situations, and Gurley has the talent to be a top back if used properly. Gurley has been used more as a receiver out of the backfield this off-season and the Rams seem determined to get their best playmaker the ball in all sorts of situations. With basically zero competition at the position, some newly acquired speed at receiver, and a full offseason under Goff's belt, Gurley is poised to once again join the ranks of the top fantasy running backs in the league.



Buy or Sell:

As a mid-second round pick, coming off a down year, on a below average team, Gurley seems like a hard sell at first look, but for a few different reasons I'm actually going to buy him at his average draft position.

As I stated in my intro, all players have question marks surrounding them, especially at the running back position. The questions surrounding Gurley, however, are easier to cast aside because of his natural talent, positional scarcity, and the offensive changes the Rams have made.

There are less than a dozen "workhorse" backs in the NFL today and Gurley is certainly one of them. All things considered, he is actually pretty safe, with a high ceiling and a floor that has probably already been hit, meaning there is nowhere to go but up. In my drafts this year I want to get at least one of the workhorse backs due to the drop-off at the position and Gurley is typically the last workhorse back being drafted.

Add in a better offensive play-caller and better receiving weapons and I find it very hard to believe we won't see the 2015 version of Gurley rather than the 2016 version. As a mid-second rounder I'm buying, especially when you miss out on David Johnson, Le'Veon Bell, LeSean McCoy, Melvin Gordon, Jay Ajayi and Jordan Howard.

Marshawn Lynch, OAK
(ADP 2.10)



Risk:

At the peak of his career nobody ran with as much power and violence as Marshawn Lynch did. At age 31 though, Lynch is clearly past his prime. When last seen on a football field, Lynch looked as though his talents had fallen off a cliff. In 2015 Lynch averaged 3.8 yards per carry, the second lowest of his career and only managed to play seven games due to injury.

While some would argue a year away from football might have done him some good, there was a reason Lynch retired in the first place, and it wasn't just to travel the world eating Skittles. Lynch had carried a massive load for four years in Seattle, prior to getting hurt in 2015, and the pounding he took over his nine-year career was clearly beginning to effect his game.

Never much of a receiver, Lynch earns his paycheck pounding between the tackles and wearing down defenses. But if Lynch is already worn down himself, how can he be counted on to do the same to opposing defenses? With three much younger and fairly talented backs behind him, the Raiders don't have to rely on just the veteran and while they would never publicly admit it, Lynch could be on a short leash for a team that is built to win now.

Lynch is currently being drafted at a range normally reserved for "workhorse" backs, yet the Raiders themselves are not committing to Lynch in that way. Lynch's storybook ending, returning to play for his hometown team is great but his prospects of returning to fantasy glory are very unlikely.



Reward:

The pieces are all coming together for Lynch this year. The motivation is there, playing for his hometown team, the offensive line he's behind may be the best he's ever played with and the passing game is solid enough to keep defenses away from stacking the box.

Everyone will point to Lynch's age and injury risk as the big reason to avoid him but Lynch has been a durable player throughout his career, never missing more than three games in a season (before 2015) and playing all 16 games four times in his nine-year career.

While it is true the Raiders will most likely nor use Lynch in a workhorse role, the offense is good enough to make Lynch a fantasy stud. He will certainly get most, if not all, the goal-line carries and let's not forget Latavius Murray crossed the goaline 12 times for the Raiders last season.

Lynch will be a factor in early down work and clock-killing time (which there should also be a lot). Overall Lynch's floor should be around 15 touches a game and with his efficiency likely to be high, that can easily lead to top 12 fantasy RB numbers most weeks.



Buy or Sell:

I love everything about Lynch, his style, his energy, even the way he deals with the media. I even like him as a fantasy option this year, but in the second round of drafts he is a hard sell to me.

For a running back his age on a team with a ton of offensive options, I find it difficult to see a path to consistently being a top 12 running back each week. In Seattle, the offense was focused around Lynch, but this situation is much different and Lynch will be more of a role player than offensive centerpiece.

I think there will be games for him to shine as a workhorse, but I also see the other backs getting opportunities in an effort to limit the wear and tear on Lynch's body in hopeful preparation of a playoff run.

Lynch is primed to be an inconsistent boom-or-bust weekly play, getting you 80 yards and a touchdown one week and 35 yards and no touchdowns the next. While these types of stats are fine for a mid-range RB2s they are disappointing for a RB1 being drafted in the second round. Lynch has become the classic "big name" guy this year that casual fantasy football owners will overdraft. Don't be that guy.

Ty Montgomery, GB


(ADP 3.07)





Risk:

While Montgomery had some solid output in limited work last year, let's not forget that he is still less than a year transitioning into being a running back. Montgomery was thrust into his role out of necessity last season but the Packers obviously do not fully trust him, as they drafted three running backs in April including Jamaal Williams, who could be one of the best rookie's at his position.

Montgomery is being drafted as a mid-RB2 in standard leagues but the possibility that he is simply the Packers third-down back is very real. In PPR leagues, maybe this would justify his draft stock, but in standard leagues there is no chance he would rack up enough stats to be anything better than a flex consideration. Throw in the fact that Williams is earning more first team reps in camp and is already the better pass blocker, and Montgomery may be relegated to the bench on most downs.

With such a crowded backfield on a team that runs its offense through the quarterback and not the running back at the goaline, and Montgomery may prove to be one of those players that is more valuable to his NFL team than to your fantasy team. In the mid-third round there are much safer choices with similar upside.



Reward:

Anyone that watched Montgomery play RB last year had to walk away impressed with how good he looked running the ball. As a converted wide receiver, you figured the receptions would be there, and they were, but on the ground Montgomery was fluid, quick, and decisive while averaging a crazy-good 5.9 yards per carry. Now, with a full offseason to work on the details of the position (footwork, pass-blocking), the sky is the limit.

While many bring up the Packers drafting three backs as a negative, I don't think that paints the full picture. Besides the verbal votes of confidence from the Packers coaching staff and management, their moves were more about adding depth at the position rather than going after a clear-cut starter. After cutting the cord with Eddie Lacy and James Starks, the Packers had no choice but to add depth at the position. While they could have selected Dalvin Cook earlier in th draft, they decided to wait till the 4th round to select Williams. To me this was a clear sign of their trust in Montgomery.

While reports out of camp have been positive on Williams, they have been just as good on Montgomery and there is little reason to suspect he will not be given every chance to start and retain his role as the feature back. Even in a scenario where Williams is the first back on the field, the Packers run their offense a little differently than most teams and a guy like Montgomery, should easily see 12-plus touches a game. With a relatively high floor and a super-high ceiling, Montgomery might actually be bargain in the 3rd round.



Buy or Sell:

With recent news glowing about Williams, I think we will see Montgomery's ADP drop a bit into the late 3rd or even early 4th round, but even as a mid-third round pick I am buying Montgomery at his ADP.

Montgomery was certainly inconsistent last season as a runner, but I would argue that it was hard to expect anything different in such an unusual circumstance; having to change positions mid-season. It was very clear watching Montgomery that he had all the physical traits of a great running back, he just needed the reps and the fine-tuning to understand the nuances of the position.

By all accounts Montgomery has taken his new role seriously and dedicated himself to refining his game. He has reportedly put on extra muscle to help avoid the nicks and minor injuries that he suffered from last year, as well as worked on his footwork and pass protection in order to stay on the field in more situations.

Montgomery is clearly a better athlete than Williams and as a veteran, is much more likely to earn the coaches (and his QB's) trust in more situations. If things break right, I could see Montgomery being a poor man's David Johnson or Le'Veon Bell due to his ability to catch the ball. Even in a worst-case scenario, in a timeshare role, Montgomery should expect a healthy amount of touches on perhaps the league's best offense.

If you are going receiver-heavy in your drafts and take Montgomery as your RB1, or even better, get him as your RB2, the upside here is undeniable and the value is likely to increase a bit as the season draws near and people get "rookie fever".