In fantasy football every single player has a risk associated with them, whether minimal or considerable. On the flip side, most players have some degree of reward or upside. The key in drafting and acquiring players is to weigh the risk and the reward versus the value and cost, whether that is draft capital or through a trade.

I will look deep at several players at the major fantasy positions (QB, RB, WR), analyze the risk versus reward and come to a conclusion on whether I'm buying or selling the player based on their current ADP (12 team standard leagues). Hopefully you can use this as a tool in your own draft so you maximize the value of your draft capital while taking risk/reward into account.

Note: ADP based on 12-team, standard scoring leagues.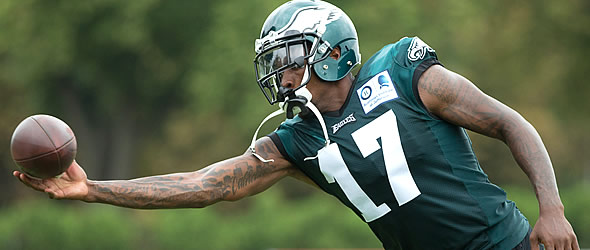 With a brutal schedule and a lengthy injury history, Jeffery is overpriced at his current 4th round ADP.


Alshon Jeffery, PHI


(ADP 4.02)





Risk:

There are several layers of risk with Jeffery this season. For starters, Jeffery is joining a new team after spending his first five years on the Chicago Bears. In Philadelphia he will have to learn a new system, play with yet another quarterback, and come to a high pressure situation where the unruly fans are counting on him to be the team's number one receiver immediately.

Secondly, there is the injury history. In his five-year career, Jeffery has played 16 games just twice, playing 10, 12, and 9 games in his other three seasons. Even when on the field, he seems to be dinged up and constantly on the injury report.

Third, despite his size, Jeffery has not been a prolific touchdown scorer throughout his career, managing just 26 scores in 63 games. For reference, A.J. Green, an almost identically sized receiver, scored seven more times in his first 60 games. In Philadelphia, Jeffery should be the unquestioned number one receiver but will have plenty of competition for targets with Torrey Smith, Zach Ertz, Darren Sproles, and an apparently emerging Nelson Agholor all vying for catches. Not to mention LeGarrette Blount eating his share of red-zone touches.

If all this wasn't enough, the Eagles schedule is brutal for receivers this year, with at least nine games against top notch defenses or units that employ a shutdown corner. At an early 4th round ADP, Jeffery simply carries more risk than the investment is worth.



Reward:

As the top receiver in the free agent market this year, Jeffery settled for a one-year "prove it" deal and now has all the motivation to have the best season of his career.

Jeffery had very questionable quarterback play throughout most of his career, and while Carson Wentz is no Joe Montana, he certainly showed signs of being an effective passer last year and is the unquestioned starter for an offense that should be solid.

Speaking of the offense, the players around Jeffery are quality complementary pieces that are skilled enough to take pressure off but not talented enough to grab a large chunk of the target pie. What the Eagles have lacked for years is an outside receiver that has prototypical size, which is exactly what Jeffery brings to the table. As the biggest target on the field, Jeffery has the skill to immediately command targets at all levels of the defense and be the go-to guy inside the redzone.

With a 1,400-yard season already under his belt, Jeffery has the ceiling of an elite NFL receiver with the price tag of a mid-range WR2. After a disappointing 2016 season, fantasy owners are discounting Jeffery due to recent memory, but in the 4th round you are potentially buying a top 10 receiver at a bargain price.



Buy or Sell:

Jeffery's upside and compared to his ADP isn't terrible but there are much better values, players, and situations to be investing in. I'm selling.

The nagging injuries are a big concern, as the "questionable" tag always seems to be attached to Jeffery, which you know as a fantasy owner is super-frustrating when planning your lineup every week. I know injuries can be fluky but Jeffery has passed that point and entered the dreaded "injury-prone" label.

The schedule and the corners that Jeffery will face are a big concern. While Jeffery is a big target, he is a one trick pony that lacks speed and is an average route runner. Against inferior competition, Jeffery can simply outsize his opponents in order to make catches, but against the elite corners, that is much harder to do unless you have more than one trick up your sleeve.

Jeffery is set up to disappoint owners this year, either by being inactive with injuries or shut down by top competition. Use your 4th round pick on better players like Travis Kelce, Drew Brees, or Allen Robinson and save yourself the heartache.

Tyreek Hill, KC


(ADP 4.07)





Risk:

Hill is one of the most talked about and perhaps polarizing receivers in the fantasy community this off-season so I had to include him on this list. The risk is simply stated yet complex to fully grasp. Simply put, Hill could be a major bust. After bursting onto the scene as an unheralded rookie, Hill racked up 12 total touchdowns coming out of nowhere to be a strong force in the receiving, rushing, and return game. This year, Hill could very easily suffer a sophomore slump as he will no longer be surprising defenses and go from commanding almost no attention, to the most attention on the Chiefs offense.

While Hill possesses world-class speed, he is far from a true number one receiver, with a small frame (5'10'', 185) and raw route running ability. As a gadget player Hill could remain valuable but he is being drafted as a top 20 receiver and players similar to him (Tavon Austin, Cordarrelle Patterson, Percy Harvin to name a few) have never sniffed enough consistency to justify that kind of investment.

On a conservative offense with a super-conservative quarterback, Hill could easily be confined to a disappointing season where the occasional big play is followed by being bottled up for several games. While Hill is fun to watch and an interesting player to follow, owners are simply being hypnotized by a few big plays into investing an early round pick on a player that could crush you most weeks. As a bench player his upside might be enough to keep him around, but as a WR2 he is very likely to disappoint.



Reward:

When most people think about receivers with world-class speed they think of players like DeSean Jackson who make a living on the deep ball. While Hill can certainly do that, the Chiefs offense under Alex Smith doesn't take deep shots that often. While you may think this is a bad thing, I'd argue in this case it is perfectly fine for Hill, who catches a lot of shorter, higher efficient passes and turns a lot of them into long gains.

As a part-time player for much of the year, Hill still managed to catch 61 balls even though he was the 2nd, 3rd or sometimes 4th option much of the season. This season those targets are guaranteed to increase as Travis Kelce is the only other proven target on the Chiefs offense now that Jeremy Maclin is in Baltimore.

While Hill does not fit the mold of a traditional number one receiver, tell that to guys like Antonio Brown and Steve Smith, who dominate(d) both on the field and in fantasy points scored. Even if Hill's scoring efficiency drops from last year, the increase in targets should make up most of that difference, and with him finishing as a top 20 receiver last year, he is priced perfectly this year as a WR2 with upside.



Buy or Sell:

I admit I've done a 180 degree turn on Hill. I first thought Hill was going to be overhyped when Maclin left, but the more I've thought about it and analyzed the situation I am buying Hill as a 4th round pick.

It takes a leap of faith to envision Hill as a top 20 receiver year but the signs are there. For one, the Chiefs, who are a playoff-caliber team, showed no signs of trying to go get a number one receiver, or any receiver of note really, so they obviously have faith that Hill can step into a bigger role.

Secondly, off-season reports have been glowing, as teammates and onlookers have raved about Hill's performances against a Chiefs secondary that is above average. Hill has reportedly played bigger than he looks and beaten double teams, something he will have to do, now that he will get more attention.

Third, the Chiefs have reportedly taken away Hill's kickoff duties, allowing him more time (and energy) to focus on being a better receiver. This almost certainly means an increase in snaps on offense and with the lack of competition at the position, it would not be surprising to see Hill's targets and touches increase by 20-plus for the season.

What I love about Hill as a WR2 is he can flat out win you some weeks with huge games and even turn 2-3 catch games into big yardage production which is especially important in standard leagues. Hill, despite the hype, is still priced nicely to extract value and he will be on quite a few of my redraft teams this year because of it.

Brandon Marshall, NYG


(ADP 5.08)





Risk:

Marshall was awful last season. His worst year since being a rookie, catching just 59 balls and 3 touchdowns despite playing in 15 games. Marshall is old for an NFL receiver, as he is now 33 with over 165 games played and nearly 1,000 total touches. For all players, no matter how great they once were, skill deteriorates, and we may have witnessed the inevitable dive last season.

Marshall is on a new team where he will not only be asked to learn a new system, but play a new role as a secondary receiver after being "the man" for the better part of the last 10 years. Always known as a temperamental player, it is not hard to imagine Marshall getting upset over playing second fiddle to Odell Beckham Jr., as he will have to do this year.

With receiver Sterling Shepard coming off a highly productive year and first round rookie TE Evan Engram a potential threat in the receiving game, Marshall may even be the third or worse option on some plays, meaning a much lower floor awaits the 11-year veteran.

With diminishing skills and no longer the focus of the offense, Marshall could easily self-destruct this season as a player past his prime that is better in his mind than on the field.



Reward:

Marshall has been one of the best handful of receivers in the NFL over the past decade. A durable, consistent player, Marshall has six 100-catch seasons, eight 1,000-yard seasons and at least seven years of WR1 fantasy production, as recently as just two seasons ago. Yes he had an awful 2016 but much of that can be attributed to bad quarterback play, a few minor injuries, and well, being on the Jets.

Despite a year to forget, Marshall still managed a very respectable 13.4 yards per catch, ranking 4th best in his career. Now seemingly fully healthy and on a pass-happy offense with a much more reliable quarterback, Marshall is poised for a bounce back year.

With defenses focused on Beckham, Marshall, for the first time in a very long time, will face lesser defensive assignments, fewer double teams, and less pressure to carry the weight of the offense. While his ceiling is capped because of this, his floor is fairly high and the potential for a handful of big games is certainly there.

With a lot of pride, the physical size, experience, and knowledge, things are lining up nicely for Marshall to be a sneaky high-end WR2 at a discounted price.



Buy or Sell:

My main concern with Marshall is his age, but it is not nearly enough for me to do anything but buy him at his current ADP.

A bit of age-related drop-off is to be expected, but the level of defensive attention that Marshall will face this year will be significantly less than what he is used to and that is why I'm excited about him as a WR2.

For the speed or quickness that Marshall might have lost, he can make up for in size, and experience. With the Giants having a below average run game and a below average offensive line I see one thing that is very likely; a lot of quick passes. This is where Marshall can excel, using his body, experience, and route running to box out defenders and rack up targets while defenses focus on the more explosive Beckham.

Speaking of Beckham, much like the aforementioned Jeffery, Beckham will see a slew of elite and near-elite cornerbacks this year, and while he will certainly have more success than Jeffery, it also means that Marshall will not see his usual dose of top cornerbacks. The Giants and Eli Manning know this, and Marshall will be determined to eat the competition alive when given the chance.

With Marshall perhaps being the go-to guy in the red-zone, I see lots of consistency in 2017 for the former Jet, with the occasional big game thrown in for good measure. I see him as a steady and reliable high-end WR2 and his current price tag as the 25th wide receiver off the board is excellent value.