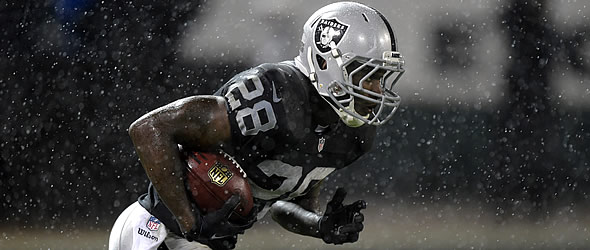 A gound-based attack coupled with questionable depth at the position could make Murray a workhorse.
QB Derek Carr
(2014 QB Rank – No.20, 16.0 FPts/G)
One of the true upside quarterbacks to target late in redraft leagues this season, Oakland's Derek Carr also makes a strong case to be one of the more highly sought-after passers in dynasty leagues. Most rookies don't step right into fantasy success, but the surprisingly low number of bad performances that Carr had in 2014 bodes well for his chances going forward, especially now that the team has made serious strides to improve his weapons. Carr finished as the No. 20 fantasy quarterback last season despite playing for a 3-13 team with few quality targets in the passing game. He scored double-digit fantasy points in 11 of his 16 starts, including six games where he finished with 20 or more. With receivers Amari Cooper and Michael Crabtree now rostered and expected to start immediately, Carr will need to develop chemistry with his new weapons, but should have an increased ceiling, especially later in the season.
Although he does not possess much in the way of running ability as he rushed for fewer than 100 yards on the season in 2015, Carr possesses a big, accurate arm when he has time to throw. Without any major improvements to the offensive line, Carr himself will need to get the ball out sooner if the Raiders hope to improve this season. Thankfully, Cooper and Crabtree are both high-quality, physical possession receivers who should give Carr big, reliable targets on short and intermediate throws. Targeting Carr as a QB2 late in drafts is a good option, especially for those lucky enough to land a reliable QB1. Don't expect huge numbers, but roughly 4,000 yards and high-20's to low-30's in touchdowns is not out of the question. That should make him a prime candidate to stream on bye weeks.
RB Latavius Murray
(2014 RB Rank – No.47, 6.9 FPts/G)
The league's worst run-blocking offensive line did no favors to 2014 starters Maurice Jones-Drew and Darren McFadden. The duo averaged just 3.2 yards per carry on 198 combined rushes while showing practically zero big play ability. While the veterans struggled to produce anything of value, the young Latavius Murray sat on the bench, waiting for his opportunity. When that opportunity finally arrived, Murray burst onto the scene, showing off electric playmaking ability which saw him average 5.2 yards per carry over the course of the season – a full two yards per carry better than what the Raiders were getting from Jones-Drew and McFadden.
With Jones-Drew now retired and McFadden now in Dallas, the feature running back job appears to belong to Murray as we head into the 2015 season. With an ideal combination of speed and strength, Murray is everything that fantasy owners should be looking for. The biggest red flag surrounding him is durability. Murray missed his entire rookie campaign in 2013 after suffering what was originally described as a "minor" ankle injury in a preseason game. He never saw the field again in 2013 and saw only four carries through the Raiders' first half of the 2014 season. If he can stay healthy, Murray has the potential to be a top-10 fantasy running back this season. With only Roy Helu and a mediocre Trent Richardson behind him on the depth chart, 200-plus carries is certainly within reach.
RB Trent Richardson
(2014 RB Rank – No.36, 6.2 FPts/G)
Once a top pick in the NFL draft, Trent Richardson appeared to be on the path to becoming one of the NFL's elite runners early in his career. A workhorse back as a rookie, Richardson gained 1,317 total yards and 12 touchdowns on 318 touches for the Browns. A shocking mid-season trade to the Colts saw most fantasy owners targeting the back as he was now the lead dog in a much better offense. Unfortunately, Richardson never quite lived up to expectations in Indianapolis. In fact, one could say that he was one of the most disappointing fantasy players in recent memory as he has averaged just 3.1 yards per carry over his past two seasons.
Now gone from Indianapolis, Richardson finds himself in a much less appetizing fantasy situation, stuck behind another young, talented back on the depth chart and rushing behind one of the worst run-blocking offensive lines in the league. Perhaps the motivation of having to play hard to get on the field will serve him well, but don't look for Richardson to be much of a contributor early in the season. His main value lies as the perceived handcuff to Murray should he go down to an injury. Although Roy Helu has certainly been more productive than Richardson, Helu's skills might be better served as a complementary back, no matter who the starter is.
RB Roy Helu
(2014 RB Rank – No.38, 6.7 FPts/G)
It was only a few seasons ago that Roy Helu, a fourth-round pick in the 2011 NFL draft, was perceived to be the new Redskins starter going into the 2012 season. Washington threw us a curveball, however, when they gave the job to the relatively unknown rookie, Alfred Morris. Morris proceeded to produce big numbers, leaving Helu as the odd man out over the past few seasons.
Now with a new opportunity in Oakland, Helu could potentially see increased playing time, particularly on third downs where he has shown reliable hands, quality pass protection skills and flashes of big time playmaking ability. With a 5.4 yards per carry average in 2014, Helu has also shown that he can be a producer on early downs as well. Given the injury history of Murray and the flop potential of Richardson, Helu may be worth a late-round flier, particularly in deeper leagues. He should see regular playing time even if both Murray and Richardson stay healthy which gives him some value in the interim, but he could be a fantasy gem if either player goes down or gets benched.

WR Amari Cooper
(2014 WR Rank – N/A)
Arguably the most sought-after playmaker in the entire 2015 NFL Draft, Amari Cooper lands in Oakland, a team in desperate need of a superstar receiver to complement their second-year quarterback Derek Carr. Cooper, who dominated the college ranks this past season with 124 receptions for 1,727 yards and 16 touchdowns, should step in and play immediately in this offense. That will give him the opportunity to begin creating a rapport with Carr almost immediately, which could mean that the duo is already on the same page to start the season. With the recent success that other rookie wide receivers have had throughout the league, it would not be surprising to see Cooper step in and perform almost immediately. With good speed, elite quickness, great hands and NFL caliber route-running already in his skill set, Cooper should be one of the top picks in dynasty leagues and could even finish as a high-end WR2 this season.
WR Michael Crabtree
(2014 WR Rank – No.52, 5.9 FPts/G)
Another new face in Oakland this season, former San Francisco 49ers first round pick Michael Crabtree stays in the Bay area and will look to improve upon a disappointing 2014 which saw him fail to exceed 700 yards as he scored just four touchdowns on the season. Worse yet, he failed to hit 100 yards in any game, which essentially made him a fantasy dud throughout the entire year.
A new team might be just what the doctor ordered for Crabtree, however, who just didn't seem to be clicking with Colin Kaepernick. In Oakland, Crabtree will have an opportunity to work with a more traditional pocket passer in Derek Carr, which could lead to better timing and an increased success rate on passes going his way. It's also worth considering that the Raiders will almost certainly pass the ball more often in 2015 than the 49ers did in 2014, so his opportunity level should increase. Crabtree still has the possibility of disappointing fantasy owners, but he should at least be a reliable contributor on a week-to-week basis, particularly in PPR formats. WR2 numbers are not likely from Crabtree, but solid WR3 numbers seem like a good ceiling.
WR Rod Streater
(2014 WR Rank – No.133, 4.8 FPts/G)
After a surprisingly impressive sophomore season in 2013 where he caught 60 passes for nearly 900 yards, Raiders wideout Rod Streater was pegged on many sleeper boards heading into the 2014 season. Streater would catch a touchdown pass in Week 1 and appeared to be on his way to living up to the hype, but a broken foot ended his season early in Week 3. Now back on the field, Streater finds himself in a battle for the team's third wide receiver spot behind Crabtree and Cooper. Worse yet, even if he wins the third receiver job, he'll likely be behind tight end Mychal Rivera and at least one of the Raiders' running backs on the target pecking order. The 6'3" receiver might possess the stature to produce decent numbers this season, but without guaranteed regular playing time, it will be hard to trust him on draft day.
WR Andre Holmes
(2014 WR Rank – No.53, 6.2 FPts/G)
The Oakland receiver with the lowest likelihood of fantasy production who could still be considered watch-worthy in deeper leagues is Andre Holmes. Holmes, who caught 47 passes for 693 yards and four scores a season ago, is heading into his fifth season but has yet to produce numbers with any consistency. His biggest stretch of games this past season came when he caught nine passes for 195 yards and three scores in Weeks 4 and 6 (the Raiders had a bye in Week 5). Unfortunately, he failed to produce much after that as he caught just one touchdown in the team's remaining eleven games and he never caught more than five passes in any one game. Holmes is a decent depth option, but really only possesses much fantasy value if either Cooper or Crabtree goes down with an injury. Otherwise he'll battle for snaps with Streater as the team's third wide receiver, which won't likely mean too much for fantasy purposes.
TE Mychal Rivera
(2014 TE Rank – No.17, 4.8 FPts/G)
Considered a backup fantasy TE at best going into the 2014 season, Mychal Rivera exceeded expectations his second professional season. Rivera caught 58 passes for 534 yards and four touchdowns, good enough to make him a solid bye week fill-in or even a low-end TE1. Things started off slow, but once Rivera and Carr began to click, they became a good duo. Rivera made six or more catches in five of the Raiders' final 10 games of the season and caught all four of his touchdowns over that span.
While his chemistry with Cooper and Crabtree is still being ironed out, Carr may lean on Rivera early in the year. That could translate to some nice fantasy numbers, but fantasy owners shouldn't necessarily expect that to continue throughout the season. As he becomes more comfortable throwing the ball to his new wide receivers, Rivera could become a forgotten man in the offense. It's also worth noting that the Raiders did draft another tight end, Clive Walford, in the third round of April's NFL Draft. It's difficult for rookie tight ends to make an impact and Walford won't likely get much playing time early, but could cut into Rivera's snaps enough to reduce his fantasy value later in the season.