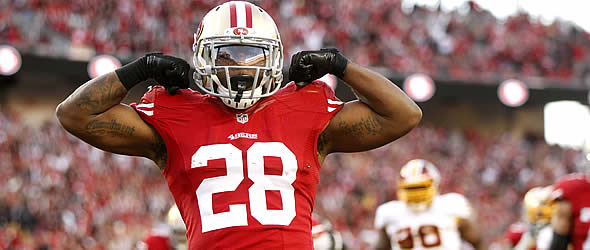 Fantasy owners love Carlos Hyde's opportunity upside. Frank Gore ranked eighth in carries in 2014.
QB Colin Kaepernick
(2014 QB Rank – No. 16, 19.7 FPts/G)
2014 was a disappointing season for the 49ers as a whole, but fantasy owners who selected Colin Kaepernick as a QB2 still got their money's worth by the end of the season, as he was able to use his impressive rushing to supplement otherwise average passing numbers. Kaepernick's 19 touchdowns through the air were a mediocre number that certainly wasn't what fantasy owners had hoped for, but his 10 interceptions limited his downside. Kaepernick has actually been fairly good at limiting turnovers throughout his career, as he has now thrown 50 touchdown passes with 21 interceptions. That's particularly impressive when you consider how poorly the 49ers offensive line played a season ago. Despite his high-level mobility, Kaepernick fell victim to 42 sacks on the year.
The biggest problem with Kaepernick is, while his rushing numbers make him relatively safe, his lack of pass attempts limit his upside. Kaepernick attempted fewer than 30 passes per game. That puts him down with the likes of Blake Bortles, Andy Dalton and Alex Smith. With Michael Crabtree now gone, Kaepernick will have to get comfortable with a new WR2 in Torrey Smith, who joins the team from Baltimore. That could be a blessing in disguise, though, as Crabtree finished with fewer than 700 yards and only four touchdowns this past year. Kaepernick is a classic fantasy QB2 heading into this season with his low floor, but he shouldn't be relied on as anything other than that. The nice thing is he is going around 15th among quarterbacks, so you shouldn't need to pay much of a premium to have one of the better and more reliable backup quarterbacks this season.
RB Carlos Hyde
(2014 RB Rank – No. 54, 4.6 FPts/G)
One of the more highly-touted fantasy rookies coming into the 2014 season, it's hard to not be disappointed about what Carlos Hyde actually produced. Hyde primarily played as the backup to Frank Gore throughout the season, finishing with 333 yards on 83 carries, a 4.0 yards per carry average. The yards per carry itself isn't too worrisome, but the fact that he was fresh for the vast majority of his carries throughout the season and still barely cracked four yards per carry has to give fantasy owners some pause heading into the 2015 season, where he is expected to be the 49ers' primary ball carrier.
With Gore now in Indianapolis, the second-year back, Hyde, will have a chance to prove he was worth a second-round draft pick a year ago. Gore took the eighth-highest number of carries of any back a season ago, and there's little reason to believe that the 49ers won't again rely heavily on the run. This bodes well for Hyde's chances to have a solid season, as he is almost a lock to touch the ball 180-plus times. Unfortunately for him, he will likely lose some touches to offseason acquisition Reggie Bush, particularly on third down. Hyde did make a few catches in 2014, but he's still primarily a first- and second-down back. Given his lack of production as a rookie, it's a little surprising to see Hyde going as high as he is, but it's all about opportunity. With Hyde likely to be the primary ball carrier on a run-heavy team, he should be a safe option to be a productive RB2 this season with RB1 upside.
RB Reggie Bush
(2014 RB Rank – No. 57, 6.1 FPts/G)
A perennial PPR beast, Reggie Bush now finds himself in a new home in San Francisco. Bush, who caught 40 passes in just 11 games (a pace of 58 receptions for the year), primarily served as Joique Bell's backup in Detroit, where he took just 76 carries for 297 yards (3.9 yards per carry) on the season. This lack of production led the Lions to allow him to walk this offseason, but Bush's skills should be a nice complement to Hyde in San Francisco. It would be surprising if Bush got more than 120 carries on the season, but 70-plus receptions is not out of the question if he can stay healthy. Of course, that's been easier said than done for the former first-round draft pick. Bush has played just two full 16-game seasons in his nine-year career. Perhaps he can stay healthy if the 49ers use him sparingly, but anyone hoping for him to be their RB2 needs to be careful and be sure to have a solid backup plan.
WR Anquan Boldin
(2014 WR Rank – No. 23, 8.5 FPts/G)
He's not the most exciting name, but it's hard to find a receiver who's been more consistent over the years than Anquan Boldin. Boldin has caught at least 60 passes and gone over 800 yards in all but one of his 13 NFL seasons. The only time he failed to achieve those numbers was back in 2004, when he missed six games due to injury. While he hasn't scored more than seven touchdowns since 2008, Boldin's consistency makes him an ideal fantasy WR3, but his production has been that of a low-end WR2 in each of his two seasons since coming to San Francisco. Boldin caught 83 passes for 1,062 yards and five touchdowns a season ago, after catching 85 passes for 1,179 yards and seven touchdowns in 2013. Those numbers might not jump off the page, but when you consider he reached or exceeded 10 fantasy points in 10 of his games this past season, it's easy to plug him into your lineup and feel confident that he's going to give you quality production with a low bust potential.
The biggest knock on Boldin continues to be his age, as he is now 35 years old. But given his continued production and his ability to stay in shape, there's no reason to believe 35 won't be just as productive as 33 and 34 were. He won't cost you much because a lot of people view him as "boring," but he's the only receiver on the team who seems to have any chemistry with Kaepernick, so there's a good chance he'll once again be San Francisco's leading receiver.
WR Torrey Smith
(2014 WR Rank – No. 19, 9.5 FPts/G)
Given the success they had with Boldin, who came to the 49ers from Baltimore, it's not surprising to see the Baltimore-to-San Francisco wide receiver pipeline continue with Torrey Smith. Smith heads to the Bay area after a solid four years in purple and black, where he became known as one of the premier deep threats in the league. At 6'0", 205 lbs., Smith has the body to be more than a glorified home run hitter, though, and we saw glimpses of that during his 2014 campaign, where he became Joe Flacco's favorite red zone target, catching a career-high 11 touchdown passes. Smith ended the season as the 19th-highest-scoring wide receiver primarily because of those touchdowns. He finished just 57th in receptions and 42nd in yards. This was an interesting flip from what happened in 2013, when Smith caught 65 passes for 1,128 yards and just four touchdowns. Of course, it did help that Flacco attempted a career-high 614 passes in 2013. Now in a new offense with a new quarterback, Smith will look to finally develop into the all-around receiver that fantasy owners have been looking for. With Boldin across from him, Smith should see less coverage this season than he has over the past two, which could lead to some huge games from the young playmaker.
TE Vernon Davis
(2014 TE Rank – No. 36, 2.8 FPts/G)
One of the most disappointing players in all of fantasy football over the past two seasons, Vernon Davis has all but fallen completely off of the radar for fantasy owners as we head into the 2015 season. Davis' fall from grace was astronomical, as he caught half as many passes in 2014 as he did in 2013 and failed to even reach 250 yards on the season. Worst yet, though, was he tied a career low with just two touchdown receptions on the year. All this came just one year after a monster 2013 season which saw Davis make 52 catches for 850 yards and a whopping 13 touchdowns.
Even after this horrendous season, though, Davis remains a potential sleeper who could put up huge numbers and be a major difference-maker for fantasy owners. We've seen this before from Davis, who has had wild swings in production from year to year. This would be his greatest feat yet, but it's definitely possible. The talent is still there. The entire San Francisco offense was horrendous this past season, so it wouldn't be entirely crazy to throw 2014 out the window for Davis and instead consider the body of the work throughout his career. He's had five 50-catch seasons and he's been over 750 yards four different times. The big selling point with Davis, though, is he remains one of the absolute best red zone threats at the tight end position. Ten touchdowns is not out of the question, but five to eight scores seems to be most likely. He's not Rob Gronkowski or Jimmy Graham, but few late-round flier tight ends will give you a higher ceiling than Davis.