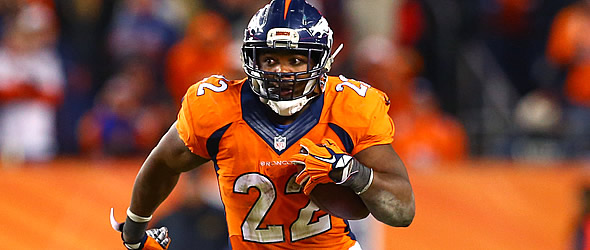 C.J. Anderson won't cost as much as he did a season ago, but presents the same upside he had in 2015.


QB Mark Sanchez


(2015 QB Rank – No. 45, 16.3 FPts/G)



The starting quarterback job in Denver is one of the most highly contested, extremely important training camp battles in the entire league this offseason. The job is primarily expected to be a battle between newcomers Mark Sanchez and Paxton Lynch, but keep an eye on Trevor Siemian who has already spent a year in the system and has been the recipient of quite a bit of praise from the coaching staff.

Nevertheless, the man who most believe will start the season behind center for the Broncos is the only player who has played a meaningful NFL snap thus far in his career – Sanchez. A quarterback who once led his Jets to back-to-back AFC Championship appearances, Sanchez has seen quite a fall from grace in recent seasons as he will now be playing for his third NFL team after his runs in Philadelphia and New York fizzled out.

Taking over as the starting quarterback for a team that won the Super Bowl just a few months ago is a daunting task on its own, but replacing arguably the greatest quarterback of all-time, Peyton Manning, is going to be on the mind of whoever ends up winning this job. Sanchez has been in a similar situation when he replaced another one of the all-time greats, Brett Favre, the season after Favre left the Jets.

Of course, Sanchez now steps into a situation where he has much higher expectations, but it's worth considering that he's not replacing a prime Manning. He's replacing the version of Manning who played the worst football of his career, who nearly lost his job to Brock Osweiler, and was statistically speaking one of the worst quarterbacks in recent memory. Manning's 9-to-17 touchdown-to-interception ratio was humiliatingly bad and quite frankly was one of the main reasons why the Broncos weren't expected to completely run through the AFC Playoffs on their way to the Super Bowl in 2015. Despite Manning's terrible play, the Broncos were still able to get the job done where it counted – on the scoreboard. Much of that came from the reality that while Manning was a shell of his physical prime, he was still mentally sharp and was able to get players into the right positions to succeed.

At this point, it would be extremely difficult for Sanchez to be worse than Manning from a statistical standpoint. Sanchez has never been a great fantasy performer in the past, but he also hasn't often had the type of weapons that he does in Denver. There's practically no question that the Broncos' passing game is going to be more efficient than it was a season ago. However, it's also worth noting that the Broncos likely passed the ball more often in 2015 than head coach Gary Kubiak would have preferred. This could mean better efficiency from the position in terms of touchdowns and turnovers, but it might also mean fewer yards.

Sanchez projects as a QB2 in most formats, but does have the upside to produce QB1 numbers in favorable matchups. The other thing to keep in mind with Sanchez is that while he will likely start the season for the Broncos, that doesn't mean that he will keep the job all season. If the coaches don't like what they're seeing and particularly if the team starts the season with more losses than they expected, Sanchez could be on a short leash. Playmaking rookie quarterback Paxton Lynch is looming behind him on the depth chart and Trevor Siemian knows the playbook the best of the three, meaning that he could be given an opportunity if the wheels really begin to fall off the track.

QB Paxton Lynch
(2015 QB Rank – N/A)

Considered by many experts to be one of the biggest "project" quarterbacks in the 2016 draft class, Paxton Lynch found a nice landing spot in Denver, a city where he can grow and eventually be groomed into a starting quarterback role. Lynch does possess the type of raw physical talent that could make him a starting-level quarterback, but he fell in the draft primarily because so many teams viewed him as a player who wouldn't be able to contribute to an NFL team right away. With that being the case, it would be extremely surprising to see Lynch step onto the field for the Broncos in Week 1 unless there were a string of injuries to the other quarterbacks on the roster.
That being said, if Lynch continues to develop his mechanics and accuracy while keeping his nose in the playbook, there's still a possibility that he gets onto the field this season. Lynch isn't a player to draft in redraft leagues and there are even a few better options at the quarterback position for those in rookie drafts, but the talent is there – keep an ear to the noise coming out of Denver throughout the season.

RB C.J. Anderson
(2015 RB Rank – No. 27, 8.0 FPts/G)

With the deterioration of Peyton Manning's health on full display toward the end of the 2014 season, most believed that the Broncos would lean heavily on their running game in 2015, which would make their starter – C.J. Anderson – a hot commodity in fantasy circles. Anderson's price peaked right about in the middle of the fantasy draft season this past year, which meant that he was being taken as early as a top 5 overall draft pick in some leagues. Most of us knew the risk was there, that Anderson was perhaps not the player that we saw near the end of 2014 when he was one of the most efficient backs in the league, but few of us could have projected the misery that Anderson would cause his fantasy owners throughout the season, when he finished the year with just 720 yards and five touchdowns.

The positive for Anderson is that while he was one of the most horrendous and impactful fantasy disappointments of the 2015 season, he did produce acceptable numbers toward the end of the season, including the playoffs. While that information is hardly a consolation prize for those who were burned by Anderson on draft day, it does give us some insight as to how the Broncos view their backfield heading into 2016.

It appears that the job is primarily going to be Anderson's, but don't fall into the trap of believing that he is going to be getting 300 touches. Ronnie Hillman and perhaps other players in this backfield will see some playing time, if for no other reason than to keep Anderson healthy for the long run, and that could limit his upside particularly early in the season. He won't cost nearly as much as he did a season ago, but Anderson presents about the same upside that he did in 2015 when he was a first round fantasy pick. The return on investment has a much better chance of being there in 2016.

RB Ronnie Hillman
(2015 RB Rank – No. 20, 8.7 FPts/G)

If you just look at the statistics, this Denver running game should be easy to project – Ronnie Hillman should be the starter. But this backfield is an example of why it's important for fantasy owners to do more than simply stare at a stat sheet at the end of a game or even at the end of a season. Hillman out-produced Anderson on a per-touch basis in not only total yards, but also fantasy points. He finished 20th at the position – seven spots ahead of Anderson – despite being considered the team's backup for the majority of 2015.

Perhaps the most telling aspect of the Broncos' running back situation a season ago, however, was what happened in Super Bowl 50. With everything on the line, on the biggest stage of them all and against a great defense, the Broncos gave Anderson a whopping 27 touches. Meanwhile, Hillman managed just five touches. Of course, it didn't help that Hillman produced zero total yards with his five touches, but the message was sent – this is Anderson's backfield.

Hillman still has some value, especially because we've seen him display hot stretches, but his primary usage will likely be as Anderson's backup for the majority of the season. Look for him to touch the ball around 120-to-150 times in what is expected to be a run-heavy offense. That might be good enough for him to be drafted and flexed into your lineup in particularly great matchups, but don't select Hillman with the assumption that he's going to give you great numbers on a week-to-week basis.

RB Devontae Booker
(2015 RB Rank – N/A, N/A FPts/G)

One player to keep an eye on this offseason is rookie running back Devontae Booker. A fourth-round draft pick, Booker brings electric talent to a position that seems to be lacking in that area. Booker slipped in the draft in large part due to injury concerns as he is coming off of season-ending meniscus injury, but the talent was on display during his run at Utah. Booker rushed for 3,395 yards and 23 touchdowns in just 23 games at the school while showing off his pass-catching ability by hauling in 80 receptions.

Despite Denver's commitment to Anderson in the Super Bowl, the team doesn't appear to be fully behind either he or Hillman to be an every week 20-touch type of player. While Booker doesn't project to be that at the beginning of the season either, he does have the physical skillset needed to be an every down back in the NFL. He's currently being selected ahead of Ronnie Hillman in most redraft leagues and he's a very intriguing option in dynasty formats as well.

WR Demaryius Thomas
(2015 WR Rank – No. 13, 10.4 FPts/G)

Widely considered a perennial elite fantasy option at the wide receiver position, Demaryius Thomas took a step back in 2015, falling to 13th at the position. Thomas' numbers were still very good – career numbers for most receivers – but his six touchdowns were a substantial downtick from the 35 touchdowns he had accumulated in each of his prior three seasons with the squad.
Of course, the horrendous quarterback play that he had to deal with was a big reason why Thomas' season-long numbers suffered. Peyton Manning's declining arm strength was a big contributor in Thomas' yards per catch falling to an all-time low and the general lack of offensive fireworks led the Broncos to rely much more on their defense than they had in previous seasons when they were putting up record-level offensive production.

The good news for Thomas is that it'd be difficult for things to get much worse for him at the quarterback position. Whether it's Sanchez, Lynch or Siemian throwing him the ball, Thomas should be in line for plenty of targets in this offense that is now without both tight ends Vernon Davis and Owen Daniels. He may not present the upside of the No. 1 overall wide receiver that he once did, but Thomas is as reliable as they come among WR2's and low-end WR1's. If he ends up on your roster, you'll be happy more often than not and that alone is a valuable fantasy commodity.

WR Emmanuel Sanders
(2015 WR Rank – No. 18, 10.2 FPts/G)

It seems almost impossible, but despite the Broncos having one of the least effective and lowest-scoring passing games in all of football in 2015, they were somehow able to produce two top-20 fantasy receivers. Emmanuel Sanders and Demaryius Thomas, make up one of the most talented, dynamic and consistent wide receiver duos in the league. Most importantly for fantasy purposes, neither player seems to be fighting much for playing time as they are by far the unquestioned top two targets in this passing game.

Like Thomas, Sanders' 2015 was a disappointment from a fantasy standpoint as he saw his totals fall nearly 300 yards, 3 touchdowns and 25 receptions from his 2014 output. Still, despite the Denver offense being in complete disarray with duo of bad quarterbacks leading the charge, Sanders still produced quality WR2 numbers, which is what he was expected to do by those who took him in fantasy drafts.

While Mark Sanchez is certainly far from being a stud quarterback, he should be an upgrade from what Sanders dealt with a season ago and that alone should allow his ceiling and floor to rise a bit. Expect Thomas to again produce solid, if not high-end WR2 numbers on the season simply because he's going to be targeted so often.

TE Jeff Heuerman
(2015 TE Rank – N/A, N/A FPts/G)

The search for a Julius Thomas replacement continues in 2016 as the team searches for something – anything – from the tight end position. Now without Vernon Davis and Owen Daniels who served as the top two TE's on the roster in 2015, the prospects are bleak.

While veterans Garrett Graham and Virgil Green offer a much higher floor, the only tight end in this offense who should even be on radars heading into the season is second-year pass-catcher Jeff Heuerman. A third round pick in the 2015 NFL Draft, the Broncos had high hopes for Heuerman, but his season ended before it even began when he suffered a torn ACL in training camp.

Now with a full year of recovery behind him and plenty of time to study the playbook, Heuerman is ready to get on the field. Head coach Gary Kubiak has even said that he is expecting big things from the second-year tight end. While we hear that all the time about players who end up doing nothing, there is some buzz beginning to surround Heuerman. An excellent blocker, Heuerman adds the versatility to not only get on the field on passing downs, but also play a pivotal role in sealing the edge for the Broncos' running game, which they're expected to utilize quite often this season. While we don't get points for blocks in fantasy football, being able to do it all is certainly something that Heuerman can use to make his case to his coaches as to why he deserves to be on the field more often. Don't expect huge things from Heuerman, but if there's a player who has a real potential to break out in this offense, it might just be this 6'5", 255 lb goliath.