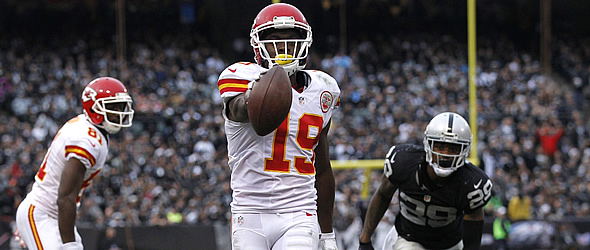 Maclin has quietly produced back-to-back seasons with at least 85 catches, 1,000 rec yds and eight TDs.


QB Alex Smith


(2015 QB Rank – No. 17, 19.8 FPts/G)



After starting his career with one of the worst winning percentages in the league, Alex Smith has finally started to develop into one of the better game-managing, winning quarterbacks in with a 49-21-1 record over his last five seasons. Of course, those wins don't mean much for fantasy owners, who likely have been taking a lot of losses if they've trusted Smith to be their starting quarterback in their season-long fantasy leagues. It's not that Smith has been horrible – he just hasn't been great. This past season, he threw for 3,486 yards and 20 touchdowns with just seven interceptions. The seven interceptions are elite among starting quarterbacks, but without many yards or touchdowns to go along with them, the fantasy points just aren't there.

One thing to note, however, is that Smith's rushing numbers (498 yds) were better than ever in 2015. He's never been one of the elite runners at the quarterback position, but he's certainly better than average, if for no other reason than that he's willing to take off and pick up a first down with his legs – something that many other QB's are simply not willing or able to do. This past season, Smith's 84 attempts were nearly double the number of attempts that he had in 2014 when he ran the ball just 49 times on the season. It's important to note that Smith might have been running a bit more often because Jamaal Charles was injured, but even that wouldn't account for his high total. It appears as if the Chiefs are not overly concerned with Smith getting injured by running the ball, which definitely bodes well for his fantasy potential.

Still, Smith is not much more than a reliable QB2, bye week fill-in or short-term replacement for those who opt to take Tom Brady. The Chiefs simply don't pass often enough for him to make a real push to be an elite fantasy quarterback and the best case scenario is that he finishes the season as a low-end QB1.

RB Jamaal Charles


(2015 RB Rank – No. 49, 16.8 FPts/G)



Always a fantasy juggernaut, Jamaal Charles was off to a great start once again in 2015 as he had already accumulated 541 total yards and five total touchdowns by the end of Week 5. Unfortunately, it was in Week 5 when Charles once again broke the hearts of Chiefs fans and fantasy owners everywhere when he tore his ACL for the second time in his career. There aren't many NFL running backs who've come back from torn ACL's and picked up right where they left off by dominating the league, but Charles is definitely a player who did just that. He missed nearly the entire 2011 season before coming back in 2012 and setting a career high in rushing yardage with 1,509 yards. Now 29 years old, however, Charles is at a substantially higher risk for not being able to return to peak condition.

The concerns with Jamaal Charles are two-fold in that, he might not be fully recovered and thus may not be the dominant force that we once remembered him being. But in addition to that, there is a growing worry that the Chiefs might give into the current NFL trends and turn their backfield into a much more split by-committee approach. Charcandrick West and Spencer Ware are not the physical beasts that Charles is, but they showed in 2015 that they are capable of producing serviceable numbers as a duo. Even if Charles remains healthy, they might cut into what has typically been one of the highest workloads of any back in the league.

Still, Charles presents the kind of upside that is rare to find in Round 2 and would be the ideal complement to an elite WR should fantasy owners opt to go in that direction in Round 1. Even if he doesn't get back to producing high-end RB1 numbers, his usage should at least allow him to finish in the range of an RB1.

RB Charcandrick West


(2015 RB Rank – No. 32, 9.6 FPts/G)



Following a reasonably productive 2014 season most fantasy experts had Knile Davis locked in not only as Jamaal Charles' primary backup, but also as one of the league's premiere "handcuff" running backs. That assessment couldn't have been further from the truth as it was actually second-year back Charcandrick West who emerged as the Chiefs' lead tailback once Charles went down with an ACL tear in Week 5. West produced borderline elite numbers almost immediately, including taking 20-plus carries in three straight contests from Weeks 7 through 9. His numbers began to dip a bit toward the end of the season, however, and he finished with just one rushing touchdown over his final six contests. Most believe West is in line to be Charles' primary handcuff, but don't be overly confident with that on draft day. There is still a very real chance that West is third in line behind Charles and Spencer Ware.

RB Spencer Ware


(2015 RB Rank – No. 53, 8.5 FPts/G)



He didn't get his first touch until Week 7, but Spencer Ware jumped onto the fantasy radar relatively quickly this past season as he split carries with Charcandrick West when Jamaal Charles was placed on the IR. He scored his first rushing touchdown of the season in just his second game, after just four carries in those first two contests, and proceeded to lead the team with six rushing scores by the end of the season. Ware's 5.6 yards per carry dwarfed that of fellow young back West, who managed just 4.0 yards per carry despite earning the lion's share of the touches most weeks. It was Ware, however, who showed more burst and a much better nose for the end zone. These qualities certainly make the backup running back position an interesting one, especially with Charles likely to take the majority of the snaps on passing downs. The team might opt to give Ware more playing time than West simply because he is a more obvious complement to Charles even if he would not be the primary beneficiary if Charles were to get injured.

WR Jeremy Maclin


(2015 WR Rank – No. 16, 10.5 FPts/G)



There was reason to be extremely skeptical after the Chiefs failed to produce a single wide receiver touchdown for the entire 2014 season, but things definitely turned around for this passing game in 2015. Much of that had to do with the newly-acquired Jeremy Maclin who led the team with 87 receptions for 1,088 yards and eight touchdowns. Unfortunately, Maclin was a bit inconsistent with his production, but that is to be expected in an offense that throws the ball as rarely as Kansas City does.

With his 2015 season in Kansas City and his 2014 season in Philadelphia, Maclin has quietly produced back-to-back seasons with at least 85 receptions, 1,000 receiving yards and eight touchdowns. Those numbers don't make him an elite option, but they certainly make him a quality, if not high-end WR2 for fantasy purposes. This is especially true given that the Chiefs failed to bring in another productive receiving option through the NFL Draft or free agency. Those who get Maclin as a WR2 or better yet a WR3 are likely to be happy with the production, but expecting WR1 numbers might be a bit much given the Chiefs' mediocre passing game.

TE Travis Kelce


(2015 TE Rank – No. 8, 7.3 FPts/G)

Travis Kelce was one of, if not the hottest pre-season fantasy tight end heading into the 2015 season. Many believed that he was a "Gronk 2.0," just waiting to explode into monster fantasy production. While he was good, Kelce fell far short of those expectations, leading many to consider him one of the biggest draft busts among the players who actually stayed healthy. Kelce's 72 catches for 875 yards and five touchdowns would've been good enough to make him an elite fantasy tight end most seasons, but in an age where many tight ends are putting up high-end wide receiver-like numbers, what Kelce did in 2015 just wasn't enough.

He's still going off the board as a top five option at the position in most drafts, but there will undoubtedly be some leagues where Kelce falls further than he should due to his lackluster 2015 season. At just 26 years old, he's still very young with plenty of upside. The Chiefs saw that this off-season when they gave him a nice contract extension, securing him for the next five years. That, along with the team not investing any sort of resources in new pass catchers, should be an indication to fantasy owners that Kansas City views Kelce as a huge player in their passing game going forward. He's improved in each of his first three seasons as a pro and there's little reason to believe that another improvement on his already good numbers isn't in store.