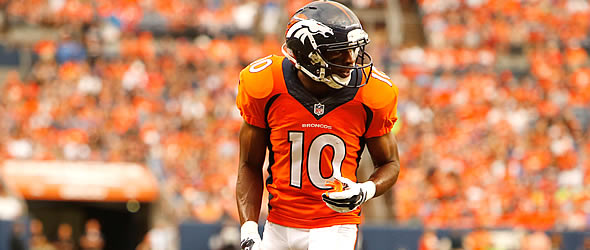 Emmanuel Sanders has cracked the 1000-yd mark three-straight seasons and is typically undervalued.


QB Trevor Siemian


(2016 QB Rank – No.26, 17.7 FPts/G)



He wasn't spectacular in his first season as a starter, but Trevor Siemian was also rarely the reason that his team lost games. Current reports indicate that 2016 first round NFL Draft pick Paxton Lynch has shown some signs of improvement in OTA's and minicamp and certainly his upside is believed to be higher than that of Siemian, but it's Siemian who has been the more consistent of the two. With an 18-to-10 touchdown-to-interception ratio and 3,401 passing yards in 14 starts, Siemian produced enough numbers in 2016 that will likely make the Broncos signal caller at least to start the season. The presence of Lynch should be a concern for fantasy owners, but the generally mediocre fantasy production from Siemian should be the primary reason that he goes undrafted in most leagues. Not much has changed in the Denver offense that should lead fantasy owners to believe that there will be a substantial improvement in the Denver passing game this season.

RB C.J. Anderson


(2016 RB Rank – No.43, 12.4 FPts/G)



The Broncos perceived starter at running back heading into the 2017 season, C.J. Anderson is now entrenched in what now could be a three player battle for snaps now that Denver added veteran Jamaal Charles to the mix. Anderson has spent the most time in Denver and has the trust of the coaching staff, but his production took a dip this past season as he fell from a 4.7 yards per carry average in both 2014 and 2015 to a 4.0 yards per carry average in 2016. Still, there are many questions about the other backs on this roster, which should mean that Anderson is in line to get the biggest share of the touches. One positive skill that Anderson has going for him is his hands. He's fumbled just three times in over 500 career touches and his reliability will be an important consideration for the Denver coaching staff as the team looks to get back to the playoffs in 2017. Anderson is more of an RB3 for fantasy purposes right now, but he could find himself as an RB2 on some rosters. Understand however, that his upside is limited due to the crowded nature of this Denver backfield.

RB Jamaal Charles
(2016 RB Rank – No.112, 3.8 FPts/G)

Once an elite fantasy player, the wheels seem to have finally come off veteran running back Jamaal Charles. After spending his entire nine-year career in Kansas City, Charles and the Chiefs parted ways this off-season. Injuries led to Charles playing in just eight total games over his past two seasons, but the Broncos seem to believe that there is still some life left in the legs of this once superstar talent. After two knee surgeries,the 30-year-old has a long road back to getting on the field, let alone getting back to fantasy stardom. Not only that, but he's going to have to fight for carries in a crowded Denver backfield. While neither C.J. Anderson nor Devontae Booker looked particularly great in 2016, both players know the Denver offense and they're both back this season. The upside here is tremendous, but drafting Charles is not without some serious bust potential. However, if Anderson and Booker look like they did last season, Charles could get an opportunity to show that he's still the same guy who once won his owners fantasy championships.

RB Devontae Booker
(2016 RB Rank – No.27, 7.4 FPts/G)

Now entering his second season as a pro, Devontae Booker should be looking to forget what was a poor rookie season. The former fourth round pick showed some serious signs of potential early in 2016, but failed miserably to produce even acceptable numbers once he was given the opportunity after an injury to C.J. Anderson. Booker finished his rookie season with just a 3.5 yards per carry average in Gary Kubiak's one-cut, zone blocking scheme. Coaching changes now have most experts believing that the Broncos will turn to a more traditional power running scheme in 2017, which could do wonders for a 220-lb back like Booker. He'll start the season behind Anderson on the depth chart and he could even be behind Charles once he gets on the field. For that reason, Booker projects as a late-round flier with upside, but one who is unlikely to produce unless other players on the team go down.

WR Demaryius Thomas
(2016 WR Rank – No.18, 8.6 FPts/G)

With five straight 1,000-yard receiving seasons, few players in the league have been more productive for longer than Demaryius Thomas. He's battled through quarterback changes, coaching changes, injuries and host of other potentially devastating issues but Thomas continues to produce low-end WR1 or at least solid WR2 numbers every season. Thomas did it again in 2016 and he did so after suffering a hip injury on literally the first play of the season. Now fully healthy, Thomas has been telling reporters that he's never felt better and with some progression from Trevor Siemian, there's no reason to believe that Thomas can't get back to being a top-12 fantasy WR. The nice thing about Thomas is that while his ceiling may not be quite what it was when he was catching passes from Peyton Manning, there is still very little competition outside of Emmanuel Sanders for targets in this offense. As long as that is the case, Thomas has a very low bust potential thus making him one of the safer WR2 options on the board and a player who will produce quality numbers most weeks.

WR Emmanuel Sanders
(2016 WR Rank – No.21, 8.9 FPts/G)

Like his partner in crime Demaryius Thomas, Emmanuel Sanders continues to produce quality fantasy production despite shaky quarterback play and numerous coaching changes during his time in Denver. Sanders' numbers have dipped in each of his three seasons with the Broncos, but he's never finished outside of fantasy WR2 range. The tremendously high usage could allow both of these receivers to finish within the top 12 at their position in targets this season returning WR2 value in the process. What's interesting about Sanders is that his numbers in 2016 were decent, but they could've been substantially better if he didn't fall upon some bad luck. He finished in the top three of all receivers in inaccurate passes thrown in his direction. While Trevor Siemian isn't likely to suddenly become an extremely accurate passer, chances are that he'll make some sort of progression this season and that could lead to good things for Sanders and his fantasy production. Despite being highly targeted, the Denver offense simply doesn't put up enough points that Sanders is likely to be an elite option at his position, but he does offer a high floor.

TE Virgil Green
(2016 TE Rank – No.43, 2.7 FPts/G)

While Demaryius Thomas and Emmanuel Sanders are locked in as the Broncos top two targets, it's worth considering who will get the next look in the Denver passing game. While he hasn't been much of a producer at least early in his career, there's a real chance that tight end Virgil Green could emerge as that third option, particularly in the red zone. At 6'5" and 255 lbs, Green possesses the type of size that can help make up for some of the inaccuracy problems that Siemian has shown thus far in his career. Green won't be without competition as rookie tight end Jake Butt is progressing following a torn ACL in his final game in college. Green should see Butt as a potential threat to his playing time which could lead to him kicking things up a notch as he tries to hold onto his starting spot. Green is not a draftable player in almost any format, but he's a player to keep an eye on early in the season.