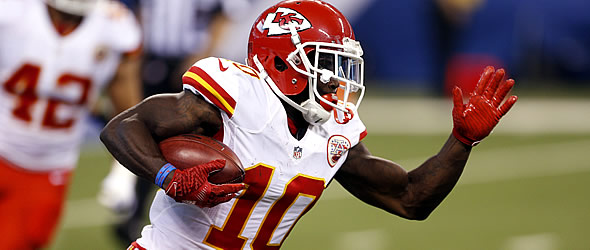 The release of Jeremy Maclin makes Tyreek Hill one of most polarizing fantasy players for 2017.


QB Alex Smith


(2016 QB Rank – No.24, 18.6 FPts/G)



Smith is practically the prototype for a player to avoid in fantasy football. Despite missing Jamaal Charles in 2016 which should have presumably led to an increased reliance on the passing game, Smith continued to perform about as poorly as he always has as a passer, throwing for more than one touchdown just four times and never throwing for more than two scores. He threw for 300 yards just once all season – Week 1 against the Chargers. But while we don't really expect Smith to be a prolific passer, he also was not nearly as productive as a runner. While he did sneak through with an impressive five rushing scores, Smith ran for more than 15 yards in a game just twice. Now without Jeremy Maclin on the roster, Smith will be relying on a superstar tight end and a breakout wide receiver as the only pass catchers he shares chemistry with. Worse yet, the Chiefs have made an investment toward the future at the quarterback position, leading to speculation that Smith may not even finish the season as Kansas City's starter. The limited upside and the questions at wide receiver along with his potential competition should leave Smith undrafted in most leagues.

RB Spencer Ware


(2016 RB Rank – No.16, 11.9 FPts/G)



The 2016 season saw Ware given the opportunity to breakout and fully establish himself as the running back of the future in Kansas City. Unfortunately, while we saw glimpses of greatness, Ware finished middle-of-the-pack among starting fantasy backs at No. 16 while showing a significant drop-off in production in the second half of the season. He's still trending well with a solid 4.6 yards per carry average and an impressive 11.6 yards per reception over the past two seasons combined, but it is worth noting that he seemingly wore down late in the season averaging 3.2 yards per carry from Week 12 through Week 16. While Ware is still expected to be the primary ball carrier in Kansas City, at least to start the season, rookie Kareem Hunt is drawing hype and could eat into Ware's workload. If the Chiefs do opt to give substantial touches to other backs on the roster, Ware's upside will take a huge hit.

RB Kareem Hunt


(2016 RB Rank – N/A)



One of the hottest players to watch in training camp has to be rookie Kansas City running back Kareem Hunt. Hunt is getting a ton of hype right now with some sources close to the team even indicating that he will not only be a major part of the backfield to start the season, but could have the inside edge to finish with the highest number of running back touches in 2017. Running back coach Eric Bieniemy has been specifically praising Hunt's skills as a pass catcher, which could lead to Hunt getting the majority of work on third downs as long as he can pick up his pass protection assignments. Hunt was highly productive in college at Toledo, including rushing for over 100 yards in each of his final five games. He caught four or more passes in six of his 13 games as a senior.

WR Tyreek Hill


(2016 WR Rank – No.15, 8.8 FPts/G)



The Chiefs cut top receiver Jeremy Maclin this off-season, which caused Tyreek Hill's fantasy stock to skyrocket. The second-year playmaker is expected to takeover Maclin's role as the "Z" receiver in the Kansas City offense – an offensive system known for being notoriously unfriendly to wide receivers. Hill was arguably the most explosive player in the entire league as a rookie, but much of that production came when the Chiefs were able to create mismatches against nickel cornerbacks and confuse defenses with gadget plays. Hill's ADP shot up dramatically right when the Maclin story broke and it might drop off a bit, but the chances of him finishing as a WR1 for fantasy purposes are just not great, especially if you're in a scoring format where individual players do not get credit for special teams scores. It's also worth noting that while he's expected to keep his role as the team's primary punt returner, the second-year burner will no longer be regularly returning kickoffs. Hill could continue to surprise everyone, by honing his craft as a route runner because the chances that he continues to score at the crazy rate per touch that he did in 2016 are unlikely. Hill played on only 40 percent of the team's offensive snaps last season but managed to score 9 TDs (6 receiving, 3 rushing) finishing as the WR23 in PPR leagues.

WR Chris Conley


(2016 WR Rank – No.88, 3.3 FPts/G)



Finding another wide receiver on the Kansas City roster beyond Tyreek Hill is a tough task, but if you find yourself in some weird situation where you have to pick a Chiefs wideout, consider Chris Conley. Conley is currently expected to start out wide opposite Hill and his production was more consistent than the other players on the roster. He caught multiple passes in all but three regular season games, which is surprisingly good considering the lack of overall pass attempts in the Chiefs offense. Despite those catches, Conley really never put it together with a great – or even particularly good fantasy game in 2016. He failed to score a single touchdown all year and his best overall game was a six catch, 60-yard performance against the Steelers in Week 4. While Conley isn't likely to blow anyone away with production, the opportunities are there for him to get an increased workload with Maclin now out of the picture. Conley has been seeing time as the team's "Z" receiver in OTAs and that could mean that he gets more opportunities to make plays down the field. He's been stuck as a possession receiver early in his career, but at 6'2" with a 4.35 forty yard dash, Conley's actual skillset would seem to be better fit as a downfield playmaker. While Hill is still by far the better overall fantasy option, it would not be all that surprising if Conley actually led the team in wide receiver catches in 2017.

TE Travis Kelce


(2016 TE Rank – No.1, 8.5 FPts/G)



After disappointing many fantasy owners with a lackluster 2015 season, Kelce finally fulfilled his potential in 2016 with an absolutely monster season which saw him finish as the league's top-scoring fantasy tight end – and by a fairly wide margin. While he only scored four touchdowns, Kelce's week-to-week reception and yardage totals were borderline WR1 numbers. He finished the regular season on an absurd pace, catching five or more passes in every game from Week 8 through Week 16, including a whopping six 100-plus-yard performances in those nine contests. While it's hard to imagine that he stays on a yardage tear, he was a bit unlucky in the red zone. An increase in touchdowns should be expected if he's targeted anywhere near as often as he was in 2016. While he is currently going as the No.2 tight end off the board in most fantasy drafts, a case could be made that Kelce should be ahead of even the great Rob Gronkowski, given Gronk's ever-so-frustrating injury history. Still, Kelce represents great value in drafts and could really be a difference maker on fantasy rosters again this season if the position remains as sparse as it has been as of late.