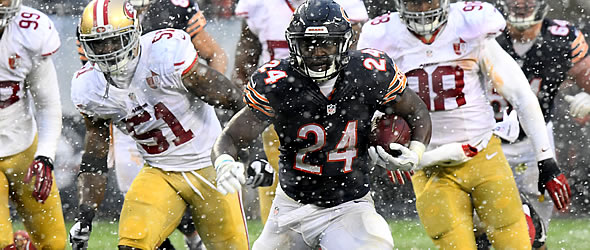 If you're talking Bears and fantasy football in the same sentence, the subject is likely Jordan Howard.


QB Mike Glennon


(2016 QB Rank - N/A)



One of the more confusing off-seasons belongs to the Chicago Bears. Most knew that it was time for the Jay Cutler era to end, but if you pegged the Bears signing Mike Glennon to a huge deal, then giving up a ton of draft stock to move up one spot to select Mitchell Trubisky, I have a palm you can read.

Glennon comes to the Bears on what is essentially a one-year, $18-million dollar deal. Thatís middle of the road starting QB money, but the problem is that doesnít quite jibe with how this roster is built. At some point after signing Glennon, the Bears either had a change of heart, or fell so deeply in love with Trubisky they couldnít pass him up. So while the rookie from North Carolina waits his turn and the Bears give the keys to Glennon, what can we expect from a fantasy perspective? Frankly, not much. A few factors are going to conspire to make Glennon an extremely fringe fantasy asset.

First, the Chicago offense is predicated on the run game. Since John Fox became head coach two years ago, the team has never been higher than 22nd in pass attempts, so itís highly unlikely Glennonís stats will be boosted by sheer volume. Next, Glennon himself hasnít seen meaningful snaps in nearly three years. That season he went 1-6 as a starter and threw only ten touchdowns compared to six interceptions. Sure, he had a quietly effective rookie year (which is probably the only reason he got the big contract he did), but that was many moons ago, and clearly Tampa didnít think he was the franchise quarterback because they drafted Jameis Winston. Look, Glennon will probably turn out to be a fine backup quarterback one day. Heís terribly limited athletically, and basically someone whose best asset is not screwing things up. He might have some value in a two-quarterback league, but he has such a limited upside, that I donít think heís currently roster material in standard fantasy leagues.

RB Jordan Howard


(2016 RB Rank - No.9 13.5 FPts/G)



Iím going to make a crazy assumption that Jordan Howard won a few fantasy titles last season. The 5th round rookie from Indiana came out of nowhere to pile up 252 carries for 1,313 yards 6 touchdowns, in essentially only 13 games, as he didnít play Week 1 and saw only 12 carries combined in Week 2 and 3. From Week 4 on, Howard was one of fantasyís most consistent running back plays, putting up double digit points in all but two of his final thirteen games. More impressive is that fact Howard did all of this on a team that went 3-13, and rarely ever had 4th quarter leads to protect.

A deeper look shows Howard racked up these amazing numbers on a fairly limited set of carries. He only reached 20 carries in four games, as he averaged a silly 5.2 yards-per-carry, great numbers for a runner that doesnít possess elite speed or quickness. What Howard does have is a relentless, one-cut running style that jibes with the strong run blocking of the Chicago line. He fits through tight spaces, finishes runs with gusto, and has the power and vision to make his own yards when necessary.

So can Howard repeat the magic and be worthy of an early round selection in 2017? In early drafts heís being picked in the top-10 at his position, a place I think is fair. Barring injury (which he did have quite a few of his senior year in college), he should push for 250 carries once again. 250 carries is nearly a shoe-in for top-10 status, as only Frank Gore and Lamar Miller had 250 or more carries last season and didnít finish in that area. Howardís touchdown upside is going to be limited on a poor, conservative offense, but has a little room to grow from last yearís total of six.

What I donít see improving greatly are his yards per carry average and reception totals. With totally unproven quarterback options and receivers who scare no one right now, 8 and 9-man fronts should be the norm against Howard. Also consider the fact he led all running backs with 8 dropped passes, and had only a 58% completion rate on passes thrown his way. Compare that to a similar player in Melvin Gordon who had a 72% rate, and youíll see why Chicago went out and added Benny Cunningham in free agency and the Darren Sproles-like Tarik Cohen in the draft. Cohen was a dynamo at North Carolina A&T and offers the Bears a skillset that is unique to their roster.

Howardís volume and skill-set are going to be enough to make him a RB1, but you are going to have to pay a significantly higher price this season to get that production. Heís going to be a solid, reliable player, but asking him to meet or surpass his 2016 totals might be a stretch.

RB KaíDeem Carey


(2016 RB Rank Ė No. 97, 1.6 FPts/G)



RB Jeremy Langford


(2016 RB Rank - No. 60, 4.9 FPts/G)



RB Benny Cunningham


(2016 RB Rank - No. 96, 1.9 FPts/G)



Honestly, thereís Jordan Howard and then everyone else. I want to preface this section of the preview by stating itís likely that these guys are fighting for two roster spots. Langford and Cunningham have the upper hand, as they both were hand-picked by the current front office. Carey has mostly been a special teams player during his career and offers very little upside as a runner. Langford was the starter last season before going down, and at least has some decent rookie year tape to fall back on. Cunningham was brought in to be a reliable 3rd down back and thatís it. If I had to make a guess, Iíd say that if he sticks, Langford falls in as the back-up runner. Should Howard go down for an extended period, this situation would fall into a full blown committee attack, so essentially there really isnít a reliable handcuff on this roster for fantasy owners. Letís hope for Chicagoís sake and yours, Howard plays all 16 games.

WR Cameron Meredith


(2016 WR Rank - No. 40, 8.1 FPts/G)

Meredith, the 3rd-year receiver burst onto the scene last year to lead the Bears in receiving after not seeing playing time until Week 3. As the No.2 on a slow moving offense (30th in plays per game), Meredithís usage was sporadic and inconsistent, often times just serving as a deep threat that was targeted only a few times a game.

The expectation is quite different in 2017. Meredith slides into the No.1 receiver role for the Bears following the departure of Alshon Jeffery. Jeffery was up and down the last two years due to injuries, but he leaves behind 94 targets, and a few of those should go toward Meredith. The former undrafted free agent showed he could be more than a complementary player, as he tallied four 100-yard games, and had 6 or more receptions in five of his 14 games. From all accounts he was playing well during off-season work before a thumb injury sidelined him. He should be healthy for camp, but itís never helpful for a young player to miss off-season work, especially with a new quarterback coming in.

I have a sneaky feeling that Meredith could return some decent value this season. He put up some impressive numbers on a bad team that had street free agent level talents starting at quarterback. Mike Glennon isnít exactly Joe Montana, but does provide an upgrade at the position. Meredith doesnít exactly have a laundry list of talent vying for targets behind him, so I expect him to well surpass his total from last year. If White can at least provide a reputable threat to attract some defensive attention, and opposing defenses continue to stack the box to stop Jordan Howard, Meredith could be a low end WR2 that you could steal for a WR3 price.

WR Kevin White
(2016 WR Rank Ė No.132, 4.9 FPts/G)

I might as well copy and paste the blurb I had here last year. Once again the potential of White wasnít realized in 2016, as the former 1st rounder missed a majority of the year after suffering a devastating lower leg injury. The injury occurred to the same leg that caused him to miss the 2015 season, and while off-season reports have him healthy and ready to go, it's fair to wonder just how much speed and agility he has left after missing so much time.

Itís clear after his four-game stint last season that the Bears desperately want a return on their investment in White. He piled up 36 targets in those games, but unfortunately didnít do much with them. He caught just over half of them, and cashed them in for a measly 187 yards.

The fact remains that no one really knows what White is capable of. He was physically dynamic at West Virginia, but struggled mentally in his first training camp prior to his initial injury. If he has even lost a little because of the injuries, itís hard to imagine him making much of a fantasy splash. Heís going to have plenty of opportunity to make plays with only uninspiring veterans and a young undrafted free agent with him on the depth chart, so for those reasons alone Iíd be happy to take a flier on him late in my draft as a very low risk, decent reward option.

TE Zach Miller
(2016 TE Rank No.21, 7.3 FPts/G)

TE Dion Sims
(2016 TE Rank No.33, 3.8 FPts/G)

I'm only putting both Miller and Sims in one spot because I believe one of them could be worth fantasy consideration this season. Miller was having another resurgent season (47-486-4) before breaking his foot in Week 10. His 7.3 FPts/G was good enough for a near top 10 finish, and despite talk of his potential release, the Bears have yet to do so. This leads me to believe his recovery is going well and that they still have plans for the wayward pro. Working counter to this plan is the signing of free agent Dion Sims from the Dolphins and the pick of Adam Shaheen in the 2nd round of the draft. Sims was underutilized with the Fins, but offers better blocking and more athleticism than Miller and the Bears didn't give him $6-million a year to be a part-time player. Shaheen is from a Division-2 school and while he possess a massive frame (6'7) to go along with speed and quickness, he's a developmental project that is much more attractive in Dynasty league settings.

While neither Miller nor Sims offers much in the way of upside, the tight end position has taken a real hit recently, and some fantasy owners are drafting them later than ever. Keep an eye on the depth chart into training camp and take a flier on the starter if that's the strategy you're going for.