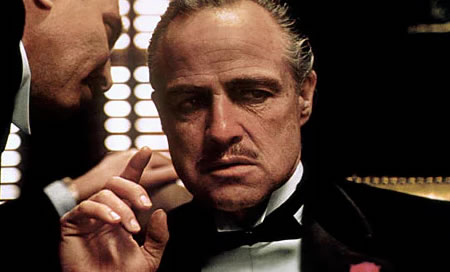 "I'm going to make him an offer he can't refuse…" – Vito Corleone

If you havenít figured it out by now, Iím a Godfather addict. Iím having my first baby boy in October, and am still heavily considering naming him Santino. Vito was a renaissance man that best reflects what you need to be when youíre in the position to make a great deal. Patient, calm, and confident are all the traits of a highly successful business man. Vito trusts his instinct and doesnít waffle. This is what you must do when evaluating players to either buy, sell, or hold.

Throughout the football season there will be flash in the pan players that show promise one week and will fade into obscurity the next. My goal in this column is to focus on those flashes and capitalize on buying into known commodities that are not replacement level like the bait you are giving up. If you can remember that most bait is replaceable through waiver wire and other trades, then you can truly exploit your roster to become a championship team. Iím not saying it will be easy, but if you remember the keys to trading from my previous article (Creating a Powerhouse Playoff Team) you can constantly improve your team up until the playoffs and build a powerhouse.

The Bait:

Spencer Ware: This is the perfect time to sell on someone that just led the league in Week 1 all-purpose yards (199). Yes he could have value over the next few weeks, but if you package him with someone you donít need for great buy-low candidate, then do it. Look for a situation where the Jamaal Charles owner is enamored with Wareís ceiling. His best game is behind him, and he will trend downward from here on out.

DeMarco Murray: He scored two touchdowns. I get why youíre excited. He also averaged 3.2 YPC and Derrick Henry could easily be in a 50/50 time share as early as next week. This is the perfect time to pair him with another RB or WR to get a nice 2-for-1 deal. Could you get Kelvin Benjamin? Larry Fitzgerald? Move now before this big name with a high Week 1 value rides your bench.

Theo Riddick: Yes, he had 80 catches last year. He also ran for a TD and caught one as well in Week 1. This is perfect timing for you to pair him with another player and solidify a position that youíre lacking in. There are a handful of PPR backs available on the waiver wire that can replace his flex appeal (Shaun Draughn, Chris Thompson) rather than holding onto this perfect sell-high candidate

Melvin Gordon: Two touchdowns and 14 carries. Seems like you turned a mid-round pick into gold, right? Not so fast. He was not involved in the passing game at all, and judging by how the defense (if you can even call it that) played, the game flow of the second half will be very familiar. Iím bullish on Woodhead as he can flourish in both roles and has a knack for finding pay dirt. so Itís time to get out now on Gordon while you still can.

Eli Rogers: This kid is all over the field, and is the primary slot man for the Steelers going forward. He turned 7 targets into 6 for 59 and a score. Yes the TD was complete luck as it was a redirected pass that ended up directly in his hands, but thatís not the point here. Sammie Coates/Markus Wheaton donít have the trust of Big Ben. If you can pair Rogers with one of these guys, you can potentially grab a stud. Someone in your league just lost Keenan Allen, and they might have to break up one of their studs to compensate.

The players above seem like great holds that could be dependable flex players, but thatís not what you need. There are dependable flexes constantly on the waiver wire. You must break the habit of thinking you need these guys on your roster for stability. What you need are surefire studs.

The Buy-Low Candidates:

Marvin Jones: 4 catches for 85 yards seems paltry, but on 10 targets you have to be licking your chops. The Detroit-D could struggle again this year, meaning Stafford will be airing it out quite a bit with no high volume runner on the roster. If you have a chance to buy in on Jones, now is the time to get on board. He will be a mid-to-high end WR2 for most of the year.

Allen Robinson: If you can find someone stupid enough to be down in the dumps on Robinsonís 6 for 72 stat line (shhhh, 15 targets) than you need to make this deal happen. Look for a 2-for-1 here and donít look back if you have to give up some decent talent. AR15 could be a top 4 receiver this year.

Mark Ingram: Travaris Cadet out-targeted Ingram 7-2. Big deal. Heís a top 10 back and suffered to a crazy game flow that should have gone in his favor. You no longer need to have any concerns about C.J. Spiller eating into his workload. If you can pick up Ingram by exchanging one of the ĒbaitĒ players above, then do it.

Eddie Lacy: He didnít look like his spry 2014 self, but he certainly showed some extra stamina and toted the rock 14 times for 61 yards (4.35 YPC) and added a 17-yard catch. Not too bad for an offense that seems like itís on an upward trend. If you can trade one of the above sell high candidates and land Lacy, you will thank me.

Gary Barnidge: Seems crazy to go after a player who got targeted twice and had zero catches doesnít it? Enter Josh McCown. Do you like TEs who ended last year with 79 catches for 1,000 yards, and 9 touchdowns? I do. Give up Eric Ebron, Jason Witten, Vance McDonald or some other mediocre TE who flashed during Week 1 for Gary ďWhat do we live in, aÖĒ Barnidge.

Thatís all for this week ladies and gentleman. I will continue this column every week, and Iíll even figure out a way to carry forward my recommendations in a way that keeps me honest and accountable.
---
Follow me on twitter @ZeroRBJoe for any questions about trades, lineups, or anything fantasy football related.