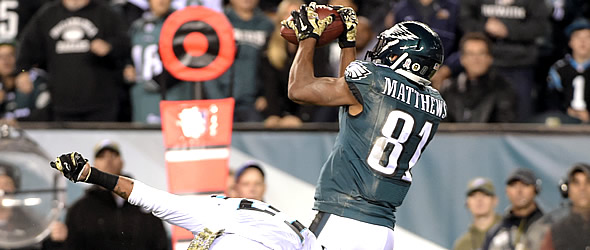 Trade Target: The upcoming schedule looks favorable for Jordan Matthews (DET, WAS, DAL, ATL).




Week 4 Review



Let's start out by taking a look at last week's results…



Hits:



(Sell) Tevin Coleman: He had 8-for-19 rushing and 3-for-14 receiving. Need I say more? Devonta Freeman is the lead back in Atlanta and had a solid game to prove it (13 carries for 57 yards and a score along with 2 catches). If you got anything for Coleman last week, then youíre ahead of the game.

(Sell) LeGarrette Blount: The entire Patriots offense had a down night (outside of Martellus Bennett), but that doesnít mean selling on Blount wasnít a hit. He still has some good games in front of him, but his three game scoring streak is over and if you were able to sell high, Iím guessing youíre grinning from ear to ear. Brady is back, and the offense will be firing on all cylinders against the Browns but expect the passing down backs (James White) to get heavily involved.

(Buy) Jordan Howard: Howard taking over as the lead back was blatantly obvious to most people with Langford being underwhelming/hurt, and no one else on the roster. He rumbled for 111 yards on 23 carries and even got involved in the passing game with 3 catches for 21 yards. Not too shabby for his first week with lead back duties? If you bought in early enough you probably paid pennies to the dollar. Good job.

(Sell) Charles Sims: Sims turned in an abysmal effort against Denverís bottom half ranked run defense (15 rushes for 28 yards) and was only moderately involved in the passing game (2 catches). Can he bounce back this week against the reeling Panthers? I think he could, but for now Iím taking the win on this sell high seeing how he hasnít taken hold of the backfield even with Doug Martin being out.



Undecided:



(Sell) Matt Ryan: 500 yards and 4 scores. Ouch. Iím keeping him here for now considering he has Denver and then Seattle on deck. I smell a huge regression coming and Iím still considering him a sell high candidate as you most likely drafted him as your backup QB.

(Buy) Julian Edelman: As I forecasted last week, Edelman had another down game without Tom Brady. I guarantee he is on the ďhitsĒ section next week when Brady targets him 12 times and he has 9 catches for 110 yards and a score.

(Sell) Trevor Siemian: I canít take the win for saying sell high on Siemian after he was on his way to a solid game before getting taken to the locker room with a sprained AC joint in his non-throwing shoulder. He may still play this week, and has a juicy matchup against Atlanta who has given up the most fantasy points to QBs this season.

(Buy) Cam Newton: Iím not giving up on Newton yet. He was on his way to a solid fantasy day with all the garbage time left in the game. Derek Anderson came in and threw two touchdowns so letís not get crazy here and think Newton doesnít still have elite QB1 potential. He remains a buy and will stay in the undecided column until he either plays to his potential, plays poorly, or gets reinjured. The latter two options will land him on the ďmissĒ list.

(Buy) Golden Tate: Uninspiring is the best word I can come up with at this point. The whole Lions offense got shut down by the Bears, and is the only reason Iím giving Tate a chance to prove himself worthy of being rostered. If you invested minimally as I suggested, hold on for another week or two. I actually sold relatively high on Tate and Sims in one league and got Theo Riddick and Tyler Eifert. I feel like that trade could go in any direction in the next few weeks, but I have Julius Thomas in case Eifert remains unhealthy.



Misses:



(Buy) Carson Palmer: Iím going to take the L here. Palmer looks like a shell of himself, and to be honest he looked scared to go back in after the hit to the head last week. I still like his playoff schedule, but he has to get his head right before Iím putting any stock in him.

(Sell) Zach Miller: Another touchdown. Another handful of catches. Kevin White to IR. This all add's up to a solid hold for the rest of the season. Brian Hoyer has been playing well and the defense has stepped up too.


Trade recommendations after four weeks...

As always, I will continually reevaluate my recommendations as situations can change throughout the season.

Week 5

And now on to Week 5…

The Bait:

Dontrelle Inman: Inman had a big game last week (7-120-1) on 11 targets, but I am skeptical Rivers will show him that kind of volume on a weekly basis. There are a lot of mouths to feed, and his skillset isnít very unique. If you can grab him off the waiver wire and move him with another player to land a stud, do so. Keep in mind, when Keenan Allen went out last year, he averaged 3.5 catches for 50 yards and .28 scores in that seven-game stretch. Waiver wire fodder if you ask me.

John Brown: Inman and Brown are similar players this week in that they both got plenty of looks and capitalized big time. They are also similar in that they are moderate value flex players with Brown having the edge. If you can pair these guys up and land a Jordan Matthews type you should get that done. Neither will be No.1ís with the talent around them and will struggle with boom-or-bust numbers all year. From the start of 2015 to now, Brown is averaging 4.3 catches for 65 yards and .36 scores in that 19 game stretch. Eerily similar, right?

Hunter Henry: I like Henry, but guess what? Antonio Gates is nearing a comeback. Maybe you package him up with someone else to the Gates owner for a buy-low candidate? Heís amazing Gates insurance as he appears to get better every week in his rookie year. Not many tight ends come into the league and have the blocking/catching ability that Henry has shown. His value gets murky with Gates back so move on if you can.

Buy-Low Candidates:

DeAndre Washington: I think everyone is excited about Washington getting the bulk of the work this week so itís going to be tough to buy-low here. He is available in 67% of leagues, but if you are in anything more than a 10-12 teamer, heís probably rostered. Shoot the manager one of the bait guys from above as his upside is massive. Latavius Murray is nearly averaging a touchdown a week and has limited reception upside.

Kenneth Dixon: Dixon makes his NFL regular season debut this weekend and like Washington, his ceiling couldnít be higher. Terrance West could shape up to be the early pounder for a few weeks, but Dixon has three-down back written all over him. In his Louisiana Tech days as a four year starter, Dixon ran for 4,400 yards and 72 rushing TDs while catching 87 balls for 969 yards and another 15 TDs. This is what separates him from Washington. Proven track record and durability is huge when it comes to the RB position and Dixon has a huge chance to shine in Marc Trestmanís offense that likes to lean heavily on workhorse running backs. Grab him now while you still can.

Jordan Matthews: After exploding onto the scene in Week 1 with 7-for-114 and a score, Matthews has been somewhat quiet since by averaging 9 points a game in Weeks 2 and 3. He had a bye in Week 4 and comes back to face a depleted Lions secondary in Week 5. At 26 targets through three weeks, Matthews is the clear-cut No.1 receiver with Carson Wentz playing quality football as a rookie. If you can pry him away, he can provide you with high-end WR2 in PPR leagues going forward.

James White/Dion Lewis: When Tom Brady is on the field, the Patriots throw the football roughly 40 times a game. So goodbye to LeGarrette Blount and hello to the Patriotís receiving backs. The problem at this point is we could be only a few weeks away from Dion Lewis coming back. If you can land them both by free agency and trading then do so. James White will most likely win you a game or two and when Lewis gets back, he will assume duties in your fantasy playoffs.

Julian Edelman: Keep trying to buy while you still can. Edelman is a dynamic receiver, rusher, and punt returner that needs to be locked into your lineup from here on out. I went into detail last week so Iíll leave it at that.

Cam Newton: Newtonís injured. The Panthers are washed up. Perfect. Pounce now and thank me later. He was a buy-low candidate last week, and he remains one this week. The 2015 MVP of the league will regain his form soon.

I've pulled off five trades already, and I'm always looking to better my team. If you have trades you're interested in making or need advice, feel free to email me or tweet me as I love providing insight.

As always keep those conversations active and hopefully you can land some premier talent!


---
Follow me on twitter @ZeroRBJoe for any questions about trades, lineups, or anything fantasy football related.