Last Week's Question: Who are your top 5 rookie RBs for 2017?

Last week, I suggested that readers might have some fun predicting the order of finish for the top 5 rookie running backs of 2017. It was certainly fun for me to name Hunt as my top choice less than 24 hours before he electrified a national audience vs. New England. (Let's just forget about how hard I swallowed when his very first NFL carry was a fumble.) Some readers (like Steven) took me up on my challenge by emailing me a list of names without any commentary whatsoever:

1. Mixon
2. Hunt
3. Cook
4. McCaffrey
5. Fournette
That response can't have taken very long to generate (certainly not to type), and it's available to Steven to review at the end of the season. He'll be able to see how accurate his predictions were, whereas many people will simply find out who the top 5 rookies are at the end of the season and say to themselves, "That's pretty much what I expected." Really? In Week 17, will you honestly have a legitimate recollection of what you're expecting right now? Steven will.

Readers like Robert, however, elaborated on their rankings with a bit of commentary, which might help to show them where their prognosticative prowess holds up and where it breaks down as the season wears on:
Hunt was #1 for me in rookie RB rankings. Cook had a slight edge over McCaffrey not because of talent but because of his situation. Fournette is fourth because he's starting, but Foreman would take that spot if not for Miller, though I'd bet Foreman ends up the starter by midseason and will do very well. For now I think I have Jamaal Williams at 5 with Foreman very close behind him. I'm not touching Mixon unless Hill gets hurt.
That's funny because "I'm not touching Mixon unless Hill gets hurt" is what Marvin Lewis is rumored to repeat to himself throughout his daily yoga routine.

Mark took a different approach with his feedback. Since he was picking 12th out of 14 in a snake draft, he wasn't sure that any of the high-profile rookie RBs would still be available at the end of the third if he didn't snap one up with either of his first two picks. His sense of how rookies looked from this perspective is easy to understand:
I chose [not to reach for a rookie] and instead selected 2 studs in Murray and Elliott with my first 2 picks.

I really like Kareem Hunt, and he could likely outscore Elliott if he ends up serving a full 6-game suspension, but I gambled that itíll be 3-4 or maybe none. I chose not to reach on Fournette (foot scares me) McCaffrey (Stewart = TD vulture) or Mixon (timeshare), but I did come back in the 4th round and grab Cook as he represented great value there. WRs were way overvalued early, which allowed me to get a full stable of top end RBs. I took a home run swing on Chris Carson as my last pick since I see daylight there.

For the record, I think Cook in the 4th-round of a 14-team league is a steal. I took Cook in the 3rd round of a 12-team league after grabbing Shady and Zeke with my first two picks. I needed a receiver far more than a running back at that point, but the value I saw in Cook at the end of the third made him irresistible to me.
I also asked readers in dynasty leagues to comment on whether the spectacular rookie RB class of 2017 was having a noticeable impact on their drafts/auctions. Hugh's dynasty league had its rookie draft while there were still expectations of Latavius Murray being the star of the Minnesota running game, so the owners were apparently slow to move on Cook, but it's interesting to review the order in which the other rookies were taken (especially since Hugh provides insight into why various owners made the moves they made):
The FIL is a dynasty league . . . now in its 25th year. We model it as closely on the NFL as feasible. So we have a salary cap, an all-rookie draft, a free agent auction, various methods for keeping players (such as long-term contracts . . . and restricted players).

At the draft/auction this year the rookies were picked in this order: 1 Leonard Fournette, 2 Christian McCaffrey, 3 Kareem Hunt, 4 Evan Engram, 5 DeShone Kizer, 6 O.J. Howard, 7 Joe Mixon, 8 Deshaun Watson, 9 Cory Williams, 10 Jamaal Williams, 11 James Conner.

[Rationale for certain picks]

2 - McCaffrey (Natural pick by a Panther fan) He's an exciting and versatile player. He gonna play soon and likely improve with time and scheme. Sure he's a homer pick, but watching exciting players is half the reason we play.

3 - Hunt (My pick, best on board) Might not be the guy long term, but he's an Andy Reid RB. Need I say more?

10 Ė J. Williams (Champ's 2nd pick, Packer fan). A depth move. A great offense that could lead to a promising future. I see the Pack as an air-it-out team naturally, but they are best when balanced. Who knows, maybe he's the guy. (Not my pick for this list)

11 - Conner (We all know how valuable the back up in Pitt is). My choice in the second round of the draft. I see Bell as an obstruction sure, but how long before he gets hurt? Suspended? When does Big Ben get hurt, in trouble again? Whatever. The Pittsburgh offense is getting better through the air and taking loads of pressure off the back field. I think Conner could be the steal of the draft. I also think that he could skyrocket up the list and be the 1st or 2nd rookie rb overall at the end. Longshots are fun to call, and more fun to watch.

The point of Fantasy is to have fun and make as informed a decision as possible regarding the players you acquire. Thanks to you and all the gang at FFToday, I think my decisions are as informed as they can be. You guys are the best there is out there, from my point of view.
Thanks for the kind words, Hugh. And thanks for the detailed rationale behind various rookie picks in your league. (I'm sorry that in the interest of space, I had to abbreviate your list.)

I was also curious about the difference between redraft and dynasty leagues in a year with so much RB talent coming into the league. Don speaks to this point from extensive experience:
I am in exactly two leagues: a dynasty and a redraft. Both have been around for a while. My first draft with my dynasty was in í83 (redraft in í94).

In the redraft, this year was unique. Rarely is there more than one rookie RB that most owners consider a definite starter. We had Gurley and Elliot recently, but there were no others considered starters. This year, almost everyone thought Fournette, Cook, Hunt, McCaffery and Mixon, (which is the order I ranked them) were starters. My 3rd and 4th round picks were Cook and McCaffery with Fournette and Hunt already taken.

In my dynasty, I drafted Hunt with the 7th pick of 10. Fournette, McCaffery, Cook and Mixon were gone as expected. However, I was totally happy that Hunt fell to me. His Thursday night performance validates my expectations.

There was virtually no difference between the two drafts regarding the valuation of rookie RBs. Most years in the dynasty league, you draft rookie RBs as a stash (go for quantity; some have to work out). I got David Johnson in the 4th and Jordan Howard in the 3rd round of their rookie years. Fortunately, both started fast. However, that rarely happens. I canít recall a year like this with rookie RBs. Not even with the great rookie WR class of í15 did everyone expect them to start producing immediately. We [expected just that] with the í17 rookie RB class. Weíll be telling our children and co-workers about this draft for years. (None of them will want to hear about it).
I think Don's right about everythingófrom the idea that rookie RBs were coveted in dynasty and redraft leagues alike to the notion that no one is going to want to hear about how great the rookie RB class of 2017 was in twenty years. So that's all the more reason for us to appreciate this season as it unfolds.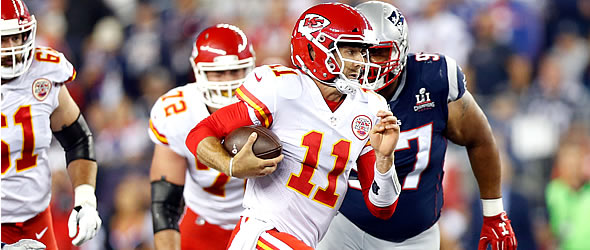 Alex Smith becomes a viable mid-round pick when you wait to have your draft after the season starts.




This Week's Question: Has your league ever drafted after the season was underway?



Do you know anyone in a single-QB league who took Alex Smith in the 8th round of their draft this year?

I do. My brother nabbed Smithónot because he expects to start him all season, but because he wanted the 50 points Smith had scored three days before my brother's draft, which always takes place on the morning of the first Sunday of the football season.

It's a great draft and a great ritual. Twelve guys gather for beer starting at 9 on Sunday morning and finish their draft just in time for the Sunday kickoff. In a lot of ways, it beats going to Vegas for a fantasy draft in early August and returning home with a case of blue balls for NFL action.

But the downside is there's always a Thursday night game three days before their draft, and everybody comes into the draft knowing what the Week 1 stats for a handful of players will be.

That definitely impacts the draft. Kareem Hunt, for example, was the 4th overall pickópartly because he looked fantastic on Thursday night, and partly because whoever drafted him was practically guaranteed a victory for Week 1.

My brother prides himself on waiting until the double-digit rounds for his QB, but the gaudy stats Smith put up on Thursday made him pounce. (He was also motivated to grab Smith because his opponent in Week 1 had already snapped up Mike Gillislee.)

For the record, no one in my brother's league complains about people getting points from players who participate in the Thursday night game. There are no problems or hurt feelings. The league members are grown-ups who understand that everyone gets to decide how much they want to factor a single game that's in the books into their valuation of a player whose productivity for the season is still unknown.

So maybe the way my brother's league handles drafting after the season is underway is the best way to do it. I can't say. But I figure a lot of people in the Houston area probably had to reschedule their drafts in the wake of Harvey. Some of them may have ended up drafting after the Thursday night game but before the Sunday kickoff. If you were in such a league, did you have any special rules about how to conduct the draft? If your league has ever had to postpone its draft until after the season began for any reason, did you handle the situation pretty much the same way my brother's league does? Please email me your answers (or post them in the comments below).

Survivor Pool Picks - Week 2 (Courtesy of Matthew Schiff)

Trap Game: Baltimore over Cleveland

Last week in the comments, a reader asked me to post my trap game record. Unfortunately, I haven't tracked that because there arenít always trap games all the way through the season. My guess is that I'm batting about .500 on these picks, but any reader who wants to comb through the FFToday archives and chart my success rate on trap picks over the years is welcome to do so.
The Browns played well in their first game this season and had Steelers fans a little worried in the first half. The Ravens were even more impressive, picking off Andy Dalton four times and limiting the Bengals to 221 yards. That Baltimore defense could make Week 2 unpleasant for DeShone Kizer, whose welcome to the NFL is likely to get bumpier before it gets better. Kizer gets another tough test and a chance at another upset, so I list this game as a cautionary tale, not as a prediction of an upset. Still, Baltimore is at home, coming off a shutout win over another divisional opponent. These kinds of circumstances often create a team mentality that results in a loss nobody saw coming.

#3: Tampa Bay over Chicago :(1-0, BUF)

The Buccaneers open their season at home this week against a surprising Bears team that almost stole a win vs. the NFC champion Falcons. Tarik Cohen outplayed Jordan Howard stat-wise, and the fantasy world is on edge to see who will emerge as the primary ball carrier. In Tampa, that honor will likely go to Doug Martinóbut not until Week 5 at the earliest, since Irma forced the Bucs into an early bye, which means that Martin's 3-week suspension will now last through Weeks 2, 3, & 4. Both rushing offenses are in flux, but these teams are going in completely different directions as far as receiving talent in concerned. The Bucs finished last season with Mike Evans as a star wide-out and added DeSean Jackson and O. J. Howard to Jameis Winston's arsenal, whereas the Bears cut ties with Alshon Jeffery and have already lost both Cameron Meredith and Kevin White to injury. Once the Bucs get the ball rolling (as they seem almost bound to), it seems highly unlikely that the Bears will ever catch up.

#2: Seattle over San Francisco :(0-1, NE)

The Seahawks played a great first half of football against the Packers, but they forgot to show up in the second half. If they do that against the 49ers this week, they might be in trouble again. However, itís more likely that Russell Wilson and company will settle down and get their first win of the season in their home opener. This game isnít about statistics; itís about division pride. Take the 12th man and the home team in this one. And if you arenít sold yet on the Raiders below, use this one instead.

#1: Oakland over NY Jets (1-0, ATL)

Beast Mode is back in the NFL after a year off, and the hometown faithful get to see him up close in the home opener against the hapless Jets. The Raiders went into Tennessee and beat a good Titans team, one that is expected to win the AFC South. This week, if they perform as expected, they should get their easiest win of the year. Compare the no-names on the roster of the Jets to the Whoís Who of the Raiders, and itís no contest. But on any given Sunday . . . nah, not this time. Breathe easy and take the men in black and silver.


---
Mike Davis has been writing about fantasy football since 1999--and playing video games even longer than that. His latest novel (concerning a gamer who gets trapped inside Nethack after eating too many shrooms) can be found here.