As in years past, I'll devote my July column to four skill players (1 QB, 1 RB, 1 WR, & 1 TE) whose current ADP is notably lower than I think it should be.

Before plunging into that analysis, however, I want to thank a reader named Rich for responding so thoughtfully to my June column concerning 2016 busts who are (or aren't) back on my 2017 radar. Rich reasonably wondered why I was so high on Cam Newton:

I'm curious why you think Cam still has the potential to be a monster this year when he's coming back from a significant shoulder injury. You don't think the coaching staff will dial down rushing and end zone TDs to preserve his body and career?
Newton had shoulder surgery in March, which is a reasonable cause for concern. He may be wrong (or simply lying) when he says that there's "no doubt" he will be back to 100% by the beginning of training camp (July 26). Nevertheless, I'm buying into the idea of a healthy Newton—if only because he's too important to the Panthers for them to have allowed him to put off the surgery until March if he was really incapable of recovering in time for the season. As for his red zone activity being limited by the coaching staff, I'm sure that's something the coaches will stress and that Newton will agree to in meetings, but when he's presented with the opportunity to scamper into the end zone or to give the ball to a teammate who is less likely to score with it than he is, he'll continue to be Superman.

I can't say whether Rich will buy that argument or not, but I'll admit that he gave me good reason to rethink my position on Doug Martin (whom I singled out as being "off" my radar in 2017):

I'm not sure I agree with your Martin assessment. First of all he's suspended for 3 games, not 4. Secondly, all the training reports are glowing that he's the best player on the team right now and the coaching staff appear to be all in on a resurgence year from the Muscle Hamster. They didn't let him go or bring anyone else in, so they appear to be dedicated to him being the starter once he's back on the field. Dougie Fresh lost all of his guaranteed money due to last year's suspension mishap and if there's one thing we know, the guy plays lights out when money is on the line—so this is essentially a contract year for him. Also the Bucs' offense appears poised to put up a lot of points this year. So the suspension might actually keep Martin's ADP depressed to make him a good buy this year.
I appreciate the correction on the number of games Martin will miss at the beginning of the season. That one week difference may seem trivial, but it has major fantasy implications. Suppose Jacquizz Rogers has a big week in relief of Martin in Week 1 and Charles Sims is surprisingly productive in Week 2. Under those circumstances, it's easy to imagine some Martin owners deciding that they can't stand to tie up a roster spot for two more weeks just to see how Martin does when he finally returns to the field, which is why it was so easy for me to imagine Martin being drafted high in some leagues and then cut and claimed off waivers before he even suits up for the season. I don't think that scenario is nearly as likely to play out with a 3-week suspension (if only because owners who would never panic with a record of 0-2 routinely panic with a record of 0-3). Rich's other points (concerning money and the possibility of depressed ADP) are also strong. Maybe I'll have to put Martin back on my radar after all.



And now for my undervalued skill players of 2017: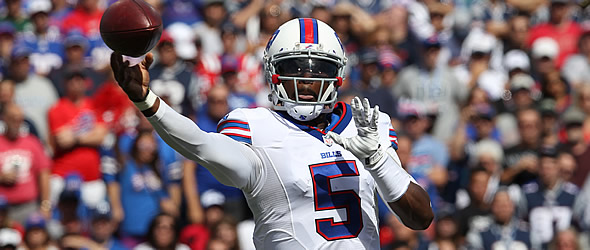 Undervalued: Tyrod Taylor is a perfect pick for drafters employing the late-round QB approach.


QB – Tyrod Taylor (Buffalo)

Taylor is deep in QB2 territory according to his ADP on the FFToday tracker—taken as the 18th QB overall (at the end of the 11th round in 12-team drafts). Despite finishing 2016 as a top-10 fantasy QB in some scoring systems, he seems to be going so late for two main reasons. The first cause for concern is how weirdly indecisive the Bills were in their commitment to Taylor during the off-season, but that kerfuffle will soon be forgotten, especially since it's pretty far-fetched to imagine any of his understudies (Cardale Jones, T.J. Yates, or Nathan Peterman) challenging him for the starting job at any point in 2017. The other knock on Taylor is that he doesn't have a whole lot of talent around him, which is only true for those who underestimate LeSean McCoy and/or those who assume that Sammy Watkins will miss most of the season with injuries (as in the past). If you're down on Shady, then we simply disagree. And as for Watkins, I've written before that every time he goes up for a ball, he seems to come down in the end zone—and in need of a splint. So I understand the reluctance people have to buy into a healthy Watkins, but I'm optimistic about Watkins playing at a high level in at least 12 games in 2017. Apart from imagining McCoy and Watkins as a poor man's Le'Veon Bell and Antonio Brown, I can't help salivating over all the rushing yardage it's reasonable to expect from Taylor, who finished 2016 with 580 rushing yards (including 6 scores).

RB – Jonathan Stewart (Carolina)

Stewart's ADP is currently 9.04 on the FFToday tracker—between Matt Forte and Thomas Rawls. Since Doug Orth writes for FFToday, I'm just gonna straight up steal his keen insight into Stewart:

Stewart has become an insane value pick in the ninth (standard) and 10th (PPR) rounds, largely because early drafters seem to believe McCaffrey will be the clear starter right away and do-it-all back for Carolina. While McCaffrey is the future and the centerpiece of the Panthers' new offense, Stewart isn't going to go away after signing an extension in March. Owners should be thrilled to land him as an RB4 as a player capable of 200 carries yet again and 8-10 touchdowns.
Aging veterans aren't exciting (especially at the RB position), so I understand the hype about a rookie like McCaffrey, who seems like a breath of fresh air in a stagnant Panther offense. But don't lose sight of Stewart's consistency. He has only missed more than 3 games twice in his 9-year career, and in every season in which he has played at least 13 games, he has racked up at least 873 rushing and receiving yards—even when he was splitting time with DeAngelo Williams. So if you don't think he should go earlier than the 9th round, then it better be because you expect an injury—not because of McCaffrey.

WR – Jeremy Maclin (Baltimore)

Maclin is going at the end of the 8th round according to the FFToday tracker—between Randall Cobb and Pierre Garcon. Since the Ravens have thrown the ball more than any other NFL team for the past two years, it's surprising to see so little enthusiasm for Maclin. His lackluster performance in 2016 (a season cut short by injury) apparently looms large enough in the minds of owners to have eclipsed all recollection of who Maclin was in 2014 and 2015, when he had well over 100 targets per season on two different teams. In fact, if we discount 2016 as an aberration (which it was), Maclin has averaged well over 100 targets per season for his entire NFL career. And don't forget that in his first year in Kansas City, he turned those targets into more than 1,000 receiving yards and 8 TDs—with Alex Smith throwing him the ball. It's reasonable to worry that Maclin may lose some targets in Baltimore to Mike Wallace and Breshad Perriman, but that shouldn't be a deal breaker since there will probably be more targets to go around in Baltimore than anywhere else in the league. According to the FFToday tracker, the highest Maclin has ever been taken is at the beginning of the 6th round, which is still great value for him in my opinion.

TE – Eric Ebron (Detroit)

Ebron's ADP is 13.05 according to the FFToday tracker—making him the 15th most coveted TE, between Julius Thomas and David Njoku. Many FFers had high expectations for Ebron in 2016, and his current ADP reflects how disappointing he was last year. Ebron racked up 711 receiving yards last season, which is fine for a tight end, but he had just one TD—which isn't fine. Red zone production is what sets valuable fantasy TEs apart from the crowd, and Matthew Stafford was plainly more comfortable targeting Anquan Boldin (a savvy veteran receiver) than Ebron in the end zone. However, between Boldin's departure and Ebron's turning 25 (the age at which "Jimmy Graham, Jordan Reed, Julius Thomas, and Vernon Davis all broke out," as Andrew Swanson observes), it really does make sense to expect Ebron to deliver the kind of productivity in 2017 that most of us expected from him in 2016. I see Ebron finishing not just as a TE1, but in the top 8 at his position. I'll be delighted if I can still get him in the 13th round at the end of August.



Your Feedback



So which players do you consider undervalued in 2017? Feel free to post comments directly below this column or to email me your thoughts. And if you think I've missed the mark with any of the picks listed above, please let me know why. I'll feature the most insightful feedback in my column for August.



---
Mike Davis has been writing about fantasy football since 1999--and playing video games even longer than that. His latest novel (concerning a gamer who gets trapped inside Nethack after eating too many shrooms) can be found here.