Everyone acknowledges that Todd Gurley was a bust in 2016. But what about Jamaal Charles? Some folks think Charles gets a pass because of injury.

By that logic, Rob Gronkowski should be exempt from the bust label because of his injuries (hamstring, chest, back).

But Gronkowski was definitely a bust.

If you owned Gronk last season, it's probably because you nabbed him in the first round (or at an auction premium). You're not interested in notes from Gronk's doctor. You think of him as a bust because he's a busted spot on your roster—a spot where you paid far too much for far too little.

So let's dispense with the health vs. injury distinction when it comes to busts. If you say Gurley was a bust and Charles wasn't, it's probably because Gurley was going in the middle of the first round in 2016 drafts, whereas Charles was going in the beginning of the third. It's easy to recover from a risky third-round pick with high upside. It's hard to overcome a first-rounder who fails to reach even his presumed floor value.

For the purposes of this article, any player taken in the first two rounds who drastically underperformed expectations in 2016 (e.g. DeAndre Hopkins) qualifies as a bust. Quarterbacks and tight ends tend to go later, so a better formula for those positions is probably any top 5 consensus QB/TE who failed to finish the season in the top 10 (e.g. Cam Newton). Players taken later can also qualify. Even though Randall Cobb wasn't an early pick, he was a bust because he finished the season behind 56 receivers (in terms of average points/game) despite ranking as the 19th WR according to ADP.

But instead of compiling a comprehensive list of busts in 2016, it's better to figure out which of the 2016 busts are likely to rebound in 2017 and which ones seem poised to falter yet again.

Accordingly, this article will examine two 2016 busts at each of the four major offensive skill positions and explain why one is on my fantasy radar for 2017 and the other . . . not so much.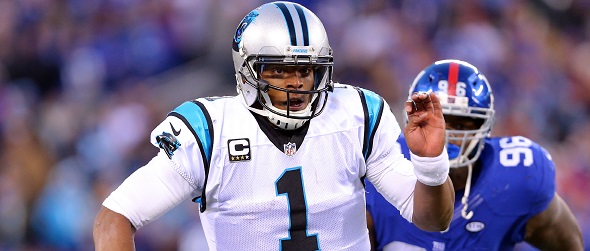 I'll be urging you to snap up Cam Newton if you can get him at his current ADP in the 6th or 7th round.


2016 QB Busts: Cam Newton (on my 2017 radar) & Russell Wilson (not so much)

Cam Newton's ADP was sky-high last year (17th overall, 1st among QBs), but he finished the season as a mid-QB2. Unsurprisingly, Newton's ADP has plunged in 2017—all the way down to the end of the sixth round.

If that trend holds through August, Newton will definitely be back on my radar. It's anybody's guess whether promising rookies like Christian McCaffrey (RB) and Curtis Samuel (WR) can have a major impact on the Carolina offense, but we don't have to guess about whether Newton can be a monster even without a strong supporting cast. Newton's most important weapon in 2015 (his career year) was Greg Olsen. He still has Olsen. Even if McCaffrey and Samuel don't take the Carolina offense to the next level, Newton can get it there all by himself. I urged readers to steer clear of Newton in 2016 because he was overpriced, but I'll be urging them to snap him up in 2017 if they can get him in the sixth or seventh round.

Russell Wilson's overall ADP (34th) was much lower than Newton's in 2016, but he was still a popular choice in drafts (usually 3rd among QBs). Despite injuries, Wilson still managed to scratch out a spot as a low-end QB1 in 2016. Even so, most of his owners felt they paid too steep a price for him.

They won't have to pay that much this year. Wilson is currently the 8th-ranked QB by ADP, going near the end of the seventh round in early summer drafts. So even though he outperformed Newton last year, he's cheaper than Newton this year. That's probably because 2016 revealed how suspect the Seattle running game is in the absence of Marshawn Lynch. It's true that Wilson held the Seahawk offense together in the second half of 2015 after losing Lynch to injury, but Seattle's anemic rushing attack in 2016 plainly impacted the QB position, as Wilson threw more interceptions than ever before (11) and scored a career-low 22 TDs (passing and rushing). Maybe Eddie Lacy can help take some pressure off Wilson, but I'll have to see it to believe it. Until then, Wilson is off my radar because I've only seen him post gaudy numbers with Lynch in the backfield.

2016 RB Busts: Lamar Miller (on my 2017 radar) & Doug Martin (not so much)

The obvious choices here are Adrian Peterson and Todd Gurley because that part of the article writes itself. Readers don't even have to be reminded that Peterson has moved to a crowded backfield in New Orleans or that Gurley, thanks to the arrival of Sean McVay in Los Angeles, has finally escaped Jeff Fisher's one-dimensional approach to offense. You can ignore all of that and focus on Peterson's age and Gurley's youth to know which one should be back on your radar and which one shouldn't. But instead of belaboring the obvious, let's examine a more interesting pair of RB busts from 2016.

Miller was the 6th most coveted running back in 2016 (and the 16th most coveted player), but he finished the season as a low-end RB2 (behind Frank Gore, Isaiah Crowell, and Carlos Hyde). He's back on my radar in 2017 not because his situation has improved (it hasn't), but because his ADP has tumbled to the bottom of the second round in 2017. I don't know how good rookie QB Deshaun Watson can be for the Texans (or even how much he'll play), but if we learned anything from Houston's quarterback carousel in 2015 and the Brock Osweiler experiment of 2016, it's that any human being on the planet not named Osweiler can competently manage the Houston offense. Sure, Miller may lose some playing time to rookie D'Onta Foreman (a third rounder), but Miller was most productive in Miami when he split time with other backs; maybe he'll improve in Houston if Foreman spells him from time to time.

Doug Martin was the 11th RB off the board in most leagues last year and the 31st player taken overall. But he spent all his energy telling people not to call him "the Muscle Hamster," which plainly left him tired during games. He finished the season behind 51 other RBs, including teammate Jacquizz Rodgers. Worse yet, thanks to a looming 4-week suspension, Martin will presumably fall behind Charles Sims (yet another member of the crowded Tampa backfield) in early 2017. No thanks.

2016 WR Busts: DeAndre Hopkins (on my 2017 radar) & Allen Robinson (not so much)

DeAndre Hopkins was a consensus top 5 WR going into the 2016 season, taken 11th overall on average. He finished the year as a low-end WR3—with fewer yards than Kenny Britt, DeSean Jackson, and Pierre Garcon. I blame the poor play of his quarterback. In 2015, Hopkins went through seven QBs and found a way to be productive with every single one of them (including Ryan Mallett, for crying out loud). In 2016, that changed. Hopkins finished shy of 1000 receiving yards with only 4 TDs—such a decline from his 2015 numbers (1521 yards and 11 TDs) that he is currently being drafted in the early third round as the twelfth WR off the board. At that price, Hopkins has my attention. So what if the QB situation in Houston is a murky tossup between an injury-prone backup (Tom Savage) and a rookie (Watson)? It was even murkier in 2015, and Hopkins was fine—better than fine.

Allen Robinson was the 6th receiver drafted in most leagues last season and the 15th player taken overall. He finished 2016 as a high-end WR3 (883 yards and 6 TDs). Although he cost less than Hopkins and delivered roughly the same value, he's being drafted even later (end of the third round) than Hopkins so far in 2017. That may seem weird, but the situation in Jacksonville is even more off-putting than the situation in Houston. The return of Tom Coughlin (the inaugural head coach in Jacksonville, now in the front office) and the drafting of RB Leonard Fournette suggest that the Jaguars intend to redefine themselves as a running team (perhaps resembling the Jaguars of old, when Coughlin was coaching and Fred Taylor was fragiling). The Jaguars have also rededicated themselves to defense, which should result in less garbage time play, which translates to reduced opportunities for Robinson to catch TDs from Bortles after cornerbacks have grown tired of picking off the ball. Robinson is a lot like Hopkins in that he had a stellar 2015 followed by a lackluster 2016. The difference is that 2017 could be a repeat of 2015 for Hopkins (if only because anything seems possible in Houston), whereas nothing about Jacksonville's offseason suggests that Robinson's situation will be any better this year than it was last year.

2016 TE Busts: Rob Gronkowski (on my 2017 radar) & Tyler Eifert (not so much)

Gronkowski was far and away the most desirable TE last summer—routinely going at the end of the first round or the beginning of the second. He finished the season on IR with only eight games played. His overall value has plainly taken a hit, as he now lasts deep into round 2. Nevertheless, he remains the consensus No.1 TE in fantasy—with good reason. He has accounted for more than one-fifth of the Patriots' receiving yardage over the past five years, and he's surrounded by talent (including a legendary head coach, a Hall of Fame QB, and a receiving corps that just added Brandin Cooks' speed to Julian Edelman's reliability). People call Gronk injury prone because he has missed 19 games over the past five years, but that's overblown. In fact, he has played in at least 15 of 16 regular season games four times in his seven-year career and has played fewer than 10 games only twice. With Martellus Bennett shipped off to Green Bay and a speedster like Cooks able to stretch the field, Gronk is even more attractive to me in 2017 than he was in 2016. I don't care how badly he burned you last year. He's on my radar.

Tyler Eifert was one of many TEs who disappointed in 2016 thanks to injury. He was generally the 7th TE taken, which meant that owners could wait until the middle of the 8th round to grab him. He cost far less than Gronk (who finished the season with 540 yards & 3 TDs) but returned almost as much value (394 yards & 5 TDs). So why don't I like Eifert more and Gronk less? Partly it's the sense I have that Gronk will start the 2017 season but that Eifert won't. But even if they're both healthy in Week 1, I still consider Eifert far more injury prone than his peer in New England. Eifert has been on the Bengals' roster for four years—long enough to have played 64 regular season games. He's played 37. In other words, he's missed more games in four years than Gronk has in seven, which should serve as a reminder that there are different degrees of being injury prone. So far in 2017, Eifert tends to be the 6th TE taken (ahead of Delanie Walker, Martellus Bennett, and Hunter Henry). But I'm so put off by his injury history that I would rather wait a round and settle for whichever of those three fell to me.



Your Thoughts



Who do you think should be on my radar that I didn't mention? Which of the off-my-radar players do you think I'm wrong about? What about Eddie Lacy and Alshon Jeffery? Are they on your 2017 radar or not? Please send me your thoughts, corrections, and quibbles. I'll include the most interesting responses in my column for July.


---
Mike Davis has been writing about fantasy football since 1999--and playing video games even longer than that. His latest novel (concerning a gamer who gets trapped inside Nethack after eating too many shrooms) can be found here.