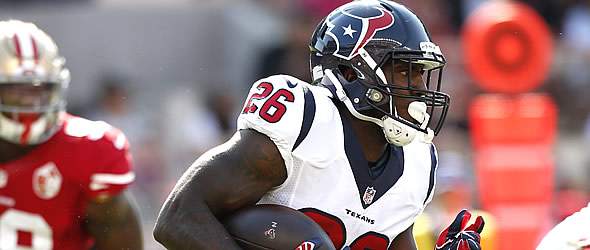 After a mildly disappointing fantasy season, Miller's ADP has dropped from 1.08 (RB5) to 2.12 (RB13).
QB Tom Savage
(2016 QB Rank – 46, 8.1 FPts/G)
The Texans believed they had solved their quarterback issues when they traded for Brock Osweiler and gave him a big pile of money after the 2015 season. Unfortunately, Osweiler wasn't up to the task as the Texans became one of four teams to finish last season averaging less than 200 yards of passing offense despite averaging over 36 passing attempts per game. Houston jettisoned Osweiler and now enter the year with Tom Savage leading the charge. A former fourth round draft choice by the Texans in 2014, Savage has played in a total of five games during his brief career. He hasn't done anything to make fantasy owners believe he will magically transform the offense into a high scoring unit but there are enough weapons around him to allow fantasy managers to use him as a matchup dependent fill in throughout the bye weeks. Houston is hoping Savage will do enough to keep the job but his leash won't be too long with highly touted rookie Deshaun Watson waiting to take over as the quarterback of the future.
QB Deshaun Watson
(2016 QB Rank – N/A)
Houston fans and fantasy owners alike haven't had a reason to get excited over a Texans quarterback since they were named an expansion franchise back in 2002. Watson oozes potential as a runner and passer but it won't come without some growing pains. He threw 17 interceptions in his final season at Clemson and more than a few talent evaluators have described him as a player that tries to do "too much" on a given play. That might not be a bad thing considering Watson's ability to extend plays, gain yards on the ground and DeAndre Hopkins' freakish ability to turn bad passes into touchdowns. The Texans simply need more from their quarterback, which is why they selected him with the 12th pick in the 2017 draft. Houston isn't expected to use a funky two-quarterback system so fantasy owners shouldn't expect to see the him until the second half of the season.
That doesn't mean he can't be valuable in redraft leagues. In the six games between Week 9 and Week 14, the Texans have four favorable matchups for fantasy quarterbacks (IND, @BAL, @TEN, SF). Consequently, Watson may be worth the gamble for those owners needing more from their quarterback position as they push for the playoffs.
RB Lamar Miller
(2016 RB Rank – 18, 11.6 FPts/G)
Lamar Miller's signing prior to last season had many fantasy owners thinking the next coming of Arian Foster awaited them. Although the workload fulfilled those expectations the production lagged far behind as Miller barely rushed for 1,000 yards on his 268 carries. The good news is that the team's offensive scheme will continue to lean heavily on the ground game and Miller is the clear front runner for carries. The team may decide to reduce Miller's workload, but fantasy owners should still be able to count on RB1 level upside. The fact that Miller carried a 4.0 YPC in a year where he consistently faced stacked boxes should give fantasy owners enough confidence in making him a high selection once again this year. Whether Miller returns RB1 or RB2 production will be a result of his ability to find pay dirt. Last season he found the end zone only five times on 15 carries inside the ten-yard line. The year before he scored five touchdowns on eleven similar attempts with the Dolphins. The team could easily look for other options on the ground or via the pass should they ultimately decide Miller isn't getting the job done when they need it most. Though his job security and work in the passing game offsets some of the scoring deficiencies, a lack of touchdown potential makes him a risky bet if drafted to be your squad's top running back in 2017.
RB D'Onta Foreman
(2016 RB Rank - N/A)
When the Texans drafted D'Onta Foreman in the third round of the 2017 draft, they had hoped they might have found a solid between the tackles runner ideally suited for HC Bill O'Brien's offense. Foreman's skills could help him earn short yardage duties where he could become a touchdown vulture. Unfortunately, Foreman has failed to impress the coaching staff. Poor conditioning and off the field allegations of drug related matters have not made it easy for the youngster. At this point, he is likely behind Alfred Blue in the pecking order but he could still work his way into the number two spot by the time the season opens. Expect him to be worked into the offense slowly and be the favorite to see carries should Miller miss any time with injury during the year.
RB Alfred Blue
(2016 RB Rank – 84, 3.7 FPts/G)
Houston's backup running back for a few years now, Alfred Blue's days with the team seem numbered. A free agent after the season, Blue will battle Akeem Hunt and D'Onta Foreman for a share of the backup duties in Houston. Blue's experience will surely help his cause but the door is open should one of the other backs impress during the preseason. The team will want to give Lamar Miller more rest after he wore down a year ago so fantasy owners will want to keep tabs on this situation throughout the preseason.
Tyler Ervin will be used primarily on special teams. His role in the offense will be too limited for him to make much of a fantasy splash. Akeem Hunt will need to outplay Blue and Ervin to retain a roster spot. Hunt has done well in small doses during his first two seasons with Houston, however but he lacks the size of Foreman and Blue and doesn't offer as much upside on special teams as Ervin. Needless to say, things are crowded behind Miller and fantasy owners will need to wait until deep into the preseason to see how things finally shake out.
WR DeAndre Hopkins
(2016 WR Rank – 46, 7.5 FPts/G)
Perhaps no other player was hurt more by the Texans' poor quarterback play last season than DeAndre Hopkins. Last year, the team seemed more concerned with eating as much clock as it could rather than utilizing Hopkins' play making abilities to muster up something worthy of a highlight reel or fantasy points for that matter. The only games in which Hopkins reached double digit fantasy points were the four games he found the end zone, making him a fantasy bust last season. The good news for fantasy owners in 2017 is that if Tom Savage can't get the ball to Hopkins, then Deshaun Watson will see the field sooner rather than later. The team isn't going to let their superstar wideout decay as their quarterback repeatedly flounders over the entire fantasy campaign.
Barring an injury, the twenty-five-year-old receiver is a lock for 150 targets. His hands are good enough to catch 100 passes in any given year and his down field attributes give him elite yardage potential as well. Tom Savage's only hope at remaining the starter this season lies with his ability to get Hopkins the ball and Watson's scrambling ability will force defenses to cover Hopkins even longer. Hopkins might not reach his true potential in 2017, but both situations point to a borderline WR1 that is currently being drafted in the third round.
WR Will Fuller
(2016 WR Rank – 75, 5.4 FPts/G)
Will Fuller's 2016 rookie campaign started with a bang and ended with a resounding thud. After storming out to three double digit fantasy games over the first month, Fuller couldn't get off the sinking ship that was the Texans passing attack. He failed to score more than six fantasy points in a single game the rest of the way. As a starter playing opposite of a player frequently getting double teamed, Fuller should take a step forward in his second pro season. Known for being an excellent route runner and having great speed, Fuller needs to work on catching the football. Five drops and a catch rate of 51-percent do not instill much confidence in quarterbacks. Fantasy owners should be very cautious about how big of a step Fuller can take within the current offensive system. The passing game should be improved but the coaching staff isn't about to let Tom Savage or Desahun Watson throw the ball all over the field with a top-rated defense keeping the team in games. As a result, he is best valued less as a potential breakout player and more as a WR 4/5 in 12+ team leagues.
Update 8/2/17: Fuller broke his collarbone and is expected to miss 2-3 months. He will go undrafted in most redraft leagues but could be valuable waiver wire pickup in-season.
WR Braxton Miller
(2016 WR Rank – 159, 1.8 FPts/G)
Houston doesn't have much depth at receiver and the two guys fighting for the third and fourth spots have yet to get through a full season healthy. Braxton Miller should have the edge in this battle as the more consistent overall player and will likely spend most of his time in the slot. Meanwhile, Jaelen Strong is working his way back from minor ankle surgery and should take on a bigger workload early in the season while Will Fuller (collarbone) is out with an injury. Houston isn't going to use many three or four receiver sets this year so is difficult to get excited about anyone in this group outside of DeAndre Hopkins.
TE C.J. Fiedorowicz
(2016 TE Rank – 26, 5.3 FPts/G)
After Week 3 of 2016, C.J. Fiedorowicz racked up at least six targets in all but two games to close out the regular season. By seasons end he was ranked in the top ten for targets at his position. With two inexperienced quarterbacks atop the depth chart, Fiedorowicz should continue to see more passes than the average tight end. If the team has better luck moving the ball this season, the six-foot six-inch Fiedorowicz should see an improvement on his four touchdowns from last year, yet a late season concussion gives him added risk heading into 2017. Slight improvements on his first year as the starter should make him a viable option in two-TE formats.