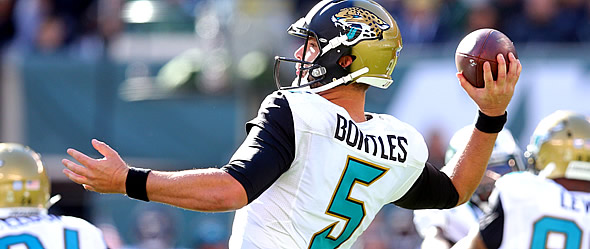 Blake Bortles needs to be more efficient with fewer opportunities in order to crack the top 10 in 2017.
QB Blake Bortles
(2016 QB Rank – No.12, 21.3 FPts/G)
The Jaguars were one of seven teams to throw the ball over 600 times last year but Bortles' fantasy production didn't produce the same results as his epic 2015 campaign. The lack of production on offense led to a decrease of 3.6 points per game from 2015 to 2016 and the eventual firing of Gus Bradley before the conclusion of the regular season. As a result, HC Doug Marrone and OC Nathaniel Hackett will bring a hybrid Air Coryell system to Florida. Marrone is better known for making running backs into quality fantasy starters but Bortles is better than previous signal callers working in this scheme. The good news for those hoping Bortles flourishes under Marrone is that the offense has enough weapons to make Bortles a top-five fantasy QB. The bad news is most of the offense hasn't played in this scheme and they are highly motivated to run the ball this year. A more effective running game led by rookie Leonard Fournette will help Bortles, but it may cut into his passing attempts. Fewer attempts for a quarterback that has yet to attain a completion percentage of 60-percent makes it tougher to predict a career year and more likely that his numbers suffer slightly. Keep expectations for Bortles more in line with a fringe fantasy starter that will likely be better as the season progresses.
RB Leonard Fournette
(2016 RB Rank – N/A)
The hype surrounding Leonard Fournette in fantasy circles seems to grow by the minute. Few players possess the size, speed and power and the early comparisons to players such as Adrian Peterson and Fred Taylor have created lofty expectations. The success of Ezekiel Elliott last year shows just how valuable an all purpose power back can be in a fantasy landscape riddled with RBBCs. Competition for carries comes in the form of the team's two most recent attempts at finding a lead rusher, Chris Ivory and T.J. Yeldon. While both players will have a role in the offense, neither will prevent Fournette from ascending to the top of the depth chart sooner rather than later. Not known for his receiving skills, Jacksonville's rookie horse has received passing grades on his hands during OTAs. Forecasting a few receptions into his early projections makes the former LSU Tiger an appealing fantasy running back with rare double-digit touchdown potential. Early drafters may be able to snatch him up in the middle of the second round but his value may climb to late first round status if he performs well in the preseason.
RB Chris Ivory
(2016 RB Rank No.49 – 7.3 FPts/G)
Chris Ivory was brought in to be the answer to Jacksonville's rushing attack but durability issues and ineffectiveness led to his lowest total touches since injuries limited him to six games in 2013. Jacksonville gave him the rock at least 15 times in only two of his eleven games played in 2016 and the addition of Leonard Fournette is telling of the team's confidence in Ivory moving forward. Ivory gets the job done when healthy so there is a chance he starts the year splitting carries with Fournette. However, it is more likely that Ivory serves as a caddie to Fournette and sees his touches per game dwindle into single digit territory. Unless an injury or off-the-field issue with Fournette occurs, Ivory is probably not worth owning in all but the deepest leagues.
RB T.J. Yeldon
(2016 RB Rank – No.65, 6.0 FPts/G)
It wasn't long ago when T.J. Yeldon was inspiring optimism on a Jacksonville team that hadn't had much success since the departure of Maurice Jones-Drew. The Jags relegated Yeldon to being a passing down specialist in 2016 where he reached the 50-catch plateau on only 68 targets. Yeldon has failed to impress near the goal and offers little touchdown upside. The new coaching staff will certainly put his receiving skills to work again this season but he will have a tough time reaching the century mark in carries now that he has moved further down the depth chart. Chris Ivory's injury history could create more touches for Yeldon during the regular season but that doesn't guarantee that he will see more carries if Fournette is getting the job done. As a result, Yeldon's fantasy value coming into his third year has been reduced to deeper PPR leagues.
WR Allen Robinson
(2016 WR Rank – No.41, 7.8 FPts/G)
Ouch. Allen Robinson hit the ground with a loud thud in 2016. After being a consensus top ten receiver at the outset of the year, fantasy owners were given a modicum of fantasy points for a player with Robinson's stature. A rebound is very likely and fantasy players should be lining up for the discount when draft day approaches. The targets were nearly identical and there is no reason to suspect the passing game will suddenly start throwing the ball to their top receiver less in the new offense. Secondly, even though touchdowns can fluctuate from year to year, the six Robinson snared a year ago are the result of the team underperforming and not Robinson's ability. Robinson offers elite targets and touchdown potential in an offense that should yield high yardage totals once everyone is on the same page. Fantasy owners shouldn't expect him to reach 2015 levels but he won't need to hit those numbers in order for fantasy owners to return a profit at his current third round price tag.
WR Allen Hurns
(2016 WR Rank – No.68, 6.0 FPts/G)
Allen Hurns continues to make fantasy owners second guess themselves as the former Miami University alumnus prepares for his fourth year as a pro. He dealt with hamstring injuries throughout much of the 2016 regular season which opened the door for a training camp battle with Marqise Lee to be the starter opposite Allen Robinson. If Hurns can prove himself healthy - where he has bulked up in hopes of preventing injury - he has a good shot of beating out Lee and being a quality fantasy contributor in 2017. Furthermore, Hurns hasn't been able to prove he can be an above average fantasy asset outside of the season in which the Jags were so bad they had no choice but to throw the ball the entire second half. Hurns has the talent to be a sure-handed possession type receiver on a team that sorely needs one. He won't be confused for Isaac Bruce anytime soon but he could settle into a similar role yielding WR4 type value late in drafts.
WR Marqise Lee
(2016 WR Rank – No.56, 6.7 FPts/G)
Marqise Lee finally proved himself to be fantasy worthy in 2016 when the Jags were forced to give him an opportunity due to Allen Hurns' hamstring woes. Over 100 targets and 13.5 yards per catch later and he will still enter camp having to win a starting gig. Lee has enough upside to be a weekly flex option in twelve team leagues but his floor extends to being a waiver wire hermit. Lee's role in the return game should diminish with rookies Dede Westbrook and Jalen Myrick possessing the speed and quickness to get the hob done. That will free up Lee to spend more time working with Bortles in the passing game. The former Trojan has done what is expected of him in OTAs and his value is on the rise. For those owners in deeper leagues with a strong group of receivers, Lee is a late-round option that could easily turn a profit in 2017 if the Jags' offense takes a step forward.
TE Mychal Rivera
(2016 TE Rank – No.64, 2.3 FPts/G)
Jacksonville tried to give fantasy owners a useful tight end but Julius Thomas struggled to stay on the field and the team moved on by giving him away to Miami for a seventh round draft pick. The truth is that Blake Bortles hasn't been successful in getting the tight end involved in the offense. As a result, expectations for Rivera remain low despite the fact that he is moving back into starting role after being displaced by Clive Walford in Oakland. Rivera looks like your average tight end that should fill in nicely with what the Jags want to do but he is just another body in the deep tight end pool for fantasy owners. Marcedes Lewis is still around too. The 33-year old Lewis figures to split time with Rivera which would make both tight ends virtually unusable to fantasy owners.