If you follow the NFL's pre-season, you know that Week 1 is the most difficult week to gain perspective from. Nevertheless, it is the first time we've seen players in action in seven months and as such, it is not to be ignored. Some star players barely saw the field this weekend but we aren't looking solely at the stars…we need sleeper information as well. So, let's look at both ends of the spectrum now that the first week of exhibition games is in the books.



1. Mixon and Cook will Rise up Draft Boards



It was nice to get to see both Joe Mixon and Dalvin Cook play for the first time in NFL gear and both demonstrated some encouraging traits from a fantasy perspective. Cook wasn't a big difference maker running the ball, but his body of work did include 4 catches for 30 yards. With Bishop Sankey now out for the season (torn ACL), Cook will get little to no competition for work on third downs and with Sam Bradford being known as a check-down quarterback, the possibility of 60-90 receptions for Cook looks reasonable.

Meanwhile, Mixon showed burst on a 13-yard run and also factored in the passing game. He has more competition for carries than Cook does, but he also has teammates who can stretch the field to keep opposing defenses honest. Bottom line: With Leonard Fournette nursing an injury and looking fairly pedestrian this past weekend, Mixon and Cook may end up being safer, more productive rookie options.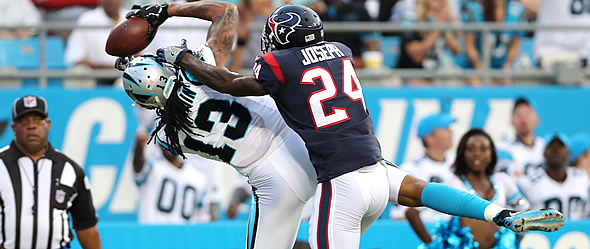 Kelvin Benjamin's impressive performance should help push his average draft position into early Rd 5.




2. It's All About the Benjamins



It was only one series, but it was against first-team defensive players and Kelvin Benjamin was magnificent. While not known for his speed, Benjamin is a huge target and knows how to use that size to ward off defenders. Last year's numbers (63-941-7) were a slight dip from his promising rookie season, but he was also coming off an injury that cost him the entire 2015 season. The three catches (one for a TD) on his opening drive vs. Houston should serve as a wake-up call. He's being drafted too late (ADP 5.11). He belongs with players like Davante Adams and Keenan Allen - not DeSean Jackson and Donte Moncrief.

As for the "other" Benjamin, Travis Benjamin showed he's still lightning fast hauling in a 74-yard TD vs. Seattle. Travis is a poor man's DeSean Jackson to be sure (few receptions, high YPC), but he's worth a look late in drafts in non-PPR leagues.



3. Starting Quarterbacks Don't Look Sharp in Early August



Last season, we noted that Matt Ryan looked downright awful in his first action in six months. He went on to win the NFL's MVP Award. Likewise this season, a couple veteran quarterbacks threw interceptions right off the bat this past weekend - namely Matthew Stafford and Andy Dalton. Don't panic. In fact, don't adjust your rankings at all. I'm not saying either guy is an ideal starter for your fantasy team, but Stafford is certainly a borderline starter and a fantastic backup at worst. Often times, quarterbacks are working with a host of new receivers in pre-season and it's not prudent to hold them accountable for a small sample size of work. If both or other starting QBs look sluggish in three consecutive weeks of action, we can begin drawing conclusions.



4. But, Do Pay Attention to This…



I'm talking about fumbles. Samaje Perine put the ball on the ground in his first ever pre-season game and that's a no-no when you're trying to earn playing time. Other guys who couldn't hang on to the pigskin were Ty Montgomery (GB) and Robert Woods (LAR). Too much is made of every little thing we see during the pre-season to be sure, but coaches hate fumbles as much as anything. Perine's miscue is particularly alarming and while the trend is to warm up to rookies as draft day approaches, I think expectations for him should be tempered.

5. Backfield Questions Abound In Seattle

Why was Eddie Lacy brought to Seattle? Conventional wisdom initially was he was brought to the northwest to be the Seahawks' new feature back. But, what if his primary purpose was to push Thomas Rawls? I'm not saying I know exactly what the Seattle brass was thinking, but I know Thomas Rawls started the game for Seattle this past weekend, not Lacy. Reports on Rawls suggest he is definitely carving out a role as the season begins, but no one is certain how big. Also, C.J. Prosise is the "man" on third downs and Seattle's offensive line is still one of the league's worst. Bottom line: Don't over-spend on Lacy at your draft. Too much risk still exists.



6. If You Take Tom, You Should Take Jimmy, Too



Tom Brady is typically either the second or third quarterback being drafted in re-draft leagues. Some might even take him before Aaron Rodgers based on the new weapons (Brandin Cooks) at his disposal. And, no one would fault you for drafting the guy many feel is the game's best quarterback of all-time. But, if you do draft Brady, Jimmy Garoppolo is a must-draft as well. Garoppolo's 22-28-235 stat line to go along with two touchdown passes once again emphatically calls for his selection as a handcuff to Brady. Normally, the word handcuff in fantasy circles is reserved for running backs, but this is the exception. I guarantee you if Brady was to go down in the regular season, you wouldn't find anyone on the waiver wire comparable to Garoppolo's fantasy ceiling. If you're going to get one, get both.



7. Initial Signs Suggest The Texans may be Able to Move the Ball



DeShaun Watson's much anticipated debut for the Texans was uneven, but he did throw for 179 yards and ran for a touchdown. His 60% completion percentage on 25 throws wasn't too bad for a rookie considering he averaged 12 yards a completion. The dual threat that Watson possesses makes him a great late stash in drafts. If he were to win the job at some point, he would be able to get you points in a variety of ways. As for his competition, Tom Savage did complete 9-of-11 passes for 69 yards… Meh. Bottom line is that Houston went for well over 400 yards of offense including a promising game for D'Onta Freeman (9-76). Any offensive improvements bode well for the prospects of Houston's two biggest assets - DeAndre Hopkins and Lamar Miller. Keep an eye on Week 2 of the pre-season and see if the Texans can continue to inspire confidence.



8. Because there's No One Else…



Ezekiel Elliott's suspension has sent the world of fantasy football in a frenzy as owners try to figure out where to draft Elliott and Darren McFadden. On a much smaller scale, owners are also trying to figure out how to value Robby Anderson of the Jets with Quincy Enunwa (neck) now out for the season. Anderson showed again this weekend that while the Jets offense is nothing to get excited about (that's an understatement), Anderson can indeed stretch the field (3 catches, 71 yards). Anderson and Josh McCown could become what Blake Bortles and Allen Robinson were two years ago. That is, guys who pile up stats late in the game when their team is far behind. Is Anderson worth drafting? Absolutely. Not because he's a great player, but because there's almost literally no one else in New York to catch the ball.



9. Yes, it's a Small Sample Size, But…



Everybody who owned Todd Gurley last season is going to need to see something positive from Gurley this pre-season before taking the plunge again. Four carries for two yards doesn't inspire much confidence. Yes, four carries is four carries, but the Rams offense simply cannot be trusted to produce anything fantasy-worthy. Acquiring Sammy Watkins made sense in terms of stretching the field, but if Jared Goff can't get him the ball, what's the point? Again, I don't want to bring down the house of pessimism based on four touches of the ball, but I draft Gurley, he needs to show he can still be the running back he was during his rookie campaign in 2015.



10. Zach Zenner Awards: Week 1



As has been the case the last two seasons, we finish off our top ten list by honoring guys with big pre-season performances the way Zach Zenner made famous in Detroit. Look no further than Corey Grant in Jacksonville (120 yards rushing), Tommylee Lewis in New Orleans (10 catches, 124 yards, 1 TD), and Kenny Golladay for the Lions (2 receiving TDs). Of these three, Golladay is most notable as he was a third round draft pick and could push for playing time on a team without a real star at the wide receiver position.

Finally, a shout-out to C.J. Beathard, the grandson of longtime NFL exec Bobby Beathard. He threw two touchdown passes for the 49ers this weekend and an inside source tells me he's turning heads in San Francisco. He might be a great stash for those of your in dynasty leagues.

We'll be back next week to review Pre-season Week 2…