Offenses finally got going in Week 3 and play overall seemed improved over Weeks 1 & 2. Let's review the good, the very good, and some ugly as TMB recaps what just took place over the weekend and on Monday night and turns it on its ear…

Thursday Night Madness

Before we proceed with what took place on Sunday and Monday, we simply have to talk about Thursday night. Raise your hand if you were expecting a 13-10 slog-fest between the Rams and 49ers. Anyone with their hands down is a liar.

First, those two teams haven't moved the fantasy excitement needle for some time now and second, it's Thursday night- usually code for bad offensive football. That's what made what actually did take place such a shocker.

We've talked a little bit in recent weeks about the vast difference in play between this year and last for Jared Goff and Todd Gurley. Thursday was more of the same, but to an even greater degree as Goff threw for 292 yards and 3 scores, while Gurley ate up 149 yards and scored 3 TDs of his own. Even Sammy Watkins came along for the ride, netting 100+ yards and multiple touchdowns.

Then, there was San Francisco. Carlos Hyde looks like the second coming of Devonta Freeman. Pierre Garcon had nearly 150 receiving yards. What is going on with all of this? It's the presence of two new head coaches that are re-making the NFC West into an offensive showcase once again.

Hyde and Watkins have a history of not staying healthy, so maybe they're good candidates for trade at this point. But, don't assume they'll taper off based on past norms. There's fantasy relevancy springing to life on the Left Coast right before our eyes.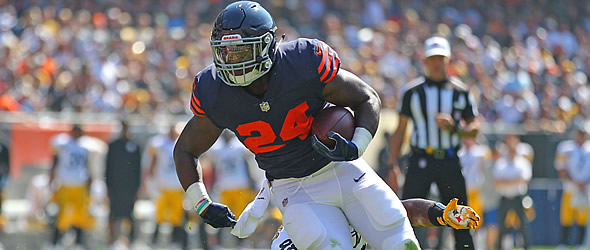 Jordan Howard played through a shoulder injury on his way to being a top 5 fantasy RB in Week 3.

Jordan and DeMarco's Revenge

Last week, here at TMB, we made no attempt to mask our concern about the immediate of long-term futures of running backs Jordan Howard and DeMarco Murray. What a difference a week makes. Howard was sensational on Sunday, ripping off 164 yards and scoring 2 TDs. Not to mention, he basically did all of that with the use of an arm and a half at best. Murray, meanwhile, broke off a 75-yard TD run against one of the best defenses (supposedly) in the NFL. It took his day to 120 yards total. What lessons can be learned from all of this? Never bench your studs? Never overreact to one week? Sure and sure, but those are fairly elementary fantasy football truths. I think moving forward, Howard's success is the bigger story. The Bears can't pass the ball and they have an excellent offensive line. It's a recipe for a lot more Howard if his body can hold up. As for Murray, his numbers were pretty pedestrian until the long TD. Both did indeed silence the naysayers this week, but Howard is the better bet moving forward.

Patriot Games

It's becoming apparent that Tom Brady was a tremendous value wherever you drafted him after Round 2. Brady has long enjoyed great first halves of games in terms of fantasy production, only to be followed by whatever RB the Patriots use for a clock killing role in half number two. 2017 is a different year. The Patriots gave up 33 points to a team on Sunday with a rookie quarterback (more on that in a moment) and no wide receivers outside of DeAndre Hopkins. In short, the Patriots defense looks like it can hardly stop anyone and we're going to get four full quarters of production from Brady as much more often than not.

This reality is also elevating receivers likes Chris Hogan (two TDs in Week 3) and Brandin Cooks, whose stock shot forward as much as any player in the league after posting 130+ yards and multiple scores. Sure, the Patriots are still going to occasionally get way ahead and milk clock against really, really bad teams and offenses, but if you can get in on the Patriot action, get in now. Shootouts will be commonplace wherever this offense (and defense) are playing.

U-G-L-Y

As I shared in the opening paragraph, there were a few teams that did not perform well on the fantasy stage. It begins and ends with dismal games from the Ravens and Raiders.

If you were coming into Sunday night just needing a few points from guys like Amari Cooper, Michael Crabtree, Marshawn Lynch, or Derek Carr, it was the most frustrating of nights. The Raiders played as if they didn't want to be on the field and all the praise heaped upon them through two weeks has now converted into a cloud of doubt.

I guess at least Carr did produce positive fantasy points- something Joe Flacco can't say after an abysmal 8-18-28, 2 INT stat line. The Ravens offense appears to be in total disarray right now and I wouldn't recommend starting a single guy from it.

As for the Raiders, a bounce back is likely for Carr and his wideouts, but Lynch is a real concern at this point. The speedier Jalen Richard may work his way into a timeshare sooner than later.
Honorable mention in the poor offensive performance department goes to the Miami Dolphins, who only avoided being shut-out by calling timeout with 6 seconds left to perform an additional play. After two games, it's too soon to express anything definitive about the Dolphins. Perhaps a game vs. the Saints will bring clarity.

Speaking of the Saints (And Jets)…

As far as juicy matchups go, Carolina and Miami were headed for the ideal on Sunday. Then, a funny thing happened. Both were completely shut down offensively by the Saints and Jets' defenses. That's not a typo. In fact, I have a friend that started both Kelvin Benjamin (left early with an injury) and Devin Funchess just to capitalize on the expected positive matchup. I said in this article last week that Jay Ajayi owners should "rejoice". The fact that neither Carolina nor Miami could capitalize on such ideal opportunities speaks to the fact that fantasy football remains highly unpredictable. As for the former, it also means you need to pull Cam Newton out of your weekly lineup. After a 0 TD, 3 INT day vs. New Orleans, there are better options out there. For example…

Young Quarterbacks on the Rise

The following quarterbacks threw for 300+ yards and multiple TDs in Week 3: Case Keenum (Minnesota), Brian Hoyer (San Francisco) and DeShaun Watson (Houston). There were others, but none that may or may not be sitting on your waiver wire as we speak. In addition, Colts QB Jacoby Brissett ran for 2 TDs. Blake Bortles (yes, Blake Bortles) threw for FOUR touchdowns! DeShone Kizer threw for 2 TDs and ran in another. All of these quarterbacks are likely available in your league. If you're still rostering Joe Flacco or need to bench Cam Newton, these guys are worth a look. Keenum and Brissett probably lose their jobs soon and Bortles will almost certainly come crashing back to earth, but DeShaun Watson is worth an add just on potential alone. If he continues to develop rapidly, you could have a QB1 on your hands by mid-season.

The Amazing Chris Thompson

We've seen this story before. Devonta Freeman, after all, was supposed to be more of a situational back than a bell-cow guy. There came a point in Freeman's development, however, where it was impossible to deny his skill set and impact on a game and we're almost at that same point with Chris Thompson. Thompson's ridiculous effort on Sunday night (6 catches for 150 yards and a TD) came on the heels of a 100+ yard, multiple TD game in Week 2. He is no longer just a solid flex option. He's a locked-in RB2 with potential of more if Rob Kelley remains out and Samaje Perine can't quit fumbling. Sometimes things become crystal clear in fantasy football and the fact that Thompson is more than just a situational back looks like truth to me.

An End To 2 ½ Games Of Slumber

Arguably the most painful offense to watch through two weeks was that of the New York Giants. That pain extended through halftime on Sunday and then a switch got flipped. Eli Manning's second half included touchdown throws to Odell Beckham (two, actually) and Sterling Shepard leading the Giants nearly to victory before the Eagles got the best of them late. How can a team look so bad and then look like a totally different unit? Does this second half signal a true turn of events for the G-Men? One thing is for sure- the Giants can't run the ball to save their life, so a more aggressive, downfield offense is the only option they have. You know we're getting close to October when Beckham and Russell Wilson finally have decent games. Consider Giants players (minus the running backs) viable options… for now.

Whole Lotta Larry

Every year, early fantasy draft picks are spent on a player's potential alone. Waiver wire picks burned on the same thing. And, it's a good strategy given that a few younger players will indeed "break out" each year. But, there's a flip side. People will, pass on a player like Larry Fitzgerald far too long. Fitzgerald was the best player on the field Monday night, catching 13 passes for 149 yards and a TD. Sometimes, the best path to fantasy championships includes a veteran or three to go along with the next "big thing". If you recognized that on draft day or traded for Fitzgerald prior to this week, kudos to you.

If You Were Drafting Today…

Final question. If you were re-drafting today for Week 4 through the end of the season, where would you select Kareem Hunt? Would you pick anyone before him? If so, who? After another 170+ yard rushing performance and another TD, Hunt remains the biggest story in fantasy football so far this season. I Would love to hear from you guys as to just how high you think he ranks moving forward. Let us know.

---

That's a wrap on TMB for Week 3. We'll see you next Tuesday for more of what we do… Best of luck in Week 4!