Recently, I profiled several players in danger of plummeting from the top 10 ranks at their respective positions this coming season. It was a fun little exercise, for sure, especially for a confirmed disparager such as myself. Nevertheless, no sooner had the ink dried on that column, than readers were clamoring for a companion piece. If those guys are dropping out, they wondered, who's taking their place?

It's a fair enough question, I suppose—and I can certainly wax optimistic when challenged—so let's flip the script and turn our attention toward those men poised to emerge as the 2011 crop of favored fantasy studs. We already know there's likely to be more than the nine examined below, but I only have so much time (we're less than two weeks away) and a finite number of interesting things to say (or so I've been told). Without further ado, allow me to introduce the next wave of elite fantasy prospects likely to rise into the top ten.

Note: All rankings are based on FFToday's default standard scoring.

A quick reminder of the Top 10 fantasy RBs from last season...


Rice is currently being drafted, on average, with the fourth pick in standard leagues. That puts him, from an ADP standpoint, behind only Arian Foster and Adrian Peterson. Pretty heady company, wouldn't you say? Here's the thing, though: depending on your league's scoring format that might be too low! The former Scarlet Knight has been the head rock-toter in Baltimore for just two seasons and, in both of those seasons, has leaked over 100 carries (and most of the goal-line touches) to Willis McGahee. He's also lost a considerable number of looks to Le'Ron McClain, the hybrid fullback-tailback who filled the role of primary ball-carrier in Rice's rookie season, 2008.

McGahee has since been replaced by Ricky Williams and McClain by premier fullback, Vonta Leach. Though Williams certainly could fill the exact same role McGahee did the past two seasons, it sounds like the Baltimore coaching staff envisions something different. Offensive coordinator, Cam Cameron, recently indicated Rice's touches will only be limited by…Rice. In other words, Williams gets a look when Rice taps his helmet. (Note: backs don't typically tap their helmets near the goal-line.) As for Leach, here's how many times he's carried a football the last two seasons: zero.

So, Rice stands to earn more overall touches, more critical money-zone looks, and was already a whisker away from the top 10 last season, Need any further convincing? He's caught more passes for more yards than any other running back in the league since he assumed the starting role. He's also entering his all-important contract year. Bottom line, folks: I'd draft him no later than third in standard leagues and I'd give him a long, hard look at #1 in PPR leagues. No fooling.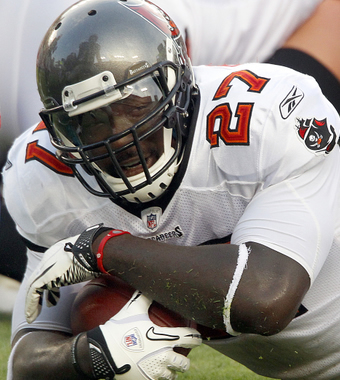 Bullish on Blount: Get ready for a heavy workload in 2011.

I doubt many Duck fans forget where they were when Blount sucker-punched Byron Hout on the Smurf turf in Boise two years ago. I was in San Francisco, hanging with Little Bro. As it turns out, though, we were both blissfully unaware of the punch until the following morning. You see, we were so disgusted by the game, we left the sports bar and went…to a whole bunch of other bars. When we discovered what we'd missed, two thoughts immediately went through my mind. First, Blount had ruined a very promising Ducks season (wrong). Second, he'd also ruined a potentially promising pro career (wrong again).

LGB's draft stock certainly sank (he wasn't), but he eventually found his way to Tampa Bay, via Tennessee, where he proceeded to take the NFL by storm about halfway through last season. Despite just a handful of starts, Blount managed to surpass the 1,000-yard mark, average a robust five yards per tote, and score six touchdowns. He also exhibited uncommon athleticism for a man his size (6'0", 247 pounds), even executing his trademark hurdle in a Week 8 win over Arizona (YouTube it). Simply put, he's a huge man who can either avoid defenders or flatten them depending on what the situation dictates.

Another reason to be bullish on Blount in 2011 is this: he has almost no competition for carries in Tampa. The primary backup, Kregg Lumpkin, has precisely TWO career carries. The next in line, rookie Allen Bradford, has none. Sure, Earnest Graham could slide over from the fullback position and poach a few touches but, all told, I doubt there's a back in the league in line to garner a higher percentage of running back looks. For this reason alone, I think he's a top 10 guy when it's all said and done.

Unlike Blount, Jones-Drew has almost always shared carries, first with Fred Taylor earlier in his career and more recently with Rashad Jennings. He also lines up in the same backfield with one of the more frequently scampering quarterbacks, David Garrard. Nevertheless, the UCLA product has still managed, in five NFL seasons, to average over 100 total yards/game and 12 touchdowns per year, elite enough numbers that a return to the top 10 seems fairly safe to predict.

Jones-Drew is almost a spitting image of the first back on this list, Ray Rice. Though he lacks prototypical height (5'7"), he packs a lot of mass on that smallish frame, weighing in north of 200 pounds. Doubtless, this lower center of gravity allows him to withstand more punishment than men his size usually do and, in fact, he's only missed three games his first five years. How many other backs can say that? It surprises me, actually, that there are "injury concerns" heading into this season, but I suppose that just proves fantasy GMs have very short memories.

If there's a red flag for MJD at all, it's probably the continued development of the Blount-like Jennings, a change-of-pace bulldozer who, according to the Jags' coaching staff, will see even more action in 2011. I sure hope so (because I drafted him late), but Jones-Drew will still be the main man and even when he's been part of a committee, he's been a highly productive back. If he gets 250-275 carries and ups his TD total from last year (his lowest output ever), there's no reason to think he shouldn't crack the top 10 once again.