Recently, I profiled several players in danger of plummeting from the top 10 ranks at their respective positions this coming season. It was a fun little exercise, for sure, especially for a confirmed disparager such as myself. Nevertheless, no sooner had the ink dried on that column, than readers were clamoring for a companion piece. If those guys are dropping out, they wondered, who's taking their place?

It's a fair enough question, I suppose—and I can certainly wax optimistic when challenged—so let's flip the script and turn our attention toward those men poised to emerge as the 2011 crop of favored fantasy studs. We already know there's likely to be more than the nine examined below, but I only have so much time (we're less than two weeks away) and a finite number of interesting things to say (or so I've been told). Without further ado, allow me to introduce the next wave of elite fantasy prospects likely to rise into the top ten.

Note: All rankings are based on FFToday's default standard scoring.

A quick reminder of the Top 10 fantasy WRs from last season...



Austinís 2010 season got off to a scintillating start when he tallied three 140+-yard games in his first four outings. In fact, through the first quarter of the season, there was simply no more productive receiver in the game. Alas, he lost his QB in a Week 6 showdown with division rival, New York, and his production predictably plummeted. Though Austin still managed to rank #17 in total fantasy points for receivers, this was a far cry from the top 5 finish most were predicting for him.

Romo is, of course, back and fully healed for the 2011 campaign. Accordingly, most pundits are pegging Austin as a top 10 WR prospect once again. I love going against the grainóas Iím sure youíve probably gatheredóbut that would be foolhardy in this case. Heís good. Like, really, really good. He also plays in an offense that, despite the loss of Romo, managed to still rank in the top 10 last year. Iíve previously argued that, all things being equal, you want receivers in good offenses who have stability, both from a system standpoint and from a quarterback standpoint. Jason Garrett has been calling plays in Big D, and Romo executing them, since the 2007 season (before Austin arrived). If that isnít stable, Iím not sure what would be.

One final note about the Cowboysí #1 target: despite the lofty projections, heís still a value pick. Currently, heís going behind Greg Jennings, DeSean Jackson, and Mike Wallace in standard 12-team leagues. That is a mistake. Jennings might give him a run for his money and for a lot of the same reasons (system and QB stability). Jackson and Wallace, though? No way. I love their upside but neither is the total package Austin is. Choose wisely.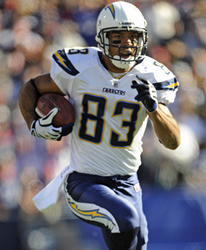 Hutchins: My favorite receiver not named "Johnson".

Speaking of total packages, allow me to introduce my very favorite receiver not named Johnson (take your pick) on current draft boards. Thatís right, folks. Iíve got Jackson ranked higher than Roddy White, Larry Fitzgerald, Hakeem Nicks, and basically every other player who splits out wide in an NFL offense. Crazy talk? Maybe, but hear me out.

First, heís 6í5Ē, weighs 230 pounds, and isnít a tight end (read: heís fast). Only Calvin Johnson, of the aforementioned studs, even comes close to matching Jacksonís size. Second, heís the clear #1 receiver in the NFLís most productive passing offense (296.6 yards/game in 2010). I love White, Fitz, and Nicks but none of them are catching passes from a guy as talented as Philip Rivers. Finally, heís been designated the franchise player by San Diego after a 2010 marred by contract squabbling. Appropriately, heíll be determined to prove he deserves the long-term, break-the-bank contract heís long sought. In sum, heís a huge, ultra-talented wideout whoís playing with a great QB and wants to get paid. Anyone willing to bet he doesnít surpass his previous career high of 68 receptions in a season?

Youíll lose that bet, by the way, but even if I grant you Jacksonís reception totals are pedestrian, you have to concede he makes up for it by maximizing each touch, averaging a mind-blowing 17.2 yards per in six NFL seasons. Thatís considerably better than every one of those other guys I mentioned and stunning when you factor in how massive he is. I might be wrong about VJ but it wonít be by much. Heís a top 10 guy for sure and Iíd wager a reasonable sum heís top 5 when the final results are in.

Saying I like Jackson more than Fitzgerald this year doesnít necessarily mean Iíve soured on the latter. Far from it, actually, and Iíve owned Fitz as recently as last season. The only reason Iím even slightly hesitant about the $120M dollar receiver going into 2011 is that Iím not truly sold on his delivery man, Kevin Kolb. Yes, Kolb is a significant upgrade over Derek Anderson, Max Hall, John Skelton, and Richard Bartel. That isnít saying much, though, and doesnít mean Kolb is the second coming of Kurt Warner. Despite some huge and promising performances early in his career, the former Eagle brings just a 73.2 career passer rating along with him to the Valley of the Sun. By way of comparison, the much-maligned Chad Henne sports a 75.3 career number in just a few more games.

My ambivalence toward Kolb aside, thereís no way he performs as poorly as last yearís cast of also-rans and never-weres. Even with those guys throwing him the rock, Fitzgerald managed to catch 90 balls to the tune of 1,137 yards, not too far off the previous yearís pace with Warner at the helm. Assuming he stays in that neighborhood (he should), continues to command a bunch of targets (he will), and boosts his TD output by even a couple scores (he might), a top 10 finish seems almost assured.