Nobody needs to be told starting Aaron Rodgers, Arian Foster, or Calvin Johnson is a good idea. Duh, right? You can't have studs at every position, though, unless you're in the shallowest of leagues. This is where the Shot Caller comes in. Need help deciding which bargain basement QB to use and which to ignore on Rodgers' bye week? Let's talk. Looking for solutions at running back because Foster is a game-time decision? Look no further. Need to know which of your unproven targets to start and which to sit since you ignored Megatron and went RB-QB-Gronkowski in your first three rounds? I'm your huckleberry. Past results may not guarantee future success, but I believe ignoring them entirely can ruin your Sundays in a hurry. Read on for a little history and, hopefully, a little sage advice.

Note: Fantasy points based on FF Today's default scoring system.
Bye Weeks: Arizona, Cleveland, Green Bay, Washington

Grab a Helmet

Carson Palmer @ BAL: Palmer did some serious statsheet-stuffing last Sunday against Tampa, both in very good ways (414 yards and four touchdowns) and very bad ways (three picks, including the game-sealer). This may have been my favorite of his many crooked numbers, however: 61 attempted passes. When did Mike Leach become the Raiders' offensive coordinator? That isn't the most passes attempted in an NFL game this year – Tony Romo chucked it 62 times against the Giants – but it's pretty close and it IS a career high for Palmer. When you throw the ball 61 times, you're usually going to A) post some very relevant fantasy numbers, and B) lose. Luckily, losses don't count against the fantasy bottom line. Interceptions might, depending on your league's scoring system, but even the three turnovers probably wouldn't have prevented Palmer from being the very best QB option in most leagues last week. Give him the nod against a short-handed Ravens defense, especially if DMC is forced to sit.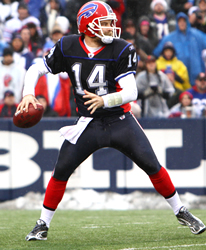 The SC has a man-crush on Fitz.

Ryan Fitzpatrick @ NE: Unless you're just tuning in to the SCR this week, you already know I'm pretty fond of Fitzpatrick, another under-the-radar field general more likely to lead your fantasy team to victory than his own team. Unlike Palmer, Fitz doesn't throw the ball all over the yard (74 fewer attempts). He's arguably more efficient, however (15 TDs against 13) and possesses an identical 85.6 QB rating halfway through the season. He's also not incapable of Palmer-esque explosions, as evidenced by his Week 4 numbers against this week's repeat opponent, New England: 350 yards and four scores (and four INTs). In his last five starts against the kings of the AFC East, in fact, Fitzpatrick is averaging 304 yards, three TDs, and two picks. He's also 1-4 in those games, an indication New England is content to let him sling it around so long as he continues to turn it over (likely) and Tom Brady et al. continue to torment the Bills' overmatched defense (ditto). I'd start him over many name brand QBs in Week 10.

Eli Manning @ CIN: Speaking of name brand QBs…. This guy doesn't really belong in a start/sit column but he's thrust himself into the discussion with three really iffy performances in his last four games. In fact, here's what Eli had to say after his Week 9 dud (125 yards, no scores, and one INT) against the Steelers: "I got to play better." OK, so I wouldn't trust him to proofread the SCR. I would, however, trust him to do exactly what he says he needs to do this Sunday against the reeling Bengals. Opposing QBs have posted a 99.0 QB rating (28th in the league) and have completed 68.3% of their passes (31st) against Cincinnati. If the younger Manning can avoid the mistakes he's historically been prone to, he should have a very efficient and productive (maybe even prolific) day in the Queen City. Don't even think of sitting him.


Grab a Clipboard

Jay Cutler v. HOU: By virtue of their unblemished record, Atlanta's Falcons are getting most of the national love thus far. Chicago, however, is the team sporting a league-best +116 point differential through nine weeks. They got there by riding a solid, though unspectacular, rushing attack and an insanely opportunistic defense (+16 turnover margin), Bears hallmarks for as long as I can remember. Of course, Cutler – their strong-armed and eminently talented triggerman – has been forced to accept a supporting role (just 18.3 fantasy points/game), something he's probably not accustomed to but has seemingly accepted in good soldier fashion. So long as his team keeps winning, this is likely to remain the case. Unfortunately, so long as his team keeps winning (in this particular manner, that is), he's likely to remain a so-so option for fantasy GMs. Avoid him this Sunday as the Bears tangle with the league's other other best team, commanded by…

Matt Schaub @ CHI: …this guy. It's kind of ironic, really, that two of the NFL's more talented quarterbacks would end up leading two of its best teams, but not in ways that make them particularly compelling from a statistical standpoint. Cutler is ranked 19th and Schaub 21st in fantasy points per game at the position, making them borderline start candidates most weeks. Both have become, quite simply, game managers, guys asked to keep defenses honest while their respective running backs and defenders take care of business. Though they've been wildly successful so far from a wins and losses standpoint, game managers won't typically win you a lot of fantasy matchups. I'm not even convinced they can ultimately win the most meaningful real matchups come playoff time. After all, the quarterback responsible for each guy's only defeat this season is Mr. Discount Double-Check himself, Aaron Rodgers. Don't start Cutler or Schaub…and don't fall asleep on the Pack down the stretch.

Michael Vick v. DAL: I expected huge things from Vick in Monday night's Desperation Bowl at the Superdome, reasoning the Saints' historically putrid defense would have a difficult time preventing him from doing pretty much anything he wanted. Unfortunately, the fleet-footed one forgot to pack an offensive line for his trip to the Crescent City and ended up flat on his back most of the night. This just in: It's really hard to throw touchdown passes or break off highlight reel runs when you're spending most of your night in the supine position. The final fantasy numbers weren't bad (and haven't been all year) but it's clear the Eagles are a mess up front. That's not good news with the Cowboys coming to town. Dallas has some offensive issues of its own but the defense has been playing lights out. In fact, they've yielded just seven passing TDs all year (tied with Chicago for 3rd overall) and 15.8 fantasy points per game to opposing QBs. Sit Vick if you can afford to.

Running Backs